December 2020 in Review: $2,100,000+ in Cryptocurrency Donations to Charity with The Giving Block
A flurry of events and partnerships brought the crypto community together to give back to charity, to make a difference, and to save on their taxes by donating crypto this #BagSeason.
As we entered December, The Giving Block set a goal of raising $1,000,000 in cryptocurrency donations before the end of the year during #BagSeason (BAG = Bitcoin Annual Gift) – we more than exceeded this goal. Now more than ever, we are positioned to grow The Giving Block platform, increasing crypto fundraising outcomes and help more HODLers support charity instead of the IRS.
Here's our December 2020 cryptocurrency fundraising recap:
How did The Giving Block platform raise Cryptocurrency Donations during #BitcoinTuesday and #BagSeason?
$2,100,000 – that's Two Point One Million Dollars in cryptocurrency donations! 98% of the charities on The Giving Block platform received cryptocurrency donations in December. The largest bitcoin donation was over $1,000,000.
Over 100 cryptocurrency donations of $10,000 or more were made to charities between #BitcoinTuesday and the end of the year. The most commonly donated cryptocurrency was Bitcoin, followed by Ethereum, with special mention to both Zcash and Storj (Though we are seeing donations in every supported cryptocurrency, confirming our belief that more crypto donors are learning that donating crypto directly to charities is better for their bottom line. We'll explain in the next section.)

With new all-time highs every day, how did The Giving Block convince HODLers to donate their crypto to nonprofits?
Donating crypto, not dollars, is better for reducing your capital gains and helps increase your crypto holdings long term. It's a common misconception that donating appreciated crypto is the same as spending crypto on something like a cup of coffee at Starbucks.
When donors donate their appreciated crypto to a 501(c)3 nonprofit, they can simply purchase the same amount of crypto that they donated at the same time they give. The charity can choose to hold or sell the crypto, tax-free, and the donor has the same amount of crypto they started with.
The key difference? If the donor's new crypto was purchased at the current, higher price, they no longer have the same capital gains tax burden for that year.
This strong tax incentive to donate is only now becoming common knowledge in the crypto-verse. This combined with all-time highs (of over $42,000 at the time of writing) has resulted in a massive increase of cryptocurrency donations in December 2020, and is currently trending toward a parabolic growth of donations for 2021.
Who makes #BitcoinTuesday and #BagSeason happen?
The 100+ Charities who participated, The Giving Block, our corporate partners donors and sponsors, crypto influencers, and crypto media.
Bag Season kicked off the beginning of crypto's season of giving by flooding Twitter feeds with #BitcoinTuesday content. Participating nonprofits, corporate partners, media outlets, and influencers all helped call upon crypto HODLers to support the amazing causes that accept crypto donations through The Giving Block. Due to this overwhelming support, we were able to blast through and double our original goal, raising more than $2,100,000 for #BagSeason.
What worked and what didn't for nonprofits fundraising cryptocurrency?
The nonprofits who posted consistently using our Marketing Toolkits throughout the month of December vastly outperformed their more silent peers, which we saw as a pretty amazing validation of our social media crypto fundraising strategies – strategies that took us a couple of years to iron out.
What's perhaps more impressive about the effectiveness of nonprofits who are consistently active on social, is that some of the top performers have the smallest budgets on our platform. In ways that traditional fundraising tends to always favor the biggest charities with the largest followings, crypto fundraising still appears to be the great equalizer, allowing large nonprofits and small nonprofits alike to tap into this emerging pool of donors.
How does The Giving Block get nonprofits in front of cryptocurrency donors?
Through the relationships we've developed in the cryptocurrency industry, we've been able to grow a handful of partners into a coalition of key crypto stakeholders who help us get the charities we support in front of crypto users around the world. Without them, none of what we do is possible.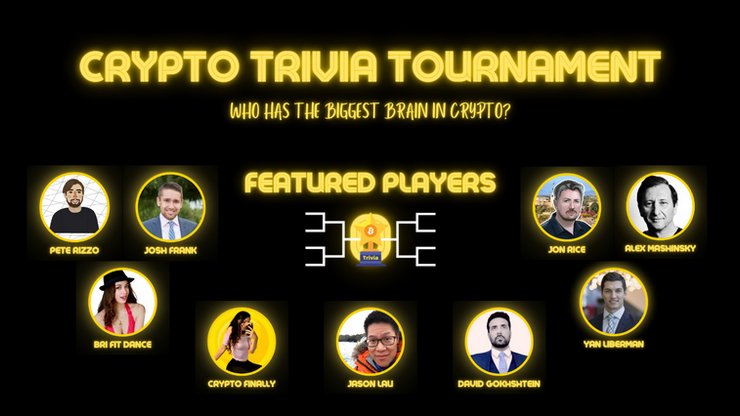 Highlight 1: Trivia Tournament
The Biggest Crypto Trivia Event brought together crypto lovers and influencers to find out who is Crypto's Biggest Brain.
Everyone had the opportunity to play alongside Jon Rice, David Gokhshtein, Yan Liberman, Jason Lau, Crypto Finally, Bri Fit Dance, Pete Rizzo, Josh Frank, and Alex Mashinsky.
The event was hosted and streamed by Cointelegraph with thousands of people from around the world tuning in to watch.
The evening combined crypto education, adoption, fun, and of course giving back. Although the event was free to attend, we raised over $130,000 in crypto donations, including one donation of over 5 BTC!
Despite some heavy competition from the audience (and some questions that might have needed a bit more proofreading and a bit less beer!), Pete Rizzo won Crypto's Biggest Brain. We're excited to send Pete his "Biggest Brain" trophy!
This event was sponsored by Gemini, Ledger, Cointelegraph and Celsius.
Highlight 2: The Barstool Fund
The last week of December was by no means quiet. Dave Portnoy, the founder of Barstool Sports, challenged Pomp (@APompliano), founder of Morgan Creek Digital, to donate to The Barstool Fund, a fundraising effort to help small businesses impacted by the COVID-19 pandemic across America. Pomp insisted on only donating in Bitcoin. After a flurry of tweets, The Giving Block set up The Barstool Fund to accept crypto donations.
The Crypto community rallied and raised over $1 million to provide relief to small businesses and restaurants that have been affected by COVID. Special thanks to crypto whales who donated including the Winklevoss Twins, Pomp, Gokhshtein Media, and CMS Holdings.
Want to support the Barstool Fund – donate crypto here!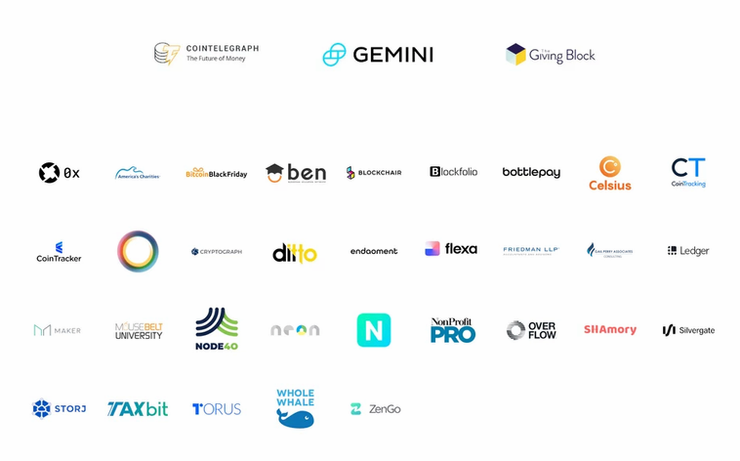 Highlight 3: Our Partners
A huge thank you to our partners!
BAG Season creates a virtuous cycle of giving. Every one of these partners has helped ensure that the cycle continues. They have chosen to make space for charity in crypto and for that, we are immensely grateful.
We were blown away by the media coverage our campaign has received so far. We couldn't have done this without our friends at Ditto PR!
Press Release: The Giving Block's Bitcoin Tuesday 2020 Sees 1,000% Growth in Nonprofits Accepting Cryptocurrency Donations
Decrypt: Bitcoin Tuesday: A More 'Tax Efficient' Way to Donate to Charity
CoinDesk: Crypto Version of 'Giving Tuesday' Returns With 10X as Many Charities
Cointelegraph: Bitcoin Tuesday aims to raise $1M for good causes
Brave New Coin: Bitcoin Tuesday 2020 promotes crypto by donating to nonprofits
Bitcoin Magazine: The Virtuous Cycle Of Bitcoin Giving
NonprofitPRO: Bitcoin Hits New All-Time High: Is it #GivingTuesday or #BitcoinTuesday?
Forbes: Support Your Favorite Charities And Promote Crypto This #BitcoinTuesday
Once again, thank you to everyone who participated and helped make BAG Season so wonderful. We're already excited for the next Bag Season in December 2021.
What's Next?
Remember, crypto donations don't stop in December! As crypto prices continue to appreciate, make sure you continue to give back and offset your capital gains taxes at the same time. To learn more about how donating crypto impacts your taxes, check out this guide here.
*This is not financial advice, please talk to your accountant or tax advisor before making any important financial decisions.