Become a Corporate Philanthropy Partner
Bettering the world starts with good leadership. Transform your corporate values into real-world impact by launching a philanthropy program that will inspire your user base, attract and retain top-notch employees, and build a legacy of impact through charitable giving. Your vision of social good comes to life by working with a trusted partner like The Giving Block, the world's leading solution for giving and accepting cryptocurrency donations.
Whether your company is just starting its CSR journey or has a well-established program, there are many ways for your organization to easily and effectively partner with a charity. Choose from our menu of options or work with us to develop a customized program that matches your company's vision of social change.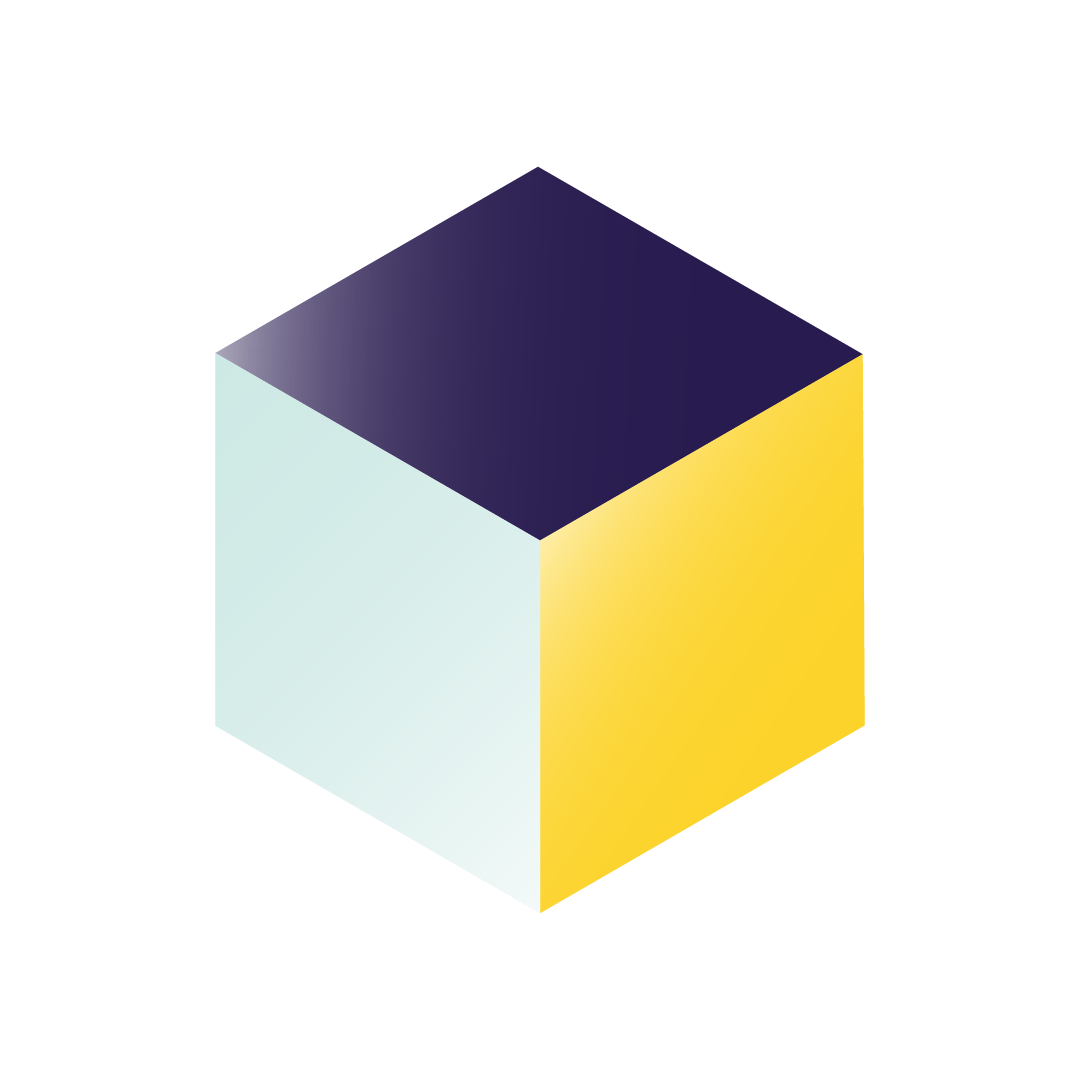 Support causes that align with your corporate values
The causes you support become a part of your company's brand and reputation. We help our corporate partners identify nonprofit partners that align with their mission, work, and ethos.
The Giving Block partners with over 500 registered nonprofit and charitable organizations that have been vetted by our team and are industry leading organizations. Our nonprofit partners work to bring about positive change in numerous cause areas, from human rights to animal welfare and the environment. Plus, they all accept crypto donations!
Current partners include:





Ways to partner with The Giving Block
We offer numerous ways for companies to get involved in the growing crypto philanthropy movement. If you don't see an option below that fits your vision, get in touch with us to discuss how we can help turn your idea into a reality.
Enable in-platform crypto giving with our API
Provide an easy way for your users to donate to charities by adding "Donate Crypto" functionality to your platform or app. We track the results of these programs and help the companies report on the impact of their work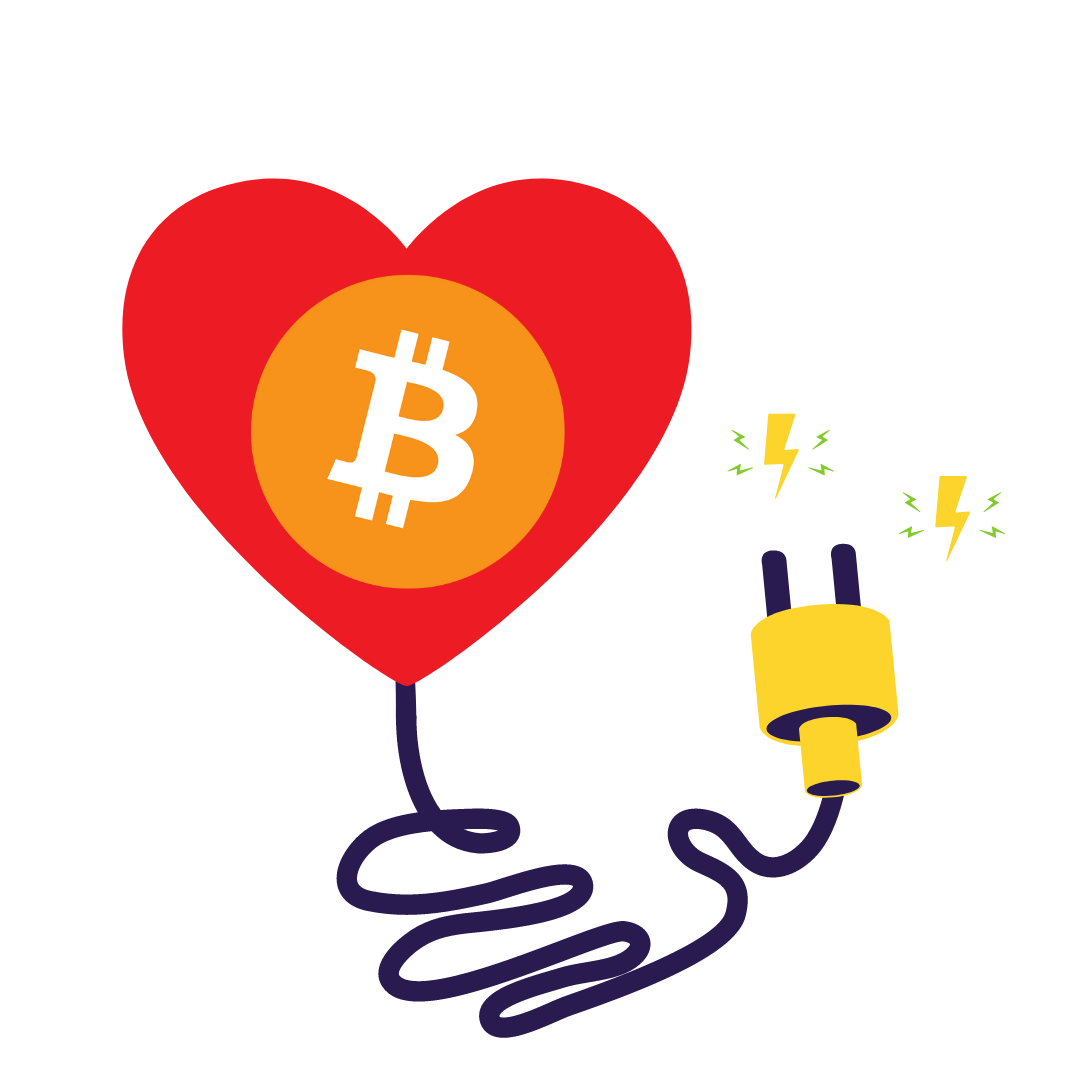 Take the Crypto Giving Pledge. Become a member of the Crypto Giving Pledge. Join individuals and organizations who are committing to donating crypto to charity every year, and building long-lasting high-impact relationships that produce results for the causes and a compelling narrative for your users to fall in love with.
Join #BitcoinTuesday and #BagSeason. Provide marketing resources like ad space to help publicize major crypto fundraising events like #BitcoinTuesday, the biggest annual day of crypto giving. Or make a donation to nonprofits during these campaigns to boost visibility for the nonprofits leading the way in crypto adoption.
Corporate Matching Funds. Set up a matching fund campaign for a cause or issue chosen by your company. We help you establish the parameters of the campaign and find a suitable nonprofit partner.
Support the Crypto Adoption Fund. This is a fund established by The Giving Block to increase the adoption rate of cryptocurrency in the charitable sector. When supporting the Crypto Adoption Fund your organization's donations will be spread amongst all the organizations accepting cryptocurrency with The Giving Block, driving increased institutional adoption of cryptocurrency.
Support a Cause Related Fund. have an issue that your company cares about deeply? Donate to one of our issued focused cause-related funds. Previous campaigns include:
Corporate Partnerships. Establish a partnership with The Giving Block and a nonprofit partner that includes a charitable component and media appearances, live streams, and/or public acknowledgment of donations on social media or press releases for major donations.
Employee Crypto Giving Portal. Set up a portal for your employees to donate crypto to charities. You can choose to match these donations, run fundraisers, and more.
Volunteering. Create virtual and in-person volunteer opportunities with The Giving Block's partner nonprofits. We help companies identify potential nonprofit partners that align with your company's core values.
Fundraisers. Raise money for causes you care about through P2P fundraising campaigns that tap into your employees' personal and professional networks.
Bespoke CSR Programs. Develop a customized program designed around your organization's specific CSR needs. Go beyond simply making donations; create a more socially engaged workplace through volunteer programs, charity walks, trivia nights, or other options.
Acquire Users by Giving. Establish a sign-up bonus for users which donates a fixed amount per user to a fund or cause, or donate a % of trading fees to a fund or cause
Activate Your Users to Give. Integrate The Giving Block's API for partners to allow your users to donate a portion from their crypto transaction to a charitable organization.
Corporate Philanthropy in Action:
Partnership Case Studies

Gemini: Matching Gifts for "Bitcoin Pizza Day"
In 2020, Gemini partnered with The Giving Block to support frontline workers and children in need. To commemorate the 10th anniversary of Bitcoin Pizza Day (an annual celebration of the first purchase using Bitcoin, two pizzas, held on May 22), Gemini raised over $40,000 with Flexa and Taxbit for two nonprofits, No Kid Hungry and Slice Out Hunger.
In addition, Gemini worked with Slice Out Hunger and Papa Johns to donate pizza to frontline workers in New York who were battling against COVID-19.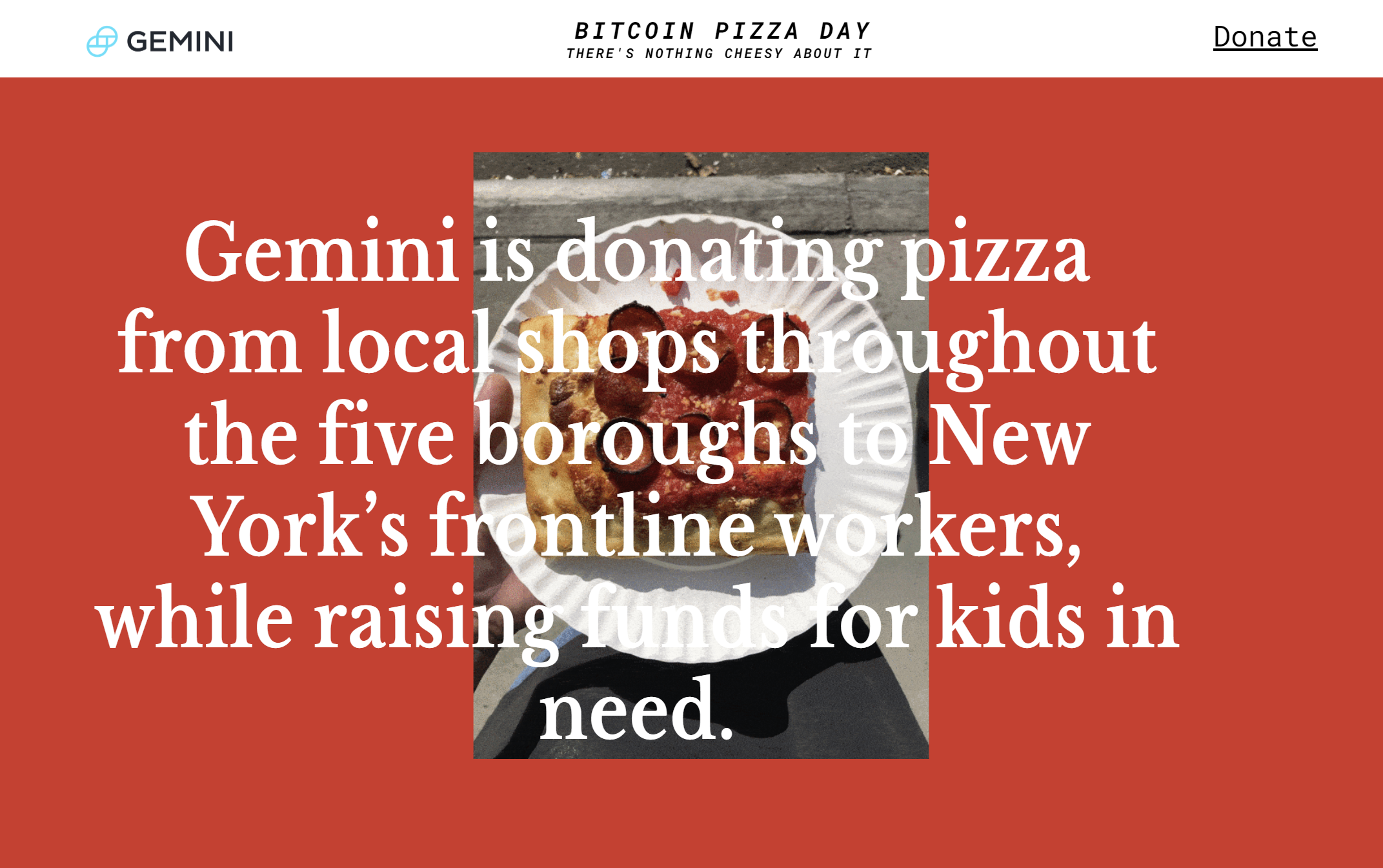 Brave: Ad Grants for Charity
The Giving Block has worked with Brave since 2019 on their Brave Ad Grants program, which gives selected crypto-friendly nonprofits access to free ad space on the Brave Browser. The ad space has included sponsored images viewed by Brave's 13.9 million monthly average users and is valued at $160k per day.
In 2020, Brave and Nexo, a digital finance lending institution, partnered with Save the Children and The Giving Block for Nexo's "Campaign with a Cause". Save the Children was featured as part of Brave's Sponsored Image feature, giving millions of users the ability to donate Basic Attention Token (BAT) directly to the nonprofit. As a result, Nexo raised and donated $25,000 USD to Save the Children in addition to its ad spend, making a direct impact on the lives of thousands of children.

CoinGecko: Reward System for Charity
CoinGecko partnered with the Giving Block to use candies (their native rewards system) to donate to several charities, including Sea Shepherd and Apopo. Users were able to spend 500 candies to donate $5 to the participating nonprofit organizations. In total, CoinGecko raised $5k for these charities.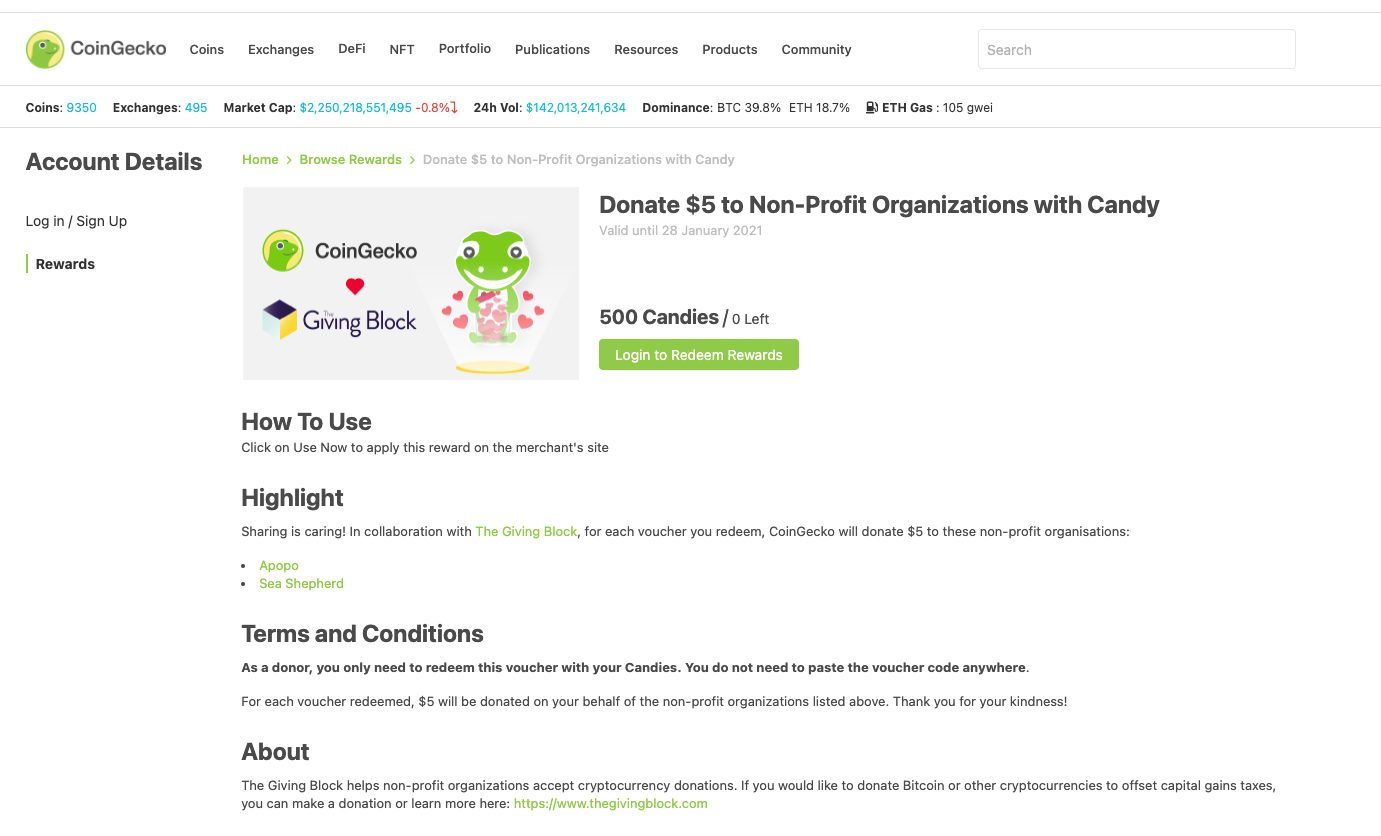 Partner with Us
We welcome new organizations that wish to partner with The Giving Block.
To connect with our team and learn more about developing a partnership with us, please fill out this form:
Frequently Asked Questions
What causes can my company support nonprofit?
Our 1000+ vetted nonprofits serve a variety of causes and needs, including Animals, Arts & Culture, Children & Youth, Developmental Disabilities, Disaster Response, Education, Environment, Health & Medicine, Mental Health, Homelessness, Human Rights, Hunger, Immigration & Refugees, International Development, LGBTQ, Legal Support, Racial Justice, Religion & Faith-Based, Technology, Water & Hygiene, Women & Girls, and more.
Who can start a corporate philanthropy program?
We're interested in developing corporate partnership programs with Crypto Token Foundations, Crypto Exchanges, DeFi Platforms, Crypto Media Companies, Crypto Portfolio Software, Crypto Tax Software, NFT Platforms, Crypto Wallets, Trading Firms, Crypto Conferences, and more.
What is crypto philanthropy, and why do we need it?
Crypto philanthropy is the umbrella term used to describe charitable giving by crypto users, NFT projects, and companies in the blockchain and cryptocurrency space. The crypto community continues to support good causes through donations, while the nonprofit sector increasingly views cryptocurrencies as a sustainable source of revenue.
How can my company get involved?
Your company can choose from a variety of corporate program options. These include: signing our Crypto Giving Pledge, sponsoring #BitcoinTuesday and/or #BAGSeason campaigns, establishing a matching funds program, donating to our Crypto Adoption Fund or another cause-related fund, and forming a corporate partnership.
How can my employees get involved?
Your company can activate employees by setting up a crypto giving portal, creating virtual and in-person volunteer opportunities, raising money for causes you care about, and/or developing a customized program designed around your organization's specific CSR needs.
How can my users get involved?
We make it easy to empower your users to support the causes they care about. Add a "Donate Crypto" button, integrate our API, or create your own community fundraiser. The possibilities are endless.
How do I choose a cause to support?
The Giving Block works with the world's leading nonprofits that have been personally vetted by our team. We can share recommendations of nonprofit organizations that make an impact in the areas that matter to you most. Not sure which topic to focus on? The United Nations' Sustainable Development Goals is a good place to start.
Want to support a nonprofit that isn't working with us yet? Let us know and we can get them onboarded to accept crypto.
How do I know this works?
Read case studies from our previous partners, Gemini, Brave, and CoinGecko for examples of successful corporate giving partnerships with The Giving Block.