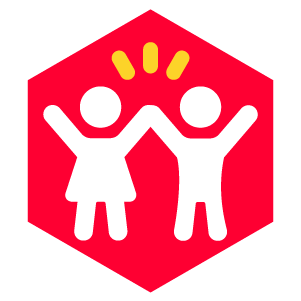 Impact Index Fund: Children & Youth
Support US-based charities serving the needs of children with a single donation.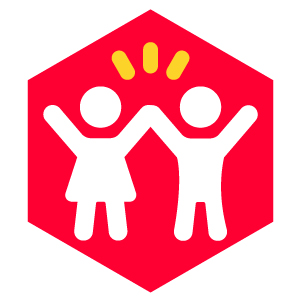 Support Nonprofits That Advocate for Children & Youth
We should strive to become a society that is more attentive to the needs of children. Many children in the United States and around the world lack basic needs to put them on the path toward a successful future, like access to quality education. Additionally, there are many children and young people dealing with emotional and mental stress from bullying, abuse, or other traumas who need support, as well as those suffering from critical illnesses. There is no limit to the ways we can do better to support those children and their families who are in need.
There are many nonprofit organizations addressing these issues from a variety of angles. Some distribute free books to kids in under-resourced communities, while others provide mentorship opportunities and create life-changing wishes for children with critical illnesses. If you want to help educate, support, and heal young people, please consider a donation to this Impact Index Fund today.
Children & Youth Nonprofits You'll Support
The Children & Youth Impact Index Fund supports US-based nonprofit organizations that work to improve the lives of children and youth across the United States and worldwide. We've vetted every nonprofit in the Impact Index Fund, so you can be certain every dollar of your crypto donation will go to verified nonprofits. When you donate to the Children & Youth Impact Index Fund, each nonprofit will receive an equal portion of your donation.
To see all participating organizations, please read the FAQ below.
Save on Your Taxes by Donating Crypto
There's a reason high net worth individuals tend to donate property instead of cash. Donating cryptocurrency directly to a 501c3 nonprofit is more tax efficient and can save you money.
The IRS classifies cryptocurrency as property for tax purposes which means it is typically the most tax efficient way to support your favorite cause. When donating crypto, you receive a tax deduction for the fair market value of the crypto, and you avoid the capital gains tax you would have incurred if you had sold the crypto and then made a donation. That means you're able to donate more, as well as deduct more on your tax return. The difference? Sometimes more than 30%.
If you provide an email, you will automatically receive a tax receipt after donating.
Frequently Asked Questions
What is an Impact Index Fund?
Impact Index Funds bundle together multiple nonprofits that have a similar focus or mission. If there is a specific issue area that you or your brand want to support through charitable giving, donating to an Impact Index Fund is a great way to do so. With a single transaction, you can help charities of all shapes and sizes: large and small, global and local, new and established, traditional and innovative. For more information on Impact Index Funds, visit our Impact Index Funds page.
Which nonprofits are in this Impact Index Fund?
Children of Armenia Fund
Love146
Indiana Sports Corporation
Reach Out and Read Colorado
Boys and Girls Clubs of Greater Houston
Coalition of Parents in Esports (COPE)
Northwest Association for Blind Athletes
Ruth Ellis Center
Canadian Roots Exchange
N/A
Louis August Jonas Foundation
Cure JM Foundation
International Child Art Foundation
Advocates For Children- CASA
CanTeen Australia
VOW for Girls, Inc.
Good Sports
Circle of Care for Families of Children with Cancer, Inc.
Ronald McDonald House Charities of Greater Cincinnati
Gamers Outreach
Fundación Hospital Pediátrico
Scratch Foundation
Club Esteem
Boys and Girls Club of Greater Lowell
Child Rescue Coalition
Hello World
Amani Project
Dreams for Schools
The Children's House at Johns Hopkins Hospital
Buckhead Christian Ministry
Hoyleton Youth and Family Services
Boys and Girls Club of Greenwich
Junior Achievement of New York
The Skate Park Project (Formerly the Tony Hawk Foundation)
The James Storehouse Incorporated
Voices for Children
Child's Dream Association
Junior Achievement of Arizona
Deaf Child Hope International
Chai Lifeline
Kaboom
Free Arts Nyc
YWCA Tri-County Area
Danita's Children
STOMP Out Bullying
Compassion Canada
Zero Abuse Project
Cuddles for Clefts
Mustard Seed Communities
A Child's Hope International
TLC for Kids
Home and Family Society Christchurch
UNICEF Luxembourg
Juma Ventures
The Discovery Centre
The Fresh Air Fund
Talbot Mentors
Children Change Colombia (UK)
Leadership Enterprise for a Diverse America
Songs For Kids Foundation
Big Brothers Big Sisters of Miami
Soles4Souls
Mad Anthonys Children's Hope House
Camp Ramah in Wisconsin
LifeBUILDERS
Knowledge is Power Program New York City
Variety Victoria
Mothers and Children Fund US
Skateistan
Family Programs Hawaii
Kids Cancer Alliance
Manny Pacquiao Foundation
Little Footprints, Big Steps
Ronald Mcdonald House Charities Detroit
Hope for Justice
Family Giving Tree
USA Clay Target League
Jerusalem Hills Therapeutic Center
American Foundation for Children with Aids
Big Brothers Big Sisters of Eastern Missouri
Royal New Zealand Plunket Trust
Hands of Peace
The Celebration Nation Foundation
A Leg To Stand On Inc.
Invest in Kids
Wpsbcfoundation
Monroe County Education Foundation
Zoe Empowers
HANDY
Make-A-Wish Foundation International
Hope and Comfort, Inc
Boys and Girls Clubs of Martin County
Australian Committee for UNICEF Limited
Save The Children US
Anu Family Services
Inly School
Make-A-Wish Foundation of America
KidsTLC
Family and Children's Association (FCA)
Boys and Girls Club of Worcester
Boys' and Girls' Clubs Northwest Georgia
Ollie Hinkle Heart Foundation
Ama International
Carver Foundation of Norwalk
Big Brothers Big Sisters of Metropolitan Chicago
Saints International
Routt County United Way
The Sanneh Foundation
Little Smiles, Inc.
Ymca of the Suncoast
Lucky to Ride
The Children's Foundation
Family Services of Northeast Wisconsin
Lydia Home Association
Boys and Girls Club of Meriden
A Kid Again
Businesses United in Investing Lending and Development (Build)
SOS-Kinderdorf
Avenues Early Childhood Services
AfriKids Limited
Eve's Place
Yad Ezra V'Shulamit
BethanyKids
Pure Game
Young MEN'S Christian Association of Greater New York
BLOOM Charity NFP
First Book
Marine Toys for Tots Foundation
Project Sunshine
Many Hopes
Boy Scouts of America, Northwest Georgia Council
Kennedy Children's Center
Make-A-Wish® Foundation Connecticut
National Pediatric Cancer Foundation
Big Brothers Big Sisters of Metro Atlanta
Global Fund for Children
Harper's Playground
CityBridge
Apex for Youth
Oh Wow the Roger & Gloria Jones Children's Center for Science & Technology
Del-Mar-Va Council Boy Scouts of America
Achieva
Mayashope
Shania Kids Can
Summer of Service
Boys and Girls Clubs Of Broward County
Dave Thomas Foundation for Adoption
Big Brothers Big Sisters of the Fraser Valley
Easter Seals Southwest Florida, Inc.
SOS Children's Villages
Make-A-Wish Colorado
Denver Children's Home
Boys and Girls Club of Santa Monica
Giraffe Laugh
Emerald Foundation
Dolly Parton's Imagination Library
Rising Tide Montessori
Junior Achievement of Northern California
Children International
Childhood Leukemia Foundation
Boys & Girls Clubs of Larimer County
Great River Children's Museum
Mobilize Love
Boys and Girls Clubs of America
Children of Promise NYC
Shamrock Way
Upbring
Worldwide Orphans
Share Tanzania
Big Green
World Orphans
Starlight Children's Foundation
The Life You Can Save
Good Samaritan Boys Ranch
Self Enhancement, Inc.
Creative Waves
Mercy Home for Boys & Girls
Children's Cancer Association
Lighthouse Youth Services, Inc. d/b/a Lighthouse Youth& Family Services
Adoptions Together, Inc.
Roald Dahl's Marvellous Children's Charity
Experience Camps
Cure Sanfilippo Foundation
Make-A-Wish Foundation of Southern Florida
YMCA of Rock River Valley
YMCA of Greater St Petersburg
Graham-Windham
Students Run Philly Style
Boys Hope Girls Hope / Group Return
Boys and Girls Clubs of Metro Atlanta
SeriousFun
GOOD+ Foundation
Fabretto Children's Foundation
CEDARS Kids
United Friends of the Children
4Kidsofsfl
Mwana Villages
Compassion International, Inc
Amanda Hope Rainbow Angels
JOY International
Girl Scouts of Northeast Texas
Huru International
Make-A-Wish Foundation of America
Family Services of Greater Vancouver
ROCK YOUR LIFE!
Siskin Children's Institute
Boys and Girls Clubs of the Los Angeles Harbor
Safe Children Coalition
Infinite Family
Moynihan Scholarship Fund, Inc./ New York State Society of Certified Public Accountants
Simone's Kids
How will funds be distributed?
Once per month, the total value of each fund will be distributed evenly to all of the nonprofit organizations participating in that fund. 
Who is The Giving Block?
The Giving Block makes Bitcoin and other cryptocurrency fundraising easy for nonprofits. Since 2018, we have been empowering mission-driven organizations, charities, universities, and faith-based organizations of all sizes to leverage crypto technology to achieve their mission. More than 1,000 organizations trust The Giving Block as their crypto fundraising platform.
How do you pick nonprofits for the Impact Index Fund?
Donor trust is very important to us. We vet every nonprofit that uses The Giving Block to ensure that they are registered nonprofit organizations, charities, and foundations. While the specifics of each nonprofit's mission may differ, the nonprofits in this Impact Index Fund have been selected because they are aligned in their overarching goals.
1000+ organizations accept crypto donations through The Giving Block