5 Reasons Why Nonprofits Love Cryptocurrency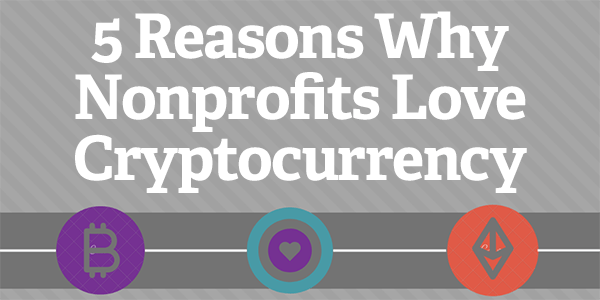 1) Cryptocurrency Fundraising
In recent years, we've seen hundreds of millions of dollars in cryptocurrency donated to nonprofits.
Why? There are major tax incentives for donating cryptocurrency.
The IRS classifies cryptocurrency as property, meaning donations are treated the same as real estate or stocks; however, they are able to be converted immediately on the open market. This means the donor does not have to pay capital gains tax and can deduct the full amount.
The Giving Block's solution also converts all donations into US dollars within 10 seconds. All you have to do is sign in a click a button to transfer the funds to your bank account.
2) Marketing and Awareness
Crypto donations attract media attention, and create viral content in ways that traditional donations simply do not. In this sense, accepting cryptocurrency donations can serve as a marketing opportunity just as much as it can as an additional fundraising tool for your organization.
One way nonprofits have engaged the cryptocurrency community is through The Giving Block's Brave Ad Grants Program. Selected crypto-friendly nonprofits, like Code to Inspire and the Human Rights Foundation, receive $10,000+ of free ads every month in the Brave Browser. Think of this as the equivalent of Google Ad Grants, but for a more tech-savvy (and privacy-oriented) audience.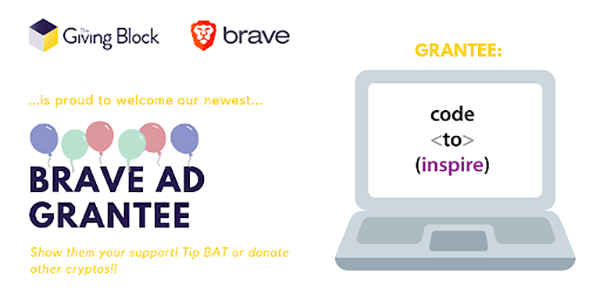 3) Millennials
For many young donors, Bitcoin is the preferred way to give.
According to ETF Store president, Nate Geraci, "if you talk to, primarily millennials, and ask them which they prefer, Bitcoin or gold, it's a landslide. It's not even close, it's like 90% prefer Bitcoin." [Source]
Among Millenials (i.e., individuals born between the 1980s and 2000s), cryptocurrencies have actually become their most frequently-chosen vehicle for investment. According to research conducted by Blockchain Capital, ~30 percent of individuals between the ages of 18 and 34 would prefer to invest $1,000 in Bitcoin, and not in government bonds and stocks.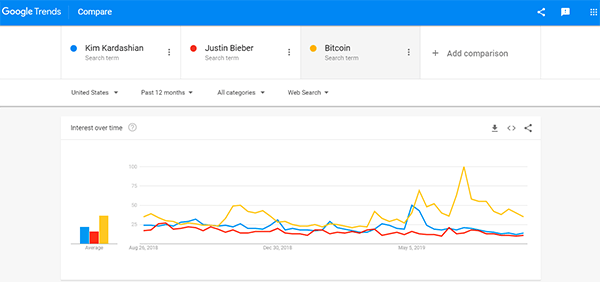 4) Stablecoins
In addition to Bitcoin and Ethereum, nonprofits are accepting and transacting with "stablecoins" to minimize the volatility associated with most other digital assets.
Stablecoins are a new class of cryptocurrencies which attempt to offer price stability by having them pegged to the value of fiat money, or other currencies and exchange-traded commodities (e.g., Paxos Gold, tokens are pegged to the value of gold).
This gives users many of the benefits of digital currency without price fluctuations.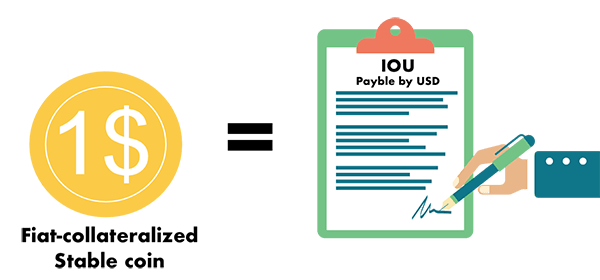 5) Transparency
Transactions recorded on public blockchains, such as the Bitcoin blockchain, are visible to all. This makes cryptocurrencies the most transparent way of exchanging value ever created.
Conclusion
When accepting cryptocurrency donations, the key is engaging the community and building relationships that will last a lifetime – and become more important as cryptocurrency adoption increases. What we do know is this: accepting cryptocurrency donations can make your organization stand out from the crowd and generate an immense amount of buzz on the internet and at events.
Read the full article on Nonprofit Tech For Good here: https://www.nptechforgood.com/2019/08/22/5-reasons-why-your-nonprofit-should-embrace-cryptocurrency/
The Giving Block makes learning about and accepting cryptocurrency donations easy. Learn more about how The Giving Block can help your organization elevate its impact by equipping you with the tools to accept cryptocurrency donations, here: https://www.thegivingblock.com.