Mainstream cryptocurrency conversations often focus only on Bitcoin. That's not surprising since Bitcoin was the first widely accepted cryptocurrency and currently has the largest market cap. But Bitcoin isn't the only star of the crypto show—there are over 10,000 different types of cryptocurrency in existence. And each one serves a unique function or utility that's contributing to the next iteration of the Internet, web3.
Further, each cryptocurrency has a fiat value associated with it, ranging anywhere from fractions of a cent to tens of thousands of dollars. As crypto investors realize gains from supporting these various tokens, many decide they want to use their profits to support nonprofits making a difference in the world.
That's where The Giving Block comes into the equation. To date, we support more than 100 types of cryptocurrency that anyone can quickly donate directly to nonprofits.
Below, we'll explore a few familiar types of cryptocurrency and others that you may never have heard of before. Then, we'll show you how you can support your favorite nonprofit with them.
Types of Cryptocurrency You Can Donate to Charity
1. Bitcoin (BTC)
We have to start with BTC because it's the most mainstream and popular cryptocurrency out there. Plus, there are many early adopters who have realized serious financial gains and often choose to make crypto donations in BTC.
From a functionality perspective, BTC allows people to securely and directly send digital money across the internet. It sounds similar to Venmo or PayPal, but these platforms use financial institutions as intermediaries to grant permission for money transfers.
BTC is fully decentralized, meaning that anyone can send BTC to anyone in the world without the need for banks, governments, or financial institutions. It's permanently changed the face of finance, a fact that attracts a lot of investors.
But what drives the high valuation of BTC is the fact that only 21 million BTC will ever exist. This ensures it won't inflate and can't be manipulated in any way.
Being the most popular and highly valued cryptocurrency also means it's frequently used for crypto donations. To date, The Giving Block has processed more than seven figures' worth in total BTC donations from thousands of donors.
2. Ethereum (ETH)
Immediately following BTC on the charts with the second highest market cap is ETH. This cryptocurrency operates as the token of Ethereum, the most popular decentralized, open-source blockchain that can run a wide variety of decentralized apps (dApps) that provide platforms for financial transactions, gaming experiences, and more.
In fact, there's an entire community of supporters and developers surrounding ETH that have built off its initial blockchain. Most notably, they've given us the Decentralized Finance (DeFi) ecosystem and Non-Fungible Tokens (NFTs).
Essentially, ETH can be used to codify, decentralize, secure, and trade almost anything thanks to smart contracts. These smart contracts establish the terms of an arrangement between anonymous parties and automatically execute when those terms are met, with no need for an intermediary.
3. US Dollar Coin (USDC)
Stablecoins are one the most important assets in the crypto ecosystem. Did you know that USDC was the third-most donated cryptocurrency processed by The Giving Block in 2021?
USDC is a stablecoin that is pegged to the US Dollar, backed by fully reserved assets. Each USDC is backed by one dollar or asset with equivalent fair value, which is held in accounts with US regulated financial institutions. USDC is designed to let dollars move globally from your crypto wallet to other exchanges, businesses, and people.
4. Shiba Inu (SHIB)
You may have heard of Dogecoin (DOGE) when Elon Musk tweeted his support for the popular memecoin, but you may not know about its major competitor, SHIB. In 2021, SHIB exploded as the Ethereum-based alternative to DOGE as they celebrated a 1 million holder milestone.
Whereas other types of cryptocurrency, like BTC, are designed to be scarce, SHIB is not. It was launched with an initial total supply of one quadrillion. And, unlike DOGE, SHIB is fully compatible with the ETH ecosystem as well as ETH-based wallets like Coinbase Wallet or Metamask.
This has allowed the self-described #SHIBArmy community to create successful crypto apps like ShibaSwap, a decentralized index (DEX) that lets users trade and stake tokens with no intermediary. There are also future plans to build a SHIB-powered NFT platform and DAO-based governance system.
No matter which of the two most popular dog-inspired coins you hodl, SHIB or DOGE, you can rest assured The Giving Block accepts both.
5. ApeCoin
ApeCoin (APE) is a token associated with Yuga Labs' well-known Bored Ape Yacht Club NFTs. Since launching in the Spring of 2021, Bored Apes have exploded in popularity, becoming widely recognized beyond the web3/crypto community.
To keep up with growing cultural and commercial interest in the NFT project, Yuga Labs created ApeCoin to "support the evolution of art, gaming, entertainment, digital and physical events, storytelling, and everything else web3 dreams up."
APE is an ERC-20 governance/utility token, the standard used for creating smart contracts on the Ethereum blockchain.
Upon launching APE, Yuga Labs airdropped tokens to owners of Bored Ape and Mutant Ape NFTs.
The founders of Yuga Labs have generously donated to charitable organizations including Orangutan Outreach, which rescues and rehabilitates apes in Borneo and Sumatra.
With Bored Apes in the limelight, ApeCoin is likely to be around for a long time to come.
6. Basic Attention Token (BAT)
Growing privacy concerns with companies like Google have led to the development of new web browser technologies, like Brave. This browser blocks online tracking software, has a built-in VPN, integrates with crypto wallets, and even has a native digital advertising platform built on blockchain technology.
The digital advertising platform is powered by BAT, an ETH-based token, which allows users to replace the ads they'd typically see with ads designed on the Brave network. Users then receive free BAT from advertisers as compensation for their attention, which they can tip back to favored ad creators or withdraw into their wallet.
Since the integration into Brave browser, BAT has achieved:
30 million monthly active users
10 million daily active users
1 million verified creators who accept BAT
Millions of newly created wallets
Thousands of ad campaigns with leading brands
Growing utility with blockchain gaming
The results make BAT one of the most successful altcoin projects to date. Plus, Brave is a great browser with an even better search engine that rivals the best out there. Reclaim your privacy and earn crypto while doing it—what's not to love?
How to Donate These Types of Cryptocurrency
In addition to what's posted here, The Giving Block accepts over 70 other types of cryptocurrency. There are several ways you can use The Giving Block, as a donor, to support thousands of nonprofits.
1. Give Directly to a Nonprofit
Whether you have a specific nonprofit in mind, or you're browsing for options within a cause category to donate crypto to, The Giving Block has an interactive hub that showcases all the options available to you. Once you've found the right organization, clicking the "Donate Crypto" button will take you to a page with more information about them.
Explore the nonprofit's mission statement, learn what impact you'll make when donating crypto to the organization, and find out how to save money on your taxes with crypto donations. Completing your crypto donation is as easy as selecting the type of cryptocurrency, typing in the amount, and completing the transaction.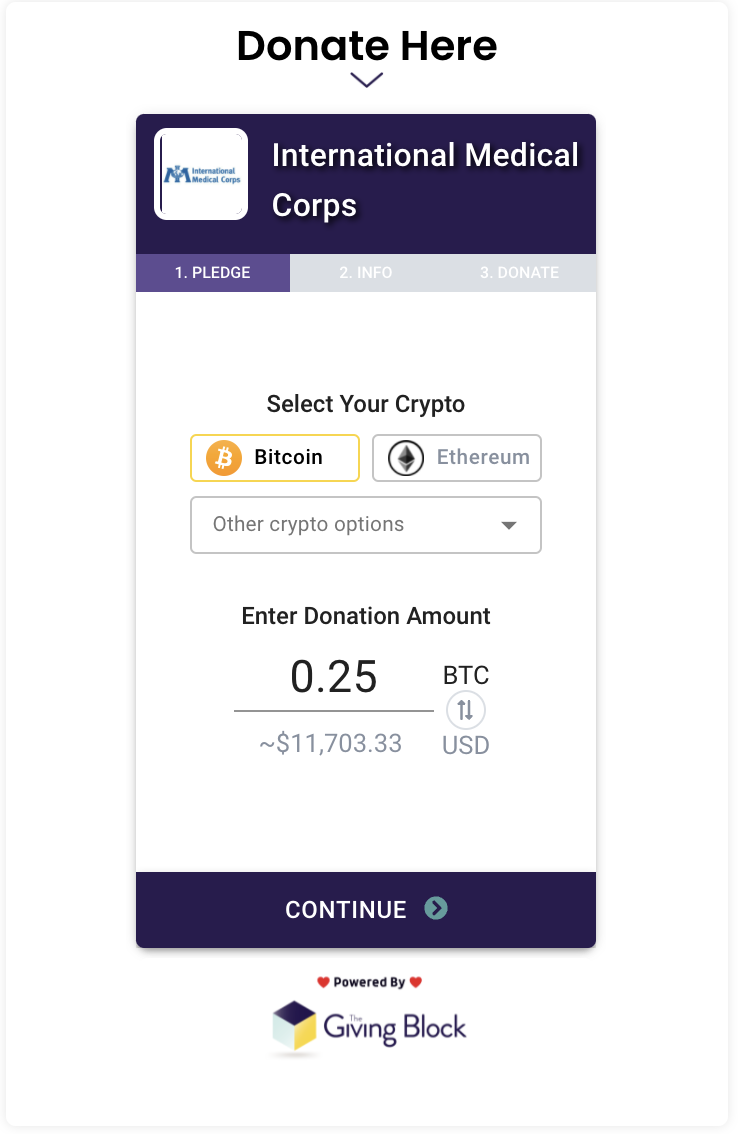 2. Donate to an Impact Index Fund
Many crypto donors know that they want to make an impact, but they don't know a specific nonprofit to support. In these situations, you can explore an Impact Index Fund that covers a category that's most important to you.
The Giving Block has 17 Impact Index Funds, each of which bundles together multiple organizations that have a similar focus or mission:
Technology & Science
Arts & Culture
Children & Youth
Poverty & Housing
Mental Health
Environment
Military, Veterans & First Responders
Education
Health & Medicine
Liberty & Freedom
Animals
Food & Water
Economic Development
Disasters & Conflict
Civil & Human Rights
Women's Empowerment
LGBTQIA+ Rights & Advocacy
A crypto donation made to a specific cause fund will be equally split among all the organizations under that category. It's a highly equitable option for giving where large and small, global and local, new and established, and traditional and innovative organizations all get the same share.
3. Give to the Crypto Adoption Fund
The Giving Block wants to make it easy for everyone to donate crypto, and also for nonprofits to accept crypto. That's why we created the Crypto Adoption Fund. This is a perfect option for someone who simply wants to donate, knowing that the funds will be allocated to vetted nonprofit organizations.
Crypto donors can make a contribution to the Crypto Adoption Fund with any of the types of cryptocurrency accepted by The Giving Block. Every month, an equal portion of funds will be distributed to the thousands of participating nonprofits.
Contributions to the Crypto Adoption Fund help build a strong culture of Crypto Philanthropy that encourages more activity among charities and donors.
Make a Difference with a Crypto Donation
While names like Bitcoin and ETH tend to dominate the crypto conversation, keep in mind that altcoins, stablecoins, and governance tokens are integral to keeping the crypto ecosystem operating and growing. As these assets appreciate in value, the gains can be donated to nonprofits to help make a positive difference in the world.