A Complete Guide to Donating Crypto to Nonprofits
Learn how to donate crypto to nonprofits, including how donors navigate crypto donation platforms, protect their privacy, and maximize the impact of the gifts they make in support of crypto-ready nonprofits.
Here's everything you need to know about donating bitcoin and other cryptocurrencies to charitable organizations, ranging from its tax benefits to the role your donations play in fostering wider adoption of crypto. Read on to explore our complete guide to donating crypto now.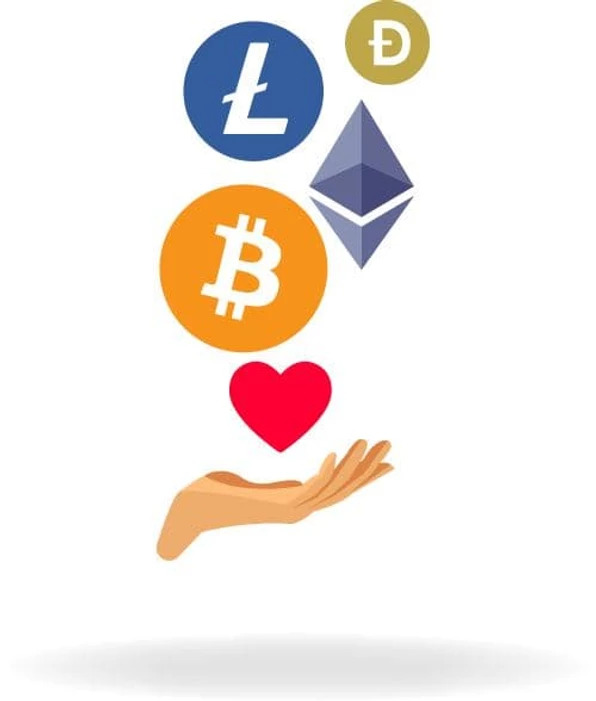 Why Donate to Nonprofits in Crypto
The Benefits of Cryptocurrency in Philanthropy​
​Donating Cryptocurrency is More Tax-Efficient than Using your Credit Card
Crypto Donations can Increase in Value and Impact
Donating Bitcoin & Cryptocurrency Drives Institutional Adoption
Cryptocurrency for Social Good is Here to Stay​
How to Donate Crypto to Support Charities
​Make a Crypto Donation in 3 Easy Steps
Other Ways of Giving Crypto
In little more than a decade, bitcoin and cryptocurrency have changed the world that we live in. With a global market cap now exceeding $1.5T (as of June 2021), crypto is remaking the landscapes of commerce and philanthropy, and empowering a new generation of donors to make an impact through charitable giving.
Today, making a donation in cryptocurrency to a nonprofit that aligns with your values is fast, easy, secure, and tax-efficient.
Despite crypto's cutting-edge reputation, the charities that will accept cryptocurrency donations aren't exclusively involved in tech-centric endeavors. The Giving Block enables nonprofits around the world—from traditional 501(c)3 charities like Save the Children, Direct Relief, United Way Worldwide, World Vision, No Kid Hungry, and American Cancer Society, to higher education institutions such as Wake Forest University, to faith-based groups across religions including Grace Church and the Jewish National Fund, to Donor Advised Funds, Charitable Trusts, Community Foundations and more—to accept gifts in Bitcoin (BTC), Ethereum (ETH), Dai (DAI), Dogecoin (DOGE), Litecoin (LTC), Zcash (ZCASH), and other cryptocurrencies.
On-the-fence donors are often surprised and pleased to learn that giving crypto can be done without providing personal information to the receiving charity, can help spread crypto adoption with organizations, and often can minimize the giver's tax burdens.
Whether you were inspired by the wide-eyed optimism of the Pineapple Fund's donation of 5500 bitcoin ($50-86M USD at the time of donation) or just want to make a personal commitment to give back some of your gains, The Giving Block wants to help guide you toward a better understanding of how to maximize the philanthropic impact of your crypto investment. We've made it simple to get the ball rolling.
Why Donate Crypto to Nonprofits?
It's easy to see the benefits of making a charitable donation in crypto. First, it's a humanitarian act: giving in bitcoin or another cryptocurrency can have positive implications for fostering social good in the crypto community. Additionally, every new organization that accepts crypto represents another critical step toward mainstream institutional cryptocurrency adoption.
While most charities choose to auto-convert property donations like cryptocurrency to cash, more and more are choosing to HODL in the form of a cryptocurrency endowment. This long term commitment to bitcoin and cryptocurrency has the potential for crypto gifts to appreciate in value and create a more sustained impact over time.
Finally, the IRS (and many other tax departments internationally) treat cryptocurrencies as property assets, making donations tax-free for the nonprofit and a charitable write-off for the donor. Often, donating cryptocurrency can be the most tax-efficient form of giving for a potential donor!
The Benefits of Cryptocurrency in Philanthropy
Holders of nonprofit leadership positions often engage in discussions about how to "diversity sources of revenue" and "find younger donors," especially Millennials and Gen-Z.
The attempt to win new, younger, and more diverse donors has led many charities to adopt digital fundraising innovations like (1) giving via social media, (2) mobile-friendly giving, and (3) making recurring (often small) gifts, all of which have reduced some of the friction for giving online. However, most of those "advances" rely on slow, outdated, centralized transaction processes like ACH or credit cards.
Today, those same conversations now lead nonprofits organizations to give cryptocurrency a try. Crypto offers a radically different approach that appeals to donors and excites even those nonprofits that traditionally "play it safe," precisely because it offers a break from the old way of doing things.
Crypto is Fast, Transparent, and Secure
Unlike traditional transaction methods such as credit card payments and ACH or wire transactions (or worse—checks!), which can take days to process completely and clear, sending bitcoin and other cryptocurrencies directly to a nonprofit only takes around 10 minutes until the nonprofit receives the funds.
This means donors can almost instantly verify the receipt of their gift by the nonprofit from anywhere in the world. If you provide an email address at the time of donation, you'll have a receipt emailed as soon as the transaction is confirmed.
Because a blockchain relies on networks of thousands of computers to verify transactions, it is nearly impossible to tamper with the ledger. This layer of security should put donors at ease, especially when making large financial gifts. Even better—for nonprofits, there's no risk of chargebacks like there are with credit cards.
Nonprofits using The Giving Block's donation platform have custody and liquidity provided by Gemini, a licenced trust company that is regulated by the New York State Department of Financial Services (NYSDFS), an industry and world leader in cryptocurrency security and regulatory compliance.
Crypto Respects the Privacy of Donors and Funders
Privacy is a fundamental human right according to the Universal Declaration of Human Rights: "No one shall be subjected to arbitrary interference with his privacy, family, home or correspondence, nor to attacks upon his honour and reputation. Everyone has the right to the protection of the law against such interference or attacks."
This fundamental right is a central value of the crypto community, and protecting donor privacy directly results in more donations to a nonprofit.
In turn, crypto donors are left alone by the nonprofits that receive their gifts, which is what most donors want anyway. The promise of appearing in an annual report is losing its appeal among younger donors, as is the notion of becoming auto-subscribed to a fundraising email list.
Donors may also have more serious concerns. Those who want to donate to causes that support minority, at-risk, and/or disenfranchised communities may be risking professional consequences or other uncertainties by making donations that can be easily traced back to them.
When giving to a nonprofit partner of The Giving Block, donors can choose to provide their full information to a nonprofit or donate using the "donate anonymously" option. If choosing the latter, donors will still receive a receipt for their cryptocurrency donations, but will not be enrolled in any marketing or mailing lists. The Giving Block will never share donor information with anyone other than the organization to which they have donated.
While nonprofits may not receive a donor's information, all cryptocurrency gifts are recorded on the blockchain, leaving a permanent, immutable record of the donation. And since most donors choose to give for altruistic reasons as well as for tax-related purposes, they are likely to report their donation on their tax returns.
Donating Cryptocurrency is More Tax-Efficient than Using your Credit Card
US crypto donors pay no capital gains taxes on gifts to 501(c)3 organizations that would otherwise trigger taxable events. From a tax perspective, this is very similar to donating appreciated stocks to a charitable organization.
Compare this to the other option, of selling bitcoin and donating the after-tax assets, which could be subject to a 23.8% long-term federal capital gains tax rate (and even more at a state level, depending on where you live). To put it in purely numerical terms, this avoidable tax could shrink the size of a potential gift valued at $500,000 by roughly $119,000.
The UK has also released guidelines on reducing or eliminating capital gains taxes on cryptocurrency and many more countries are providing similar guidance around donations of cryptocurrency to charity.
Read our Crypto Tax Survival Guide for more information and consult your local tax laws and regulations.
Note: Even when giving anonymously, donors will have the option to receive a tax receipt for their cryptocurrency donation from the nonprofit to which they give. As always, check with your accountant, financial advisor, or tax attorney before making any major decision, as everyone's individual tax situation is unique.
Crypto Donations can Increase in Value and Impact
A crypto gift has additional benefits over traditional cash donations. Crypto investors may have the ability to donate bitcoin for the purpose of providing an investment to the charity of their choice.
While most nonprofits currently choose to auto-convert to a local government-issued currency, an increasing number of charities are deciding to HODL in the form of cryptocurrency endowments. Over time, this type of donation can appreciate in monetary value far beyond the initial value of the gift. By accepting donations in the form of crypto investments, nonprofits can set themselves up for long-term success.
Donating Bitcoin & Cryptocurrency Drives Institutional Adoption
Believe it or not, nonprofits and charities are leading the way in mainstream cryptocurrency adoption, and donating crypto helps the trend to gain momentum. In fact, nonprofits are adopting cryptocurrency at a higher rate than the traditional finance sector, making them a real innovator when it comes to crypto.
Despite crypto's meteoric rise in popularity and value, data projections suggest that we're still very much in the early phases of user adoption. An estimated 14% (or roughly 22M) of Americans own crypto in 2021, a number that is reflective of the larger global trends.
Consider this: as recently as October 2020, online payment behemoth Paypal offered customers the ability to buy and sell cryptocurrencies on its platform. As more businesses, charities and even nations, like El Salvador, integrate cryptocurrencies into their balance sheets and business models, the number of users will increase exponentially.
In April 2021, the New York Times declared "We're All Crypto People Now," while the number of crypto users has and will likely double (or nearly so) every year. By January 2022, crypto users totaled 300 Million worldwide.
Cryptocurrency for Social Good is Here to Stay
Efforts are already underway to bring greater attention to the philanthropic potential of the crypto community in achieving all 17 of the United Nations Sustainable Goals:
"For the United Nations to deliver better on our mandate in the digital age, we need to embrace technologies like blockchain that can help accelerate the achievement of Sustainable Development Goals," said UN Secretary General António Guterres.
Gone are the days when the notion of a mostly anonymous, decentralized currency made many onlookers skeptical about crypto's benefits to society at large. The Pineapple Fund helped rewrite many skeptics' narratives about crypto when it gave away a bounty of bitcoin valued at over $55M. Today, the concept of "Crypto for Good" has reached the desks of executives at Fortune 500 companies.
Demonstrate Your Cryptocurrency Project's Commitment to Corporate Social Responsibility
Making a donation in crypto is one of the easiest ways that a blockchain or cryptocurrency company can demonstrate their commitment to corporate social responsibility and values to the world.
By taking the Crypto Giving Pledge or supporting a nonprofit through a donation or matching gift that aligns with their organization's values, companies can publicize their dedication (and that of cryptocurrency as a whole) to bettering the world. Yes, Bitcoin fixes this!
Get Involved in Social Giving
Donors who support causes during social giving days or campaigns like #CryptoGivingTuesday (think of it as #GivingTuesday for crypto) can see their donations multiply through matching gifts of generous philanthropists.
Our flagship year-end fundraising campaign, Bag Season, has raised millions of dollars in crypto donations for charities. In fact, approximately 50% of crypto donation volume processed by The Giving Block in 2021 was during the months of November and December.
The Crypto Giving Pledge, builds long-term momentum for charitable giving from high net worth individuals and key influencers in the crypto community, increasing visibility of the philanthropic potential in the cryptocurrency space—with the goal of making crypto the most charitable industry in the world. The Crypto Giving Pledge has attracted notable individuals from the blockchain and crypto community, as well as athletes and celebrities like Tony Hawk and Rainn Wilson.
Other Ways of Giving Crypto
The Giving Block works with donors and nonprofits to give and receive cryptocurrency through a variety of alternate methods to direct giving.
Donate with NFTs
A "Non-Fungible Token," or NFT, is a type of data stored on a blockchain, often in the form of crypto art or music. A NFT can be bought, sold, and resold on specific platforms meant for trading them. Big names, from Jack Dorsey to Mick Jagger, are putting up their content for auction. And recently, Christie's became the first major auction house to get involved, selling artist Beeple's work, Everydays – The First 5000 Days, for $69.3M.
The most efficient way for NFT creators to give to a charitable cause is to auction off their NFTs and donate the proceeds directly to the charity of their choice.
Creators can generate a wallet address using The Giving Block's widget, and configure it so that nonprofits can receive royalties in perpetuity every time the NFT is sold.
Charity Coins & Tokens
The Giving Block makes it easy for cryptocurrency charity projects such as charity tokens and coins to donate directly to nonprofit organizations. Charities accept many cryptocurrencies including Bitcoin and Ethereum, and are arranged in categories based on their mission.
Projects can make a donation and will receive a receipt by email that will verify that the donation was made to a wallet that is controlled by the nonprofit organization.
Is your charity token or coin interested in supporting a nonprofit? Let us know by contacting us here.
How to Donate Crypto to Support Charities
The simplest way to give crypto is to make an online donation directly to a nonprofit. The Giving Block also makes it easy to find a charity you'll want to support. We've broken the process down into three quick steps.
Make a Crypto Donation in 3 Easy Steps
Support a cause that matters to you by selecting a charity that accepts donations in crypto.
1. Find a Charity
Either search the charity by name, or choose a category using the dropdown option. Is your favorite charity not listed? Contact us to nominate a worthy organization. We have made it possible for several nonprofits to accept crypto because they were nominated by donors interested in supporting their cause.
2. Make Your Crypto Donation
First, select Bitcoin, Ethereum or another cryptocurrency you want to donate from the dropdown, and enter your donation amount in the crypto of your choice or USD. Next, fill out some basic information about you (optional), and enter an email address where you would like to receive a tax receipt. Third, a dynamic wallet address will be generated for your donation which is linked directly to the charity's wallet. We use dynamic wallet addresses to protect your privacy, but these addresses can be re-used if you'd like! Use this to send the cryptocurrency from your wallet or exchange account.
3. Get Your Tax Receipt
Donors can choose to receive a tax receipt via email. This will arrive as soon as your donation has received the minimum amount of confirmations on the blockchain, so keep a lookout for it. If you can't see it, double check your spam or junk mail, and contact The Giving Block if you require it to be resent.
Be sure to file away your tax receipt in a safe location that is accessible when filing your tax return and use it for proof of your donation.
If you don't see your favorite nonprofit on this list, get in touch with us to nominate one today.
As the interest among donors and nonprofits continues to increase, we expect to see fast growth in crypto philanthropy. Together, we can make crypto the most charitable industry in the world.
About The Giving Block
The Giving Block makes Bitcoin and other cryptocurrency fundraising easy for nonprofits. Empowering mission-driven organizations, charities, universities, and faith-based organizations of all sizes to leverage crypto technology to achieve their mission. Discover why cryptocurrency is the fastest growing donation method for Millennial and Gen-Z donors, at TheGivingBlock.com.