Bitcoin Is Up 96% in 2019. Bitcoin is the Best Appreciating Asset Of The Decade.
Donating Crypto Directly To A Nonprofit Can Lower Your Capital Gains Taxes by 20%+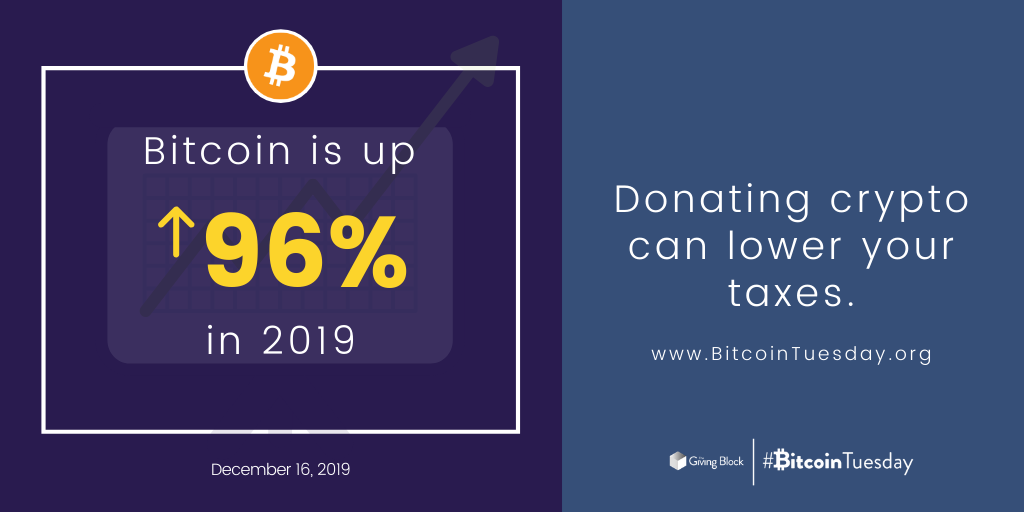 The recent dip in bitcoin and other cryptocurrency prices over the last few months may have people feeling down, but what most of us forget is that Bitcoin is up 96% in 2019. Just last week, Bank of America Merrill Lynch (BAML) put out a report of the best and worst performing assets of the decade.
Taking the #1 spot of best appreciating asset is Bitcoin:
* Best: Bitcoin $1 in 2010 = $90,026 today
* Worst: Myanmar Kyat $1 in 2010 = $0.004 (spot) today.
* (For comparison: US equities $1 in 2010 = $3.46 today)
— Carl Quintanilla (@carlquintanilla) December 13, 2019
Most people in 2010 didn't see the value of Bitcoin yet, but those who were involved in the industry early on were able to purchase Bitcoin very cheaply. In May of 2010, a programmer named Laszlo Hanyecz famously bought Papa John's pizza for 10,000 BTC (~$25 at the time). This transaction is often considered the first time Bitcoin was used to purchase goods or services. As of December 13, 2019, his pizza would be worth $72.2 million. There are people out there who held onto their thousands of "cheap" Bitcoin they acquired in the early days of Bitcoin and will owe massive capital gains tax when they go to sell.
So while the recent decline over the last few months may feel painful, this is just a small correction of the best appreciating asset of the decade. Many of us may owe more in capital gains than we realize on our Bitcoin gains this year. So before year end, be sure to consult with a tax professional to see what you may owe, and strategies for offsetting some of those gains.
One of those ways to offset capital gains in a tax efficient way is to donate your Bitcoin or other cryptocurrency directly to a 501(c)(3) nonprofit. Since the IRS classifies it is property, donations in cryptocurrency to the nonprofit are not a taxable event, meaning that you do not owe capital gains and can write it off on your taxes. For more information on how cryptocurrency is treated for tax purposes, we have a blog here.
Interestingly, "donate bitcoin" is searched more often on Google than "donate stocks" for the last 5 years.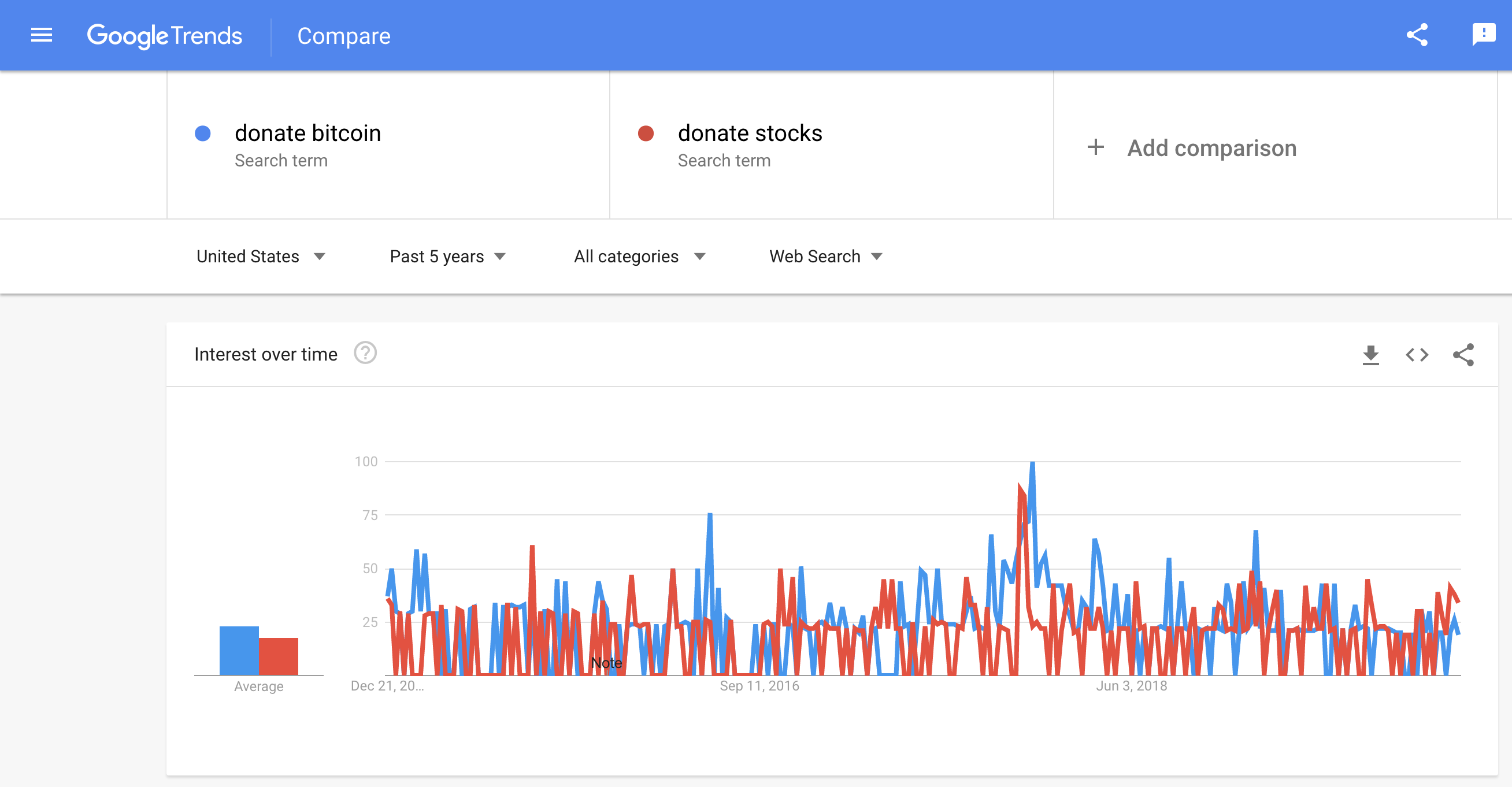 Nonprofits who accept crypto donations are at the forefront of adoption. We hope you show them your support by making a crypto donation today. Or, you can go ahead and give it to the IRS.
Visit https://bitcointuesday.org/ to find the largest platform of 501(c)(3) nonprofits accepting Bitcoin, Ethereum, Litecoin, Bitcoin Cash, Zcash and GUSD. Have a nonprofit you'd like to see equipped to accept cryptocurrency donations? Reach out to us at [email protected]