In July 2022 Deepak Thapliyal, the CEO of chain-built cryptographic ledger systems Chain, made a generous Ethereum (ETH) donation to the Chattanooga Area Food Bank through The Giving Block, valued at $100,000 at the time of giving. The six-figure donation greatly helped the food bank in its mission to eliminate hunger during a time of year when the nonprofit organization's services are needed the most.
This single act of generosity from a crypto donor provided funding for hundreds of thousands of meals for the Chattanooga community, where one in six individuals don't know where their next meal will come from.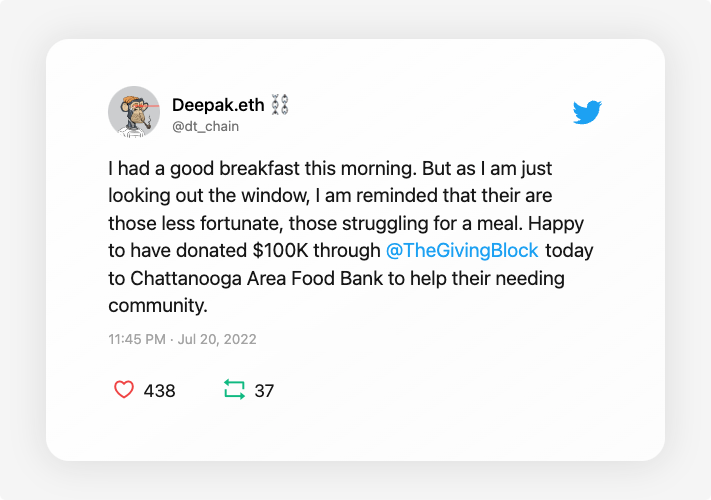 About This Donation: A $100,000 donation in cryptocurrency provided meals for thousands of people in the Chattanooga area, as the Chattanooga Area Food Bank fights hunger and provides access to healthy food for those most in need.
What Those Involved Had to Say: This generous donation highlights how quickly and easily crypto donors can support those who need it the most through The Giving Block. By connecting donors with causes they're passionate about, Crypto Philanthropy is one of the most powerful forces for good on the planet.
"I highly recommend nonprofits to sign up with The Giving Block so they can expand their reach of people wanting to pay it forward." –Deepak Thapliyal, CEO of Chain
"Such an amazing and timely gift to the Chattanooga Area Food Bank. Summer is often the hungriest time of year and this generosity will go so far to help." –Lindsay Tipping, Client Success Manager at The Giving Block
Make a Difference With Your Crypto
Thousands of nonprofits accept cryptocurrency donations with The Giving Block's all-in-one crypto fundraising solution. 
What cause are you passionate about? Use your crypto to positively impact the world with a charitable donation.