The last few years have seen a massive increase in the frequency and amount of cryptocurrency donated to nonprofit organizations, especially in the higher education space.
From the massive $55 million donation to 60 nonprofits by the Pineapple Fund, $100 million-plus raised by donor-advised funds like Fidelity Charitable and the National Philanthropic Trust, to the $75 million donation to 17 universities by San Francisco State University Alumni Brad Garlinghouse and his company Ripple, tax-deductible cryptocurrency donations (and other cash donations from the cryptocurrency industry) are on the rise.
With clear guidance around how both donors and organizations should handle cryptocurrency donations, and 1040 forms specifically asking taxpayers about their cryptocurrency holdings, there is now more incentive than ever for both your alumni and community stakeholders to donate cryptocurrency.
Despite all this, many major universities are still lagging behind other nonprofit organizations when it comes to actively fundraising, or even accepting cryptocurrency donations. Most, if not all accept donations of similar property types like securities, stocks, and bonds. Out of all nonprofit organizations, higher education is likely to be one of the largest potential recipients of major cryptocurrency gifts, from both industry and alumni.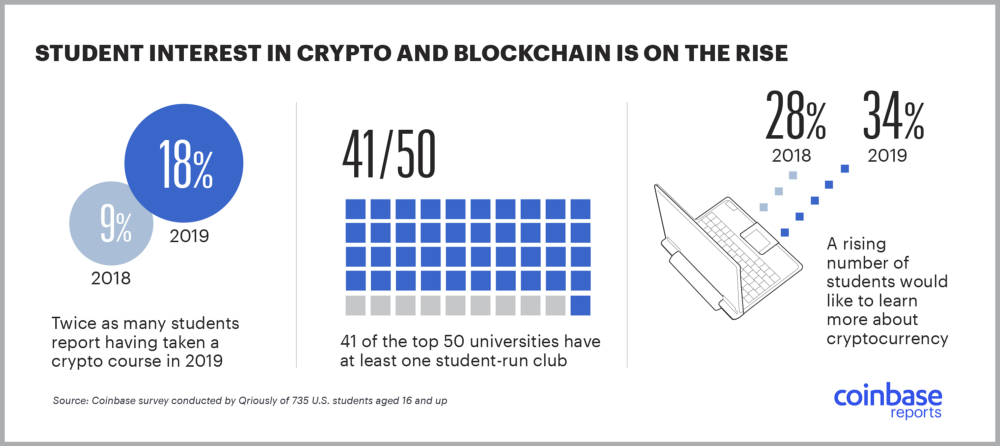 Source: Coinbase
How many cryptocurrency donations are you missing out on?
Right now, it's hard to give an accurate answer as to just how much cryptocurrency is being donated to higher education. From the period of 2017-2020, colleges and universities have been less forthcoming with data around cryptocurrency donations than other nonprofits. But, this is slowly changing.
While it is very common for major nonprofits to publicly and proudly state that they accept cryptocurrency donations, have a cryptocurrency donation landing page and widget or wallet address publicly shown, this hasn't become the norm for higher education. However, there is plenty of data available on cryptocurrency news sites, twitter feeds of major donors, and even press releases of these universities regarding cryptocurrency gifts to higher education.
Unfortunately, the accuracy of it leaves a little to be desired. It's often second hand, written by journalists, or advancement offices with very little knowledge of cryptocurrency. In addition, only major gifts tend to be publicly acknowledged, but it's a start.
Here are some of the stand out examples of cryptocurrency donations to schools, colleges, and universities that we've come across (and it's worth noting that these major gifts have happened regardless of market conditions) in the media:
As you can see – there's a bit of a trend here. While all of the above higher education institutions have received significant cryptocurrency donations, from the cryptocurrency industry, or have courses on cryptocurrency and blockchain, only four mentioned that they accept cryptocurrency, and only two gave instructions that are accessible to the public on how to donate.
One thing that we learned when working with nonprofits was that organizations see a significant increase in donations when they make it clear they accept cryptocurrency, and make it easy for potential cryptocurrency donors to find that information.
One has to ask the question: if higher education institutions made it easier to donate crypto, how many additional gifts would they have received each giving season?
Why would donors donate cryptocurrency to their Alma Mater?
There are many reasons why one of your alumni might choose to donate cryptocurrency to your school, but the primary one is likely to be for tax reasons. As per IRS guidance, cryptocurrency donations are treated as property and allow donors to write off the fair market value of the donation on their tax return. This only works if the donor donates directly to a nonprofit. They cannot sell or exchange the cryptocurrency before the donation and still get the tax benefit.
And of course, many colleges and universities are offering courses on blockchain and cryptocurrency:
For colleges, universities, and schools, this means that you have a potentially massive, young, wealthy, and untapped donor pool, These could be early cryptocurrency investors, alumni working at cryptocurrency and blockchain startups, or even students who might have mined cryptocurrency in the early days while living in student housing. But to cultivate this donor base and receive the donations you are going to need the means of accepting the donation, and you need to let your potential donors know!
How can Universities Accept Cryptocurrency Donations?
There are currently two main ways of accepting cryptocurrency donations as a university or higher education organization, and while we are a little biased, we think that one is much better than the other.
Accepting Cryptocurrency Donations using Donor Advised Funds
Some of the universities that we have reached out have told us that while they don't mention it on their website, that they do accept cryptocurrency donations via one of the many Donor Advised Funds out there. For potential donors, this isn't a great experience and while it is technically a way of accepting these donations, it isn't a great way to cultivate that donor relationship or ensure that the donation actually happens.
Generally, the process goes like this:
The donor reaches out to the university (very unlikely), hopefully with the right contact email (also very unlikely), and gets hold of someone in advancement asking if they accept cryptocurrency donations.
If they get hold of the right person, and they know that they accept cryptocurrency, they will refer them to the DAF.
Assuming that they haven't lost the donor by this point, the donor will need to go through a compliance process, including around 20+ pages of forms and paperwork, set up an individual giving account, and eventually transfer the crypto to the DAF. This process could take days or weeks, and the price of the asset could fluctuate during this time.
The DAF sells the crypto and your university gets the funds.
As you can see, this is not an ideal donor experience, and will likely result in 90% of millennial donors who are looking for a quick and easy donation experience giving up partially through the process and either not donating at all, or donating elsewhere where it is easier.
For this reason, we strongly recommend against using a Donor Advised Fund to accept cryptocurrency unless there are absolutely no other options available.
Accepting Cryptocurrency Using The Giving Block
Back in the old days of 2018, if a University decided to accept cryptocurrency they would have had to go at it alone, and do all the leg work and compliance themselves. Often this would result in issues around compliance, generating tax receipts, the actual sale of cryptocurrency, and inability to collect donor data effectively (or at all).
Thankfully a few years have passed by and we've learned a lot working with nonprofits, both large and small to ensure that the process is simple and easy for both nonprofit organizations and donors alike.
We use Gemini as our backend exchange and have a customized onboarding process for higher education organizations to streamline every step of compliance. Once that is done, your organization will be listed on our platform of organizations—alongside higher education institutions including New Saint Andrews College and Wake Forest University— that accept cryptocurrency making it easier for new donors to find that you accept cryptocurrency.
We will provide you with a custom widget that can be embedded on your institution's giving pages (we recommend creating a stand-alone cryptocurrency landing page that is easy to find, search engine optimized, and linked from your giving menus and "other ways to give" pages). This will allow donors a convenient and easy way to donate cryptocurrency directly to your institution, which will:
Automatically convert to USD
Generate automatic tax receipts for donors
Include full reporting of donations.
A fully regulatory compliant wallet and custody solution (FDIC Insured once converted to USD)
For donors the process is simple:
Find the widget either on your donations page or on our platform (or anywhere else it's embedded, i.e. blogs, newsletters, third party sites)
The donor chooses their cryptocurrency type.
The donor enters their information
The donor chooses the amount to donate
A unique wallet address is generated for the donor
Donor transfers their cryptocurrency to your institution
A receipt is generated for the donor
The cryptocurrency is liquidated for cash.
It's that simple. No need for donors to create accounts, email your advancement team, or fill out 20-page forms. For your advancement team, you don't need to worry about cryptocurrency volatility, receipting, or matching donations to donor data. Everything just works!
What's next for The Giving Block and Higher Education?
Of course, that's not everything, we are constantly working to build the only 100% nonprofit focused cryptocurrency solution that not only follows industry best practice but creates it! Here's what we've got in the pipeline to make it even easier to accept cryptocurrency donations:
Restricted Funds Options: Currently all donations are made to an organization's general fund, which is ideal for most non-profit organizations. We realize however that schools, colleges, and universities might want more flexibility for allocation, especially when alumni might want to donate just to the School of Business, Arts, Music, etc., so we'll be adding this functionality shortly.
Nonprofit CRM Integrations: Currently it's easy for nonprofits to import their donor information using our CRM friendly .csv exports. We want to make it even easier and will be launching our first CRM integration shortly that will automatically populate donation data in your favorite CRM.
+ Much more to come!
Ready to get started?
Are you ready to learn more? Simply get in touch with us at The Giving Block using the book a demo form, and we'll be more than happy to connect over Zoom with your advancement team to answer any questions you might have about cryptocurrency donations and higher education.
We look forward to meeting you soon!