What is Crypto Philanthropy?
Crypto Philanthropy is a form of charitable giving by individuals and organizations that support causes with cryptocurrencies instead of cash, stocks, or other asset classes. Just as trading and investing in cryptocurrencies has gained popularity since 2008, the year of Bitcoin's creation, so has the practice of donating to charities and nonprofit organizations with crypto. In recent years, annual crypto donation volume has risen sharply.
Key Incentives for Crypto Users to Give
Crypto is the best performing asset class of the last decade, with cryptocurrency investments like Bitcoin beating out the stock market by nearly 1,000%.
14%, or approximately 21 million are invested in cryptocurrencies like Bitcoin, a figure set to double in the next year.
U.S. donors don't pay capital gains taxes on any property asset (e.g., crypto, stocks) that they donate to a registered 501(c)3 nonprofit.

In other words, donors save more on taxes when they donate their most appreciated property—which, for millions, is their crypto.
All together, these three components incentivize millions of Americans to donate crypto ahead of other donation options. When given the choice to pay taxes to the IRS or donate to a charity they believe in, many will opt to donate their crypto.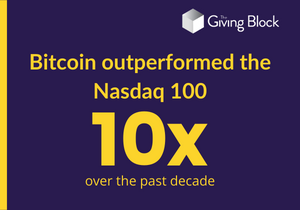 Crypto Donor Demographics
On paper, crypto donors seem to be made in a lab for philanthropic giving. They tend to be young, high-net-worth individuals with strong tax incentives to give.
The per capita annual income for crypto users is $111,000.
This is a higher average income trend than that of any city in America.
The average age of crypto users is 38. In contrast, the average donor in the nonprofit sector is 64.
67% of crypto users that identify as male, down from 90% in 2015 as more women get in.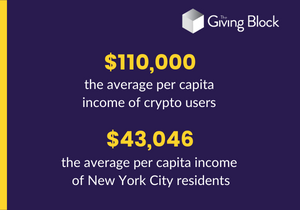 Key Crypto Donor Giving Trends
The data below suggests that the average crypto donor is uniquely generous, as compared to the average cash donor.
$11,000 is the average crypto donation size on The Giving Block.

Source: The Giving Block, Inc. (2021). Crypto Philanthropy Industry Report 2021: The state of cryptocurrency donations in the nonprofit sector (CPIR, Vol 1). CPIR.

This is nearly 100 times higher than the average online donation across the sector ($128).
45% of crypto users donate at least $1,000 to charity each year.

Only 33% of the general investor population gives $1,000 or more to charity annually.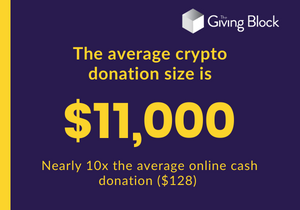 Crypto Giving Tuesday 2021 Stats
Total amount donated: $2.4M (a 583% increase from Crypto Giving Tuesday 2020)
Average donation size: $12,600 (a 20% increase from the average crypto donation in 2021)
# of participating nonprofits: 1,017 (up 839% from Crypto Giving Tuesday 2020)
Total donation volume by crypto (top 5):
| | |
| --- | --- |
| Crypto Rank | Amount Donated (USD) |
| 1. Ethereum (ETH) | $1,212,687.98 |
| 2. Bitcoin (BTC) | $885,504.55 |
| 3. USD Coin (USDC) | $294,431.24 |
| 4. Uniswap (UNI) | $8,974.11 |
| 5. Tezos (XTZ) | $5,160.80 |
Of course, more crypto donations means a greater positive impact on the world. But understanding crypto philanthropy is about more than crunching the numbers, it's about recognizing the trends and driving factors behind this fast-growing form of charitable giving.