Beginning today, through our partnership with Chariot, donors can give assets directly from their Donor Advised Fund (DAF) accounts to any of The Giving Block's 2,000+ nonprofit clients. This new product feature unlocks $234 billion in DAF donation opportunities for our clients, providing them with an all-in-one solution for asset fundraising.
DAFs are one of the fastest-growing trends in philanthropy, growing at 40% YoY. High-net-worth donors are increasingly using DAFs due to their financial benefits, like tax deductions and capital gains tax mitigation, as well as the opportunity to make a real impact as their charitable funds grow over time. Because of these benefits, the average DAF donation is $4,000, which is larger than most one-time gifts. This integration makes it easier than ever to donate via DAFs and we're thrilled to add this donation method to our platform, as we continue our mission to modernize and automate asset fundraising.
The Problem?
DAFs have long been criticized for not doing enough to encourage donors to make distributions to charities. Part of the reason was that there was no easy way to donate those funds. Thanks to our partnership with Chariot, this time-consuming and complicated process is now seamless. Our native integration allows nonprofits to accept Donor Advised Fund donations directly on The Giving Block's donation forms with just three clicks.
Beginning today, this integration is available to all of The Giving Block's 2,000+ nonprofit clients, at no additional cost to them. This integration provides our nonprofit clients with access to a new revenue stream and new donors, while also allowing them to accept DAFs and other assets as part of their broader fundraising strategy.
Benefits of this integration include:
Accept DAF donations directly from your website. With this integration, donors no longer need to leave your nonprofit's website to connect their DAF. It can now all be done through The Giving Block's donation form on your website, eliminating extra steps in the donation process.
Show donors their DAF balance and give them the option to boost their donation. This gives nonprofits the opportunity to receive larger donations, as Chariot uses machine learning based on account balances to suggest custom amounts for boosting donations.
Collect and track DAF donation information: With this integration, nonprofits can collect their DAF donor information (which has traditionally been limited) as well as track gifts within The Giving Block's dashboard. Plus, this is compatible with all our CRM integrations including Salesforce, Blackbaud, Zapier, and more – meaning you can get a full 360-view of all your asset fundraising in one place.
Save donors time with direct DAF provider integrations: Chariot currently has integrations with over 60% of the market, including the leading DAF providers like Fidelity Charitable, Schwab Charitable, and Charityvest.
How It Works
Clients of The Giving Block can now empower their donors to give from their DAF in just three simple clicks. And the best part? There is no additional cost to our clients for this integration and zero set-up is involved! Our clients will automatically receive access to this integration.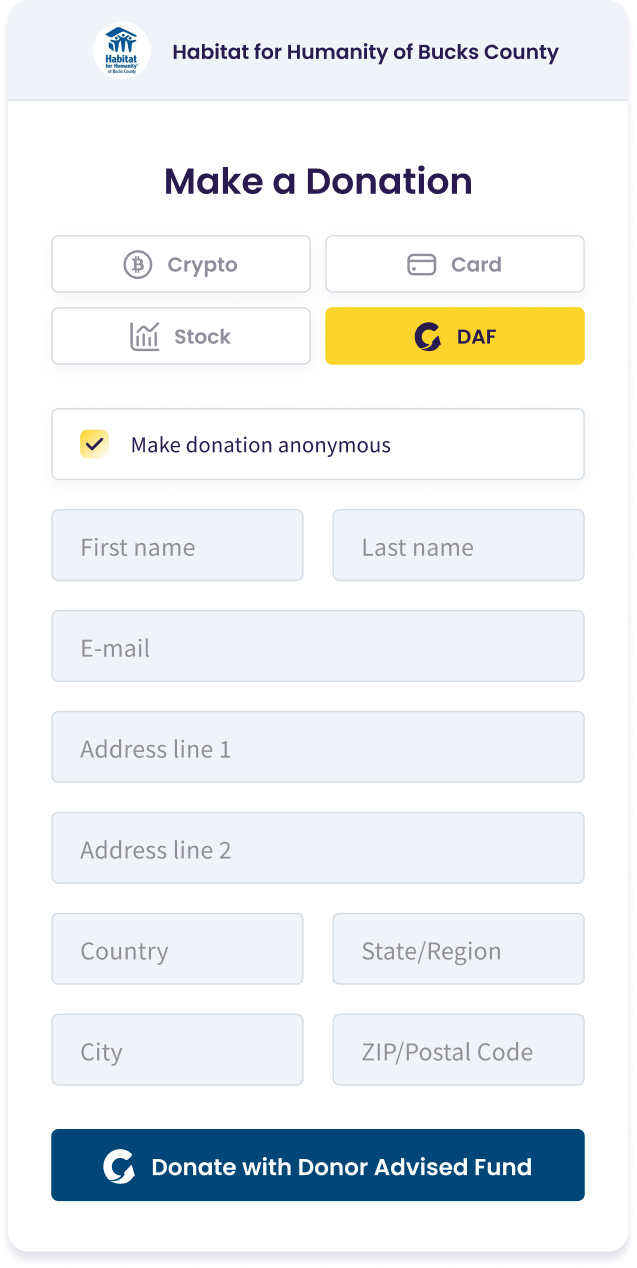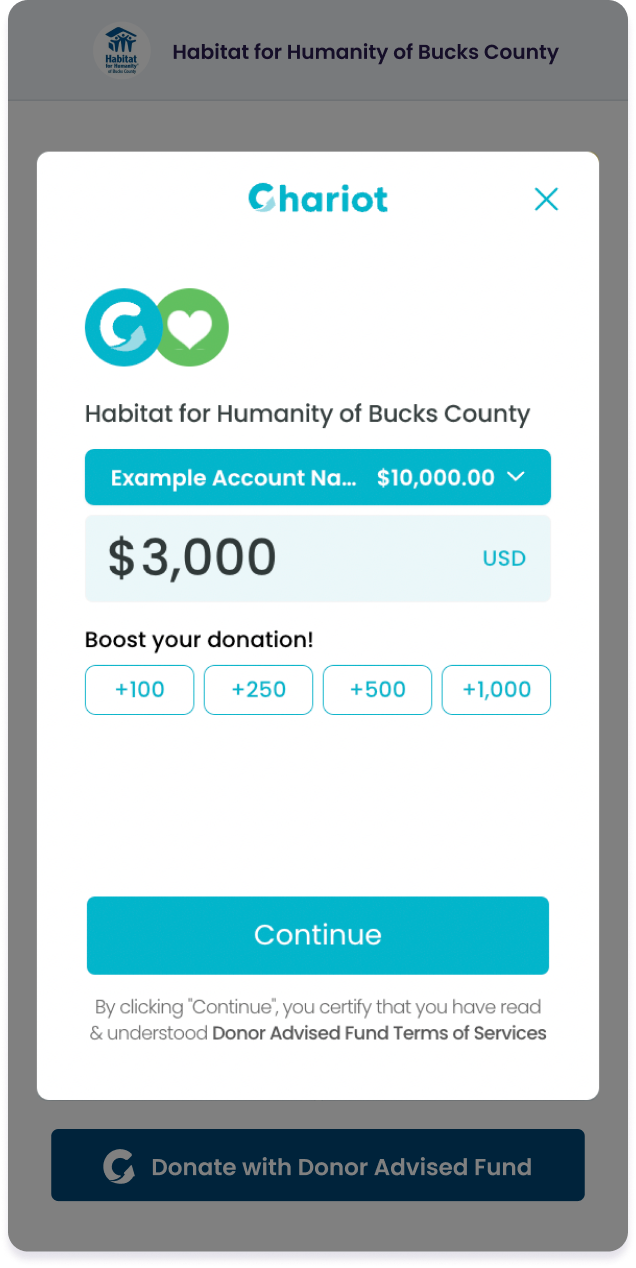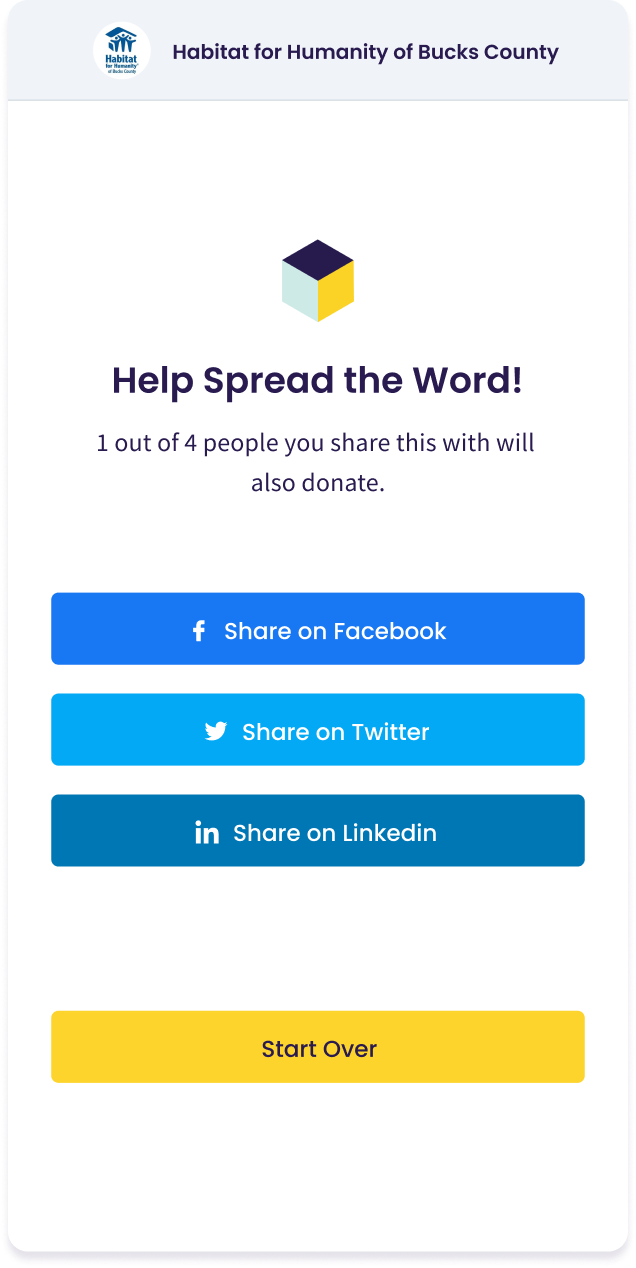 For donors, simply go to The Giving Block form on your favorite nonprofit's website and click "DAF". From there, simply select your DAF provider, log in to your account, and submit your donation request. It's as easy as that!