Does Your Nonprofit Accept Bitcoin Yet?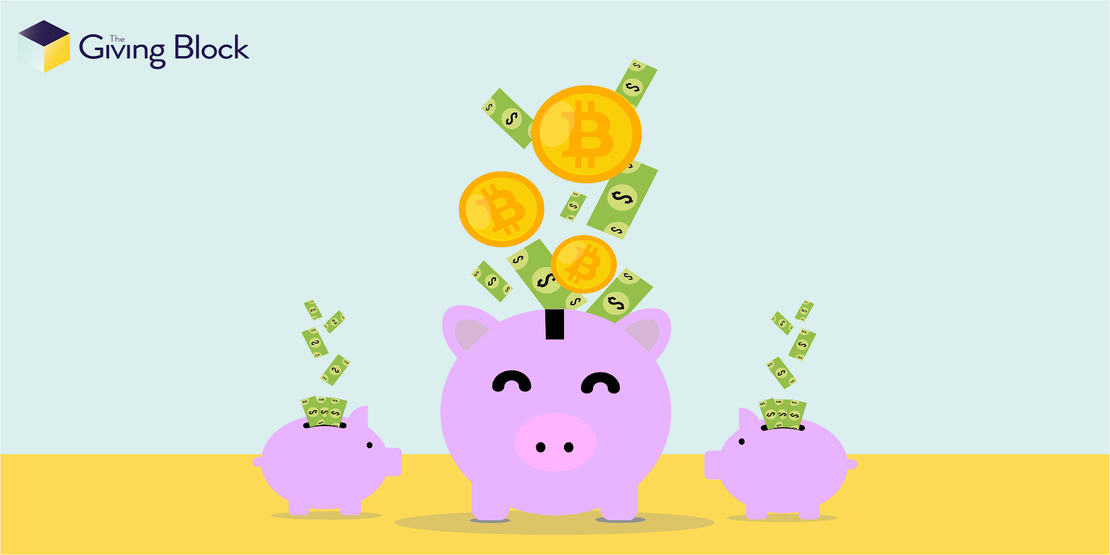 What is Cryptocurrency?
The first cryptocurrency, Bitcoin, was launched in January 2009. Bitcoin can be most simply understood as a peer-to-peer form of digital cash. Bitcoin is a currency like dollars or euros, which can be used to purchase goods and serve as a store of value.
The primary difference between cryptocurrencies and government-issued fiat currency is that the Bitcoin network is decentralized. The Bitcoin network is an open and decentralized network without a central governing body. The decentralized nature of the Bitcoin network enables transparent, peer-to-peer transactions, without the need for central intermediaries like banks and other financial service providers.
Why Do People Donate Cryptocurrency?
Simple – taxes. There is a massive tax incentive for donating cryptocurrency.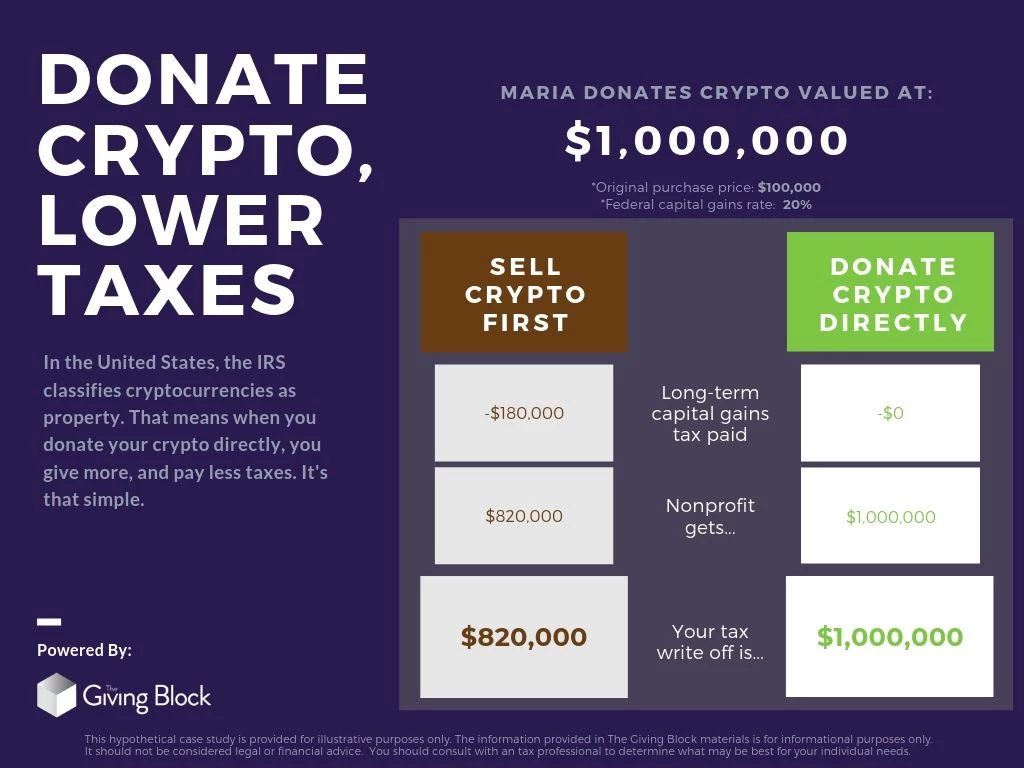 The IRS classifies crypto as property, like stocks, so when you donate crypto, neither you nor the nonprofit pay capital gains taxes.
Why Do Nonprofits Accept Cryptocurrency Donations?
It's an Opportunity for New Partnerships: Find sponsors and partners building solutions in the blockchain universe.
"Beyond major gifts, nonprofits are partnering with organizations in the cryptocurrency industry, both for the immediate partnership benefits, and to garner the attention of crypto donors." [Charity Navigator].
It's a Way to Engage with Young Donors: For many young donors, Bitcoin is the preferred way to give.
According to ETF Store president, Nate Geraci,
"If you talk to, primarily millennials, and ask them which they prefer, Bitcoin or gold, it's a landslide. It's not even close, it's like 90% prefer Bitcoin." [CNN].
It's Exciting: The nonprofit space is congested, making attention the new currency. Today, a large cryptocurrency gift is a news story which excites the masses. For traditional gifts of equivalent value, this is clearly not the case.
Crypto donations attract media attention, and create viral content in ways that traditional donations simply do not. In this sense, accepting cryptocurrency donations can serve as a marketing opportunity just as much as it can as an additional fundraising tool for your organization.
How Many People Use Cryptocurrency?
Current estimates range from 40M to 50M active cryptocurrency users.
How Much Cryptocurrency Has Been Donated?
Over the last few years, hundreds of millions of dollars worth of cryptocurrency has been donated to nonprofit organizations. Below are some of the largest examples we've seen: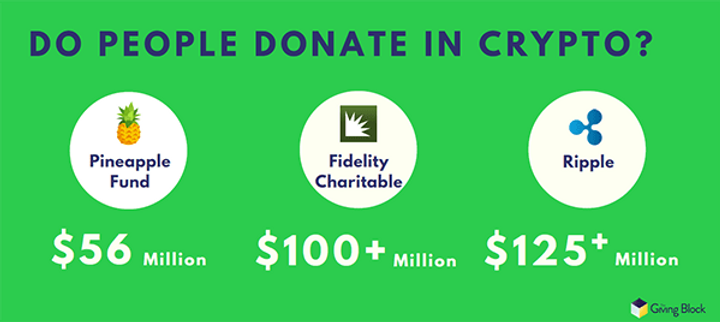 Summary
Though Bitcoin's price has increased by over 1,000,000% since 2010, very few nonprofits are actively fundraising cryptocurrency. The opportunity today is a powerful one, as the user base is large enough to effectively fundraise from, while still small enough to be a tribal online community that can be mobilized around your efforts.
Read the full post on Charity Navigator here: https://blog.charitynavigator.org/2019/07/does-your-nonprofit-accept-bitcoin-yet.html
About The Giving Block
The Giving Block makes Bitcoin and other cryptocurrency fundraising easy for nonprofits. Empowering mission-driven organizations, charities, universities, and faith-based organizations of all sizes to leverage crypto technology to achieve their mission. Discover why cryptocurrency is the fastest growing donation method for Millennial and Gen-Z donors, at TheGivingBlock.com.