Nonprofits raised over $69 million in crypto donations with The Giving Block last year. Here are the top crypto fundraising trends that helped drive in donations—plus some key advice on how your nonprofit or charity can replicate that success in 2022.
Crypto Fundraising Trends for Nonprofits and Charities
The year 2021 was unlike any other for charities and nonprofits fundraising cryptocurrency. Over the course of the year, more and more organizations made the wise move to accept donations in Bitcoin, Ethereum and other cryptocurrencies.
The roots of "crypto philanthropy" can be traced back to 2017, when The Pineapple Fund granted ~$55 million worth of Bitcoin to charities. By now, the nonprofit sector at large has begun to recognize that fundraising crypto is a golden opportunity to connect with a young, tech-savvy, and somewhat more-affluent-than-average donor base.
Below, you'll find 4 fundraising trends and strategies that helped to increase annual crypto donations over 1550% from 2020 to 2021 for nonprofits on The Giving Block.
1. An Authentic Social Media Presence
If your social media strategy is of the "draft post, schedule tweet, repeat" variety, we get it. Many nonprofits are doing the impossible with very limited resources. For fundraisers in particular, tweeting may be the lowest priority, because the age of the average U.S. donor is 64 years old—which is not the target demographic of the Twittersphere.
But consider this: in order to engage with a younger, digital-first donor audience a social media presence that is both consistent and responsive is essential.
In 2021, nonprofits went above and beyond to engage with crypto donors on Twitter. Here's why:
When crypto donors tweet screenshots of their donation receipts, it's an invitation to thank them publicly while also getting a chance to subtly broadcast your mission to their followers.
Crypto donors want to know how their gift will impact your organization's work, so it can go a long way to post a graphic explaining the difference that 1 Bitcoin can make.
Listening to the social conversation can yield donation opportunities. Time and again, we have seen crypto users asking for help finding a pro-crypto nonprofit in a particular cause area (e.g. mental health support, human rights). Then, we have seen nonprofits reply and start a conversation.
According to a recent survey by Fidelity Charitable, 46% of crypto donors have a hard time finding nonprofits that accept crypto donations—that's where your active social media presence can slide in to save the day.
2. The Ability to Accept Multiple Cryptocurrencies
Have you ever gone on an international trip and exchanged your local currency for a foreign one, then changed your leftover foreign cash back to your local currency upon return? All these transactions incur fees that literally take money out of your pocket. That's the same conundrum that crypto donors can find themselves facing.
Some nonprofits choose the do-it-yourself approach to accepting crypto donations, which can limit their ability to accept multiple cryptocurrencies. In this case, donors have the undesirable options of converting their crypto to another token or to cash, both of which can result in transaction fees or trigger taxable events. If your nonprofit isn't equipped to accept multiple cryptocurrencies, you may be effectively turning away donors that would otherwise support you.
Not sure what the difference is between cryptocurrencies? With thousands of crypto tokens out there, these are a few of the more popular types:
Bitcoin (aka BTC) is often called "Digital Gold," and is the original cryptocurrency, created in 2009.
Ethereum (aka ETH) is popular because it allows users to do more than exchange ETH. The Ethereum blockchain platform also enables developers to build new decentralized finance applications on top of it and enables users to trade NFTs.
Stablecoins (such as USDC and DAI) are a type of crypto asset that are pegged to another currency, such as the US Dollar, and are therefore not as volatile from an investment standpoint.
Learn more about different cryptocurrencies that donors are using to support charities.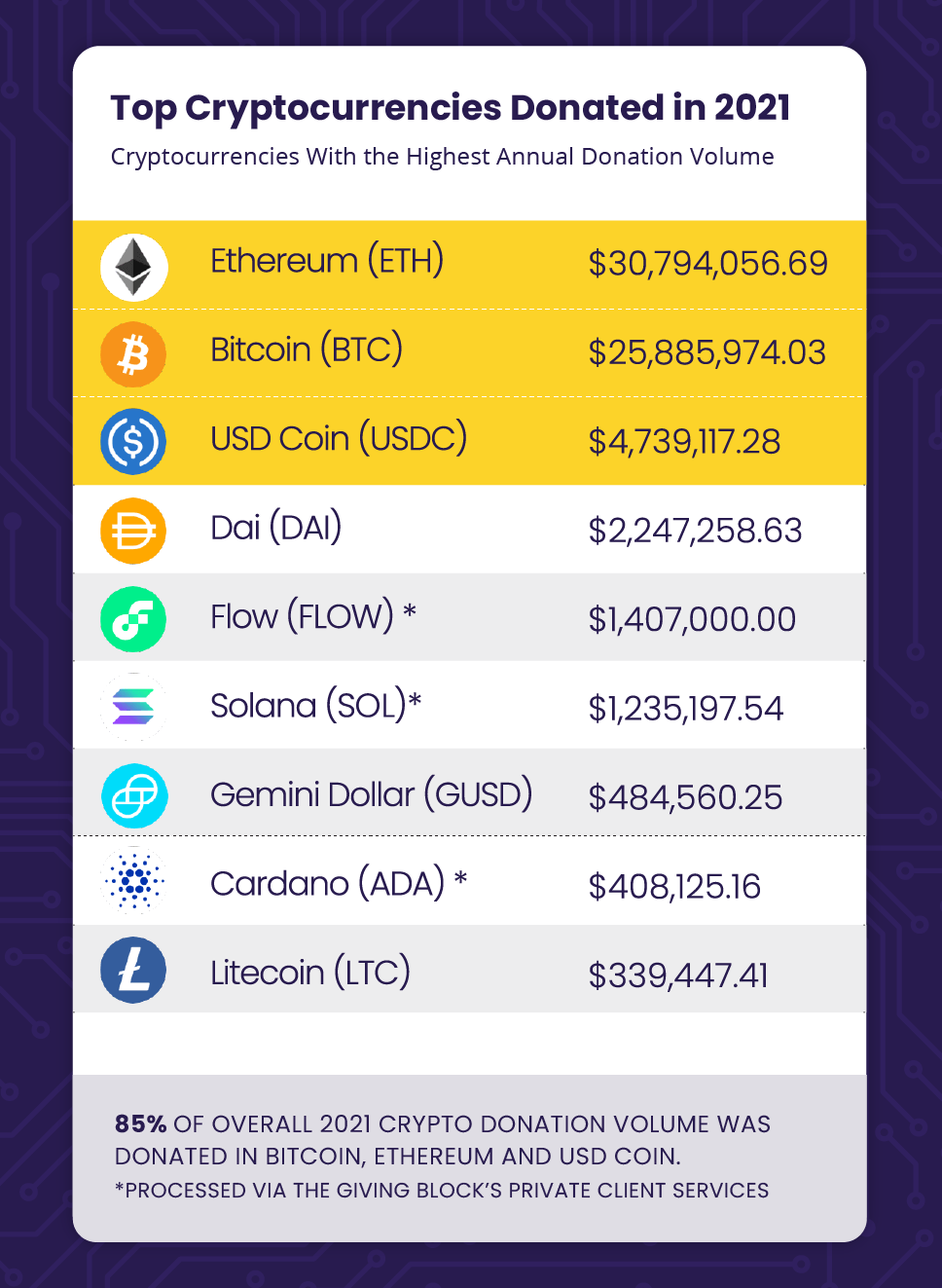 3. An Interest in the World of NFTs
To many, 2021 marked a cultural shift and was the "Year of the NFT." A similar argument could be made for crypto fundraising, as NFT projects, creators and platforms donated more than $12 million in crypto in 2021 via The Giving Block.
Increasingly, NFT projects of all sizes have dedicated a portion of their sales to charitable giving. This trend reflects the altruistic nature of the crypto user base who, again, are largely Millennials and seek to implement a "social good" component to many of their passions and professions.
While many nonprofits gladly received donations from the NFT community, other organizations actively fundraised with NFT artists. Get inspired by some of these creative NFT fundraising ideas:
Host a fundraising with an NFT charity auction component
Connect with an NFT project that wants to donate a portion of their proceeds to charity
Join an NFT community (for example, have your CEO purchase an NFT from a project with a sizable following) and cultivate support from their fanbase
(Want more info on NFTs and nonprofits? We've got you covered.)
4. Participation in Collective Digital Fundraising Campaigns
Even in fundraising, sometimes the way to succeed is through collaboration, not competition. It's largely due to nonprofits campaigning together that so many crypto users have become crypto donors.
By using the same hashtags and promoting their causes side-by-side, nonprofits have increased engagement considerably among crypto users. As the old African proverb says, "If you want to go fast, go alone. If you want to go far, go together."
In 2021, The Giving Block spearheaded several successful nonprofit digital fundraising campaigns, including:
#CryptoGivingTuesday, the annual kick-off to The Giving Block's year-end fundraising season, which raised more than $2.4 million in crypto for nonprofits.
#BagSeason, The Giving Block's flagship fundraising campaign. Bag Season is also the most active time of year for crypto donors because of the tax incentives to donate crypto and the December 31 deadline.
#NFTuesday, a daylong celebration of the NFT community's generosity. 2021's NFTuesday featured charity auctions hosted by Sotheby's and CoinDesk.
Start Fundraising Crypto in 2022
With the crypto user base predicted to reach one billion by the end of 2022, there has never been a better time for nonprofits to begin accepting cryptocurrency donations.
Thinking about how crypto and NFTs can benefit your organization's mission? Download The Giving Block's 2021 Annual Report, containing insights and statistics from more than 1,000 nonprofit organizations transforming their fundraising strategies with the help of crypto donors.