The latest trend in fundraising doesn't involve a new social media platform—we're seeing an entirely new wave of philanthropy emerge, the era of crypto crowdfunding. What is that, you ask? It's a new way for charities and nonprofits to meet their revenue targets by asking donors to send Bitcoin and other cryptocurrencies instead of typical cash gifts.
For nonprofits that are new to, or completely unfamiliar with, crypto, crowdfunding at this exact moment is an ideal way to make an introduction to an enthusiastic audience of crypto users eager to make a social impact through charitable giving. To make a great impression, find out what you need to know before launching your first crypto crowdfunding campaign.
In this article we'll go over:
What is Crypto Crowdfunding?
Nonprofits use various crowdfunding methods to raise money from the public, but will often narrow their appeal to specific audiences or types of gifts (e.g., $5 donations). As the name suggests, crypto crowdfunding is a method of fundraising that targets crypto investors and traders as potential donors.
By accepting cryptocurrency, nonprofits can diversify their revenue streams while cultivating a relationship with a fast-growing pool of prospective donors. While cryptocurrency is still breaking into the mainstream, it's worth paying attention to: Bitcoin's global market cap reached $3T in 2021, and many Millennials who made small initial investments in cryptocurrencies like Bitcoin a decade ago are now multi-millionaires.
Why Ask for Cryptocurrency Donations?
The fundraising landscape is full of uncertainty. Adding a new revenue source can have a major impact on your organization's bottom line. Doing so will also help to stabilize your nonprofit in the face of any future status quo disruptions, like economic recessions.
Cryptocurrencies are an exciting prospect for nonprofits because:
There are more than 300M crypto users worldwide, and that number is growing fast;
Today's young donors are driving a fintech investment shift toward crypto; and
Donation platforms now enable nonprofits to accept multiple cryptocurrencies
Are Crypto Donations to Nonprofits Tax-Deductible?
One of the biggest upsides to accepting crypto donations will make your donors smile: tax savings. The IRS classifies cryptocurrency as a property, similar to stocks, so crypto investors (aka "HODLers") are eligible for several tax benefits. In most cases, crypto investors can reduce their capital gains taxes with a donation made in cryptocurrency, and can write-off donations as an itemized charitable deduction.
In contrast, crypto users that donate in the traditional way (e.g., using a check or credit card) have to sell their crypto assets for cash, which is considered a taxable event. If your donors do this because you don't accept crypto donations, you may be minimizing the amount that they can give to support your mission because they're concerned about the tax implications of their gift.
Want more info on crypto taxes? Learn about the tax benefits for crypto donors.
When is the Best Time to Start a Crowdfunding Campaign?
In choosing when to crowdfund, nonprofits should consider what they're trying to accomplish. If you have a large financial target in mind, choose an end-of-year date to maximize your audience's giving potential.
If you have a smaller goal or want to test the waters with your first crowdfunding campaign, consider trying a month that's traditionally slower for donations so that you're not competing with others for donors' attention.
Digital campaigns that attract donors often succeed in doing one or more of the following:
Focus on timely, news-worthy issues
Convey a legitimate sense of urgency
Align with viral campaigns like #CryptoGivingTuesday and #BagSeason
Regardless of your organization's motivation, keep these time-tested best practices in mind when planning your fundraiser.
Does the Crypto Community Have a Dedicated Giving Day?
As Crypto Philanthropy has emerged as a bigger force for charitable giving, the community that supports it has also grown and become more organized. What unites the crypto community, from long-term investors to NFT artists, is their desire to use crypto for good.
In recent years, they've come together for fundraising days like #NFTuesday and #CryptoGivingTuesday, a global day of crypto-philanthropy. In 2021, nonprofits raised more than $2.4 million dollars worth of crypto on Crypto Giving Tuesday.
Crowdfunding and Peer-to-Peer Fundraising: Key Differences
Two of the most popular online fundraising methods are crowdfunding and peer-to-peer fundraising. Each aims to generate support from new donors, but their approaches differ.
Peer-to-Peer Fundraising
In a peer-to-peer campaign, your supporters run miniature campaigns on your behalf. Your nonprofit shares the key messages, graphics, and calls-to-action. Next, your volunteers create unique fundraisers (e.g., on Facebook) to share with their networks. By linking their campaigns to your organization, all donations transfer back to you.
Unlike a typical crowdfunding campaign, a peer-to-peer campaign reaches your supporters' peers. This personal connection can have a huge upside for nonprofits. Losing some control of the campaign's voice is a minor drawback, but the rewards may be worth it.
Crowdfunding
Most crowdfunding campaigns run online because it's the easiest way to reach a big audience. For your campaign, consider creating a donation page on a dedicated crowdfunding platform in addition to your own website.
Doing so can maximize your efforts for a few reasons:
It will boost your visibility among people in the "giving mood"
Your organization might appear on the platform's "featured" campaigns section
Using crowdfunding platforms can give an air of trustworthiness to your efforts
Pro tip: If you decide to use a crowdfunding platform, review its featured campaigns to get a sense of what excites audiences. There's nothing wrong with getting a little inspiration from other campaigns!
Below is an example of a successful nonprofit fundraising page on The Giving Block. Notice how the Mona Foundation states their mission clearly, elaborates with a specific appeal to crypto donors, and follows it with a compelling video to supercharge their appeal.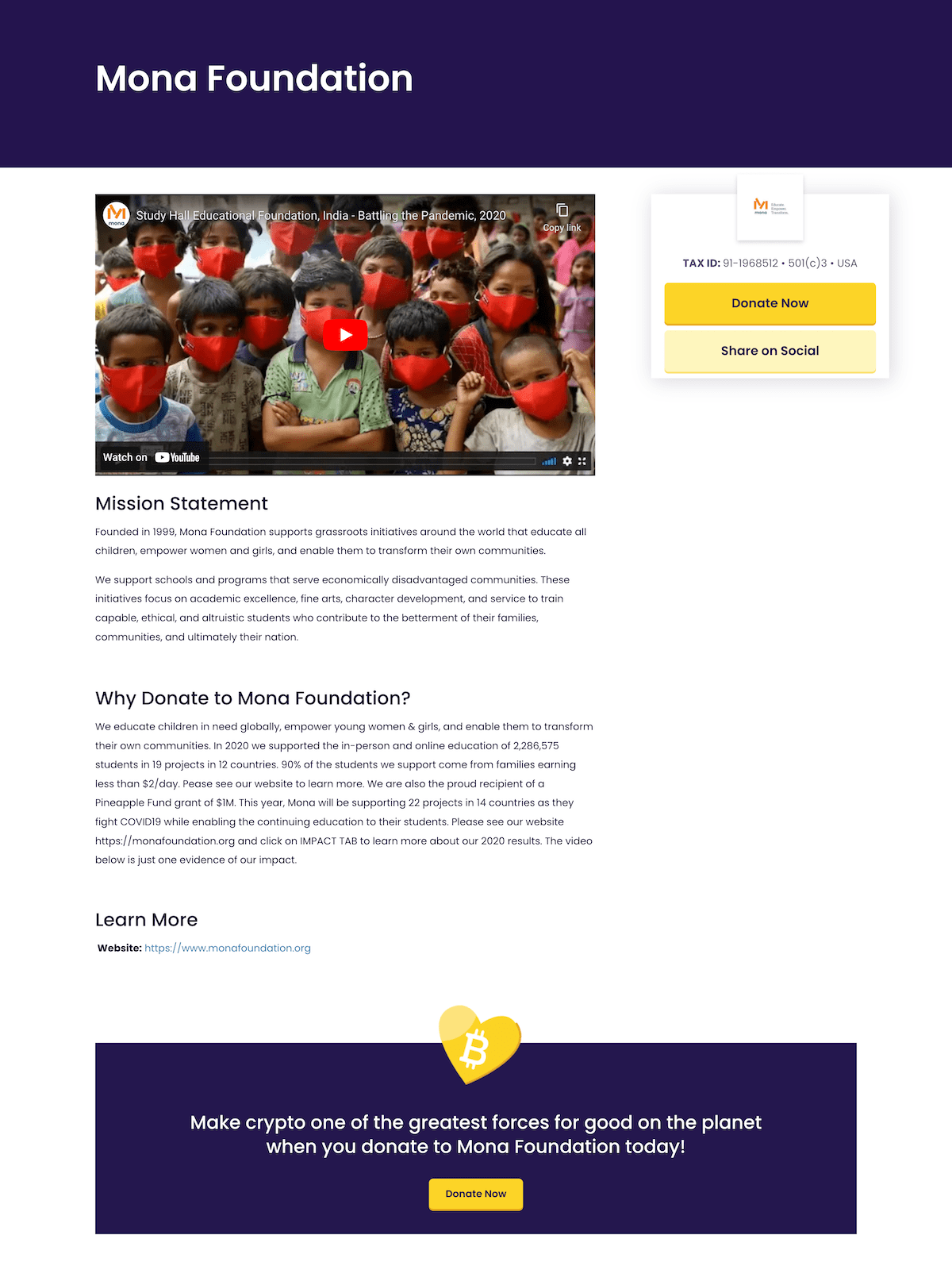 Launching a Successful Crypto Crowdfunding Campaign
If you're new to accepting crypto donations, crowdfunding affords you the opportunity to introduce your organization to the crypto community. Follow these steps to make your first crypto crowdfunding campaign a hit:
1. Define the Purpose
Successful crowdfunding campaigns tell great stories and create a sense of urgency. You don't need a massive donor list or a handful of mega-donors. Instead, you need a compelling sense of "why now" that will make readers stop scrolling and allow themselves to be moved by your mission.
Keep these questions in mind as you brainstorm:
Are you trying to reach local donors, or fundraise for an international cause?
How does your story resonate with this prospective audience?
Why does this campaign have to happen now?
What happens if your campaign succeeds? (For fear-based motivation, you can also try the opposite approach, depending on your audience and/or mission: what happens if it doesn't succeed?)
How will prospective donors miss out if they don't contribute?
How is the campaign part of a larger story of your organization/cause?
2. Set a Goal and Make it Known
A crowdfunding campaign might serve as your biggest fundraiser of the year, but it doesn't have to be so lofty. Setting smaller, achievable goals can often be a powerful motivator for your supporters.
Here are few examples of short-term crowdfunding goals:
Establishing a local community mutual aid fund
Rebuilding a damaged home or community center
Funding a need-based scholarship for a student
Your fundraising target announces to the world what your campaign wants to achieve. By sharing your specific goals with donors, they will feel like their contributions are critical to your success—no matter how big or small.
3. Establish Crypto-Friendly Donor Incentives
There are two primary ways that incentives can encourage your potential crypto donors to give.
Giveaways
The first kind of incentive is a way to promise your supporters something in return for their gift. Examples include branded freebies, social media shout-outs, and handwritten thank you notes from your board chair. For donors who share their personal information, this can be a fun way to acknowledge their generosity.
However, many crypto donors give anonymously, which means they don't share identifying details with the nonprofits they support. This is an inherent feature of crypto transactions, which are recorded on the blockchain with public key information, rather than personal information like name, email, and mailing address. Have you considered incorporating NFTs into your campaign?
For your crypto crowdfunding campaign, you'll need an incentive that doesn't require knowing your donors' email addresses or names. Here's where the second type of incentive comes in:
Impact Data
Many campaigns successfully drive donations by showing the impact of a charitable gift. What would your organization do with 1 Bitcoin? How about 1 ETH? Data-driven insights give donors a tangible sense of where their money goes and, for crypto donors, conveys your understanding of their preferred financial assets.
If your campaign has donor incentives, consider setting up three or more tiered giving levels and an option to donate whatever amount the donor chooses. Doing so can empower your supporters to make informed decisions about their donations.
When donors can say, "My Dogecoin donation covered a week of groceries for a family in need," it not only makes them feel good, it also provides vivid detail for them to share with their fellow crypto users.
The example below shows how CARE USA incorporated the impact of different cryptocurrencies into its fundraising appeals on Twitter: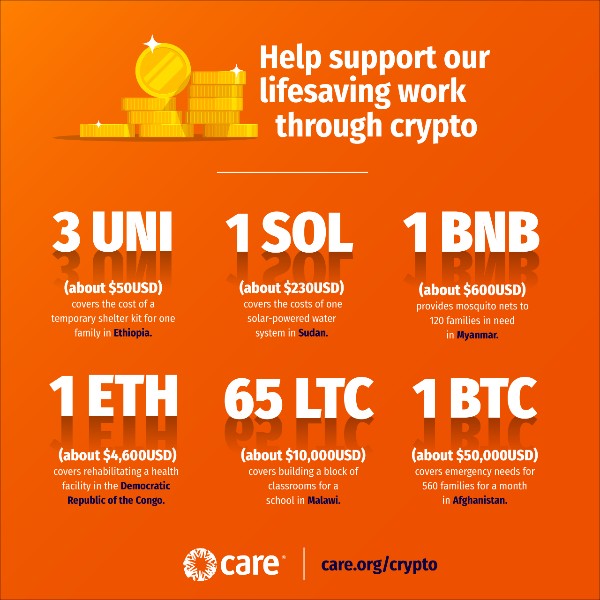 4. Promote Your Crowdfunding Campaign
Designing a campaign is hard work, so don't overlook the most important part: promoting and actively managing it. This step is the key to reaching new crypto donors. Many are active on social media platforms like Twitter, Discord, and Reddit.
Here are a few keys to spreading the word about your crowdfunding campaign:
Share your campaign on social media, and remember to link to your donation page.
Use hashtags to help crypto donors find your cause. (Examples include: #DonateCrypto, #DonateBitcoin, and #CryptoGivingTuesday)
Drive engagement with impact data (e.g., 1 ETH = providing 20 computers to low income families)
Ask your existing supporters to spread the word when the campaign launches.
As the campaign goes on, keep donors and supporters informed about your progress, major milestones you hit, and how they can help.
5. Build a Community
Once your campaign ends, your next step should be to thank your donors. If your donors shared their email addresses with you, consider sending them a message with a summary of your campaign's big wins.
Long before your next campaign, update your community by highlighting their impact on social media. Whose lives were they able to change for the better? Impact storytelling allows your supporters to feel like they're more than patrons.
If someone tags you on social media in a post about their donation, be sure to like, comment and/or retweet it! It's free marketing and an easy way to keep donors feeling appreciated.
Last, keep in mind that crypto donors generally do their research by scrolling through nonprofits' websites and social media accounts before giving. Be sure to celebrate your successes across all of your digital platforms, posting highlights year-round.
Where Do Nonprofits Host Crypto Crowdfunding Campaigns?
Cryptocurrency fundraising is growing more popular each year. To keep up, the nonprofit sector is sprinting to invest resources in crypto audience development. The only way to get crypto donors is to have a solution to help your organization accept Bitcoin, Ethereum, and other cryptocurrencies. Are you wondering how to find the best crypto giving platform?
You may have noticed that household name nonprofits like Save the Children and the American Cancer Society lead the way in nonprofit crypto adoption. (Google "donate crypto," and they appear on the first page!) That's because they have found a way to get noticed by the people making the crypto economy thrive. And they can accept gifts in cryptocurrency.
What else do they have in common? They partner with The Giving Block.
The Leading Solution for Crypto Philanthropy
The Giving Block is the #1 provider of tools and services for nonprofits that want to accept crypto donations. We provide nonprofits with Donation Forms they can embed into their own websites, and host separate donation pages for all of our nonprofit clients.
Over 80% of our clients' crypto donations are made directly on The Giving Block's website. It's become the go-to destination for crypto crowdfunding.
We also understand that crypto is new territory for most nonprofits. That's why we run many digital campaigns to foster a culture of giving in the crypto community and help donors find charities that accept crypto.
Want to learn more about crowdfunding in the crypto space? See why more than 2,000 nonprofits trust The Giving Block to help modernize their nonprofit's fundraising strategy.