Nonprofit Tax Tips: Cryptocurrency Donations
What are the tax benefits of donating Bitcoin and other cryptocurrency?
It's not hard to see why nonprofits take crypto donations. It generates attention, opens them up to new and younger audiences, and establishes the organization as innovative. But why are people donating crypto in the first place?
There are many reasons people donate cryptocurrency to nonprofits. It's fast, convenient and fun. But the main reason people are donating crypto is simple: the tax benefits are hard to pass up.
It's Property, Not Cash
For U.S. donors, the IRS has classified cryptocurrency as property for tax purposes. This means that when someone donates crypto to a 501(c)(3) nonprofit, neither party pays capital gains tax and the full amount is tax deductible for the donor. If this sounds exactly like a stock donation, that's because it is; the difference being that crypto can be automatically converted to USD without the need for a broker. Our solution automatically converts any cryptocurrency to USD automatically, with the exchange only charging 0.3% of the sale price (which is less than other solutions).
Why Donors Don't Cash Out Their Crypto
For those whose crypto has appreciated, when they can donate it directly to a nonprofit, they can give a larger gift with the same impact on their bottom line due to the tax savings. For donors with significant crypto holdings, this means a nonprofit can access major gifts that are otherwise inaccessible. In an example below, if a donor wanted to donate $1,000,000 in bitcoin, they would save over $180,000 in federal taxes by donating the bitcoin directly to the nonprofit.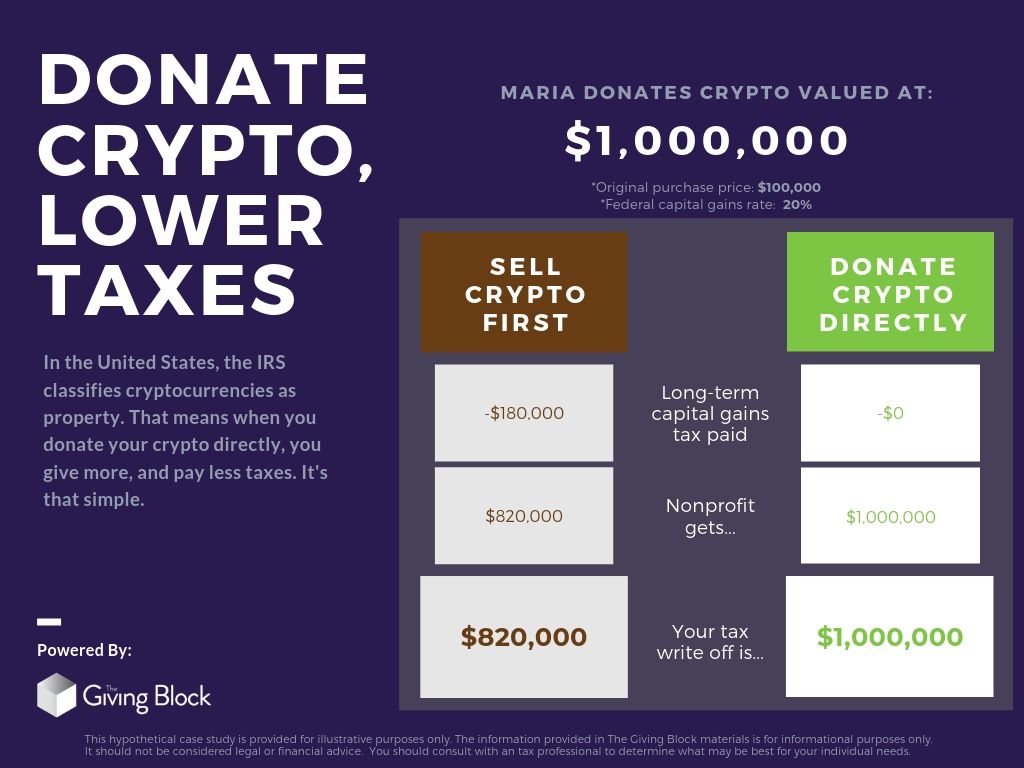 Nonprofits That Take Crypto
The list of nonprofits that take crypto is growing by the day, but some of our favorites, clients and non clients alike, are the following:
The Lupus Foundation of America
The Human Rights Foundation
Charity Navigator
Internet Archive
Mercy Corps
Rainforest Foundation
Dementia Society of America
Code to Inspire
This list is based on nonprofits who not only take crypto, but engage the community and actively promote cryptocurrency adoption.*
*Be on the lookout for our website revamp to highlight top nonprofits for crypto donors.
Learn More
We make learning about and accepting cryptocurrency donations easy and offer the only nonprofit specific solution. You can reach out to us on Twitter or email us [email protected] if you're interested in learning more.
Disclaimer: The Giving Block does not provide tax, legal or accounting advice. This material has been prepared for informational purposes only, and is not intended to provide, and should not be relied on for, tax, legal or accounting advice. You should consult your own tax, legal and accounting advisors before engaging in any transaction.