There's a fast-emerging fundraising source that contributed over $12 Million to charities in 2021—if you haven't guessed from this article's title, we're talking about the creative, forward-thinking NFT community.
As non-fungible tokens (NFTs) have become a cultural force, they have also become a powerful fundraising vehicle for nonprofits and other charitable organizations.
The trend of nonprofit organizations receiving proceeds from NFTs explained some of the growth in crypto donations seen over the past few years.
Wondering what NFTs are, and how are they can be used for social impact? Learn why some NFT-related charitable donations have been as large as $3.5 Million.

What Are NFTs?
Non-fungible tokens (NFTs) are a part of the crypto and blockchain landscape. In layman's terms, you can think of NFTs as a kind of data file that can be transferred between owners through digital transactions on a blockchain. 
Are all NFTs related to art? Not necessarily. Using NFTs to represent the ownership of creative artwork is the most popular use case today, but technically an NFT could designate ownership of anything you can think of, such as a certificate of education or even a real estate deed. 
The Massive Growth of NFTs, Explained
Gradually and then quite suddenly, NFTs have ballooned in popularity. They went from being cult collector items for crypto OGs to being auctioned at Christie's and being used to support nonprofits that share the United Nations' Sustainable Development Goals. So how did we get here? Let's rewind.
Before the existence of NFTs (as we know and love them today) several crypto-based digital collectibles paved the way for the creation and interest in unique, blockchain-based digital assets.
One example was "colored coins," a popular early collection. In 2014, the first-ever NFT minted was a work called "Quantum," by artist Kevin McCoy, which sold for $1.4M a few years later:
Soon after, another early wave of NFT projects like CryptoPunks and CryptoKitties broke through into mainstream media, while the specific NFT marketplaces like OpenSea were created to support the emerging industry.
Fast forward to today: the non-fungible token has taken the art world, and the rest of the world, by storm. (Pause here if you want to go in-depth on NFT history.)
Millennials and Gen Xers were the first to create a buzz around NFTs, attracted in part by the novelty of owning and displaying these unique digital artworks. Institutional investors quickly followed, spending millions in digital auctions, along with a wave of celebrities, athletes, brands, and influencers eager to capitalize on the hype.
In a short amount of time, NFT projects like Bored Apes witnessed an explosion in market demand and global intrigue for their art.
"Some NFT enthusiasts see them as collectibles with intrinsic value because of their cultural significance, while others treat them as an investment, speculating on rising prices," a reporter for Reuters observed. The same article noted that the market surged to $2.5B in sales through Q2 of 2021.
According to Google search data, interest in NFTs began to blast off in February 2021.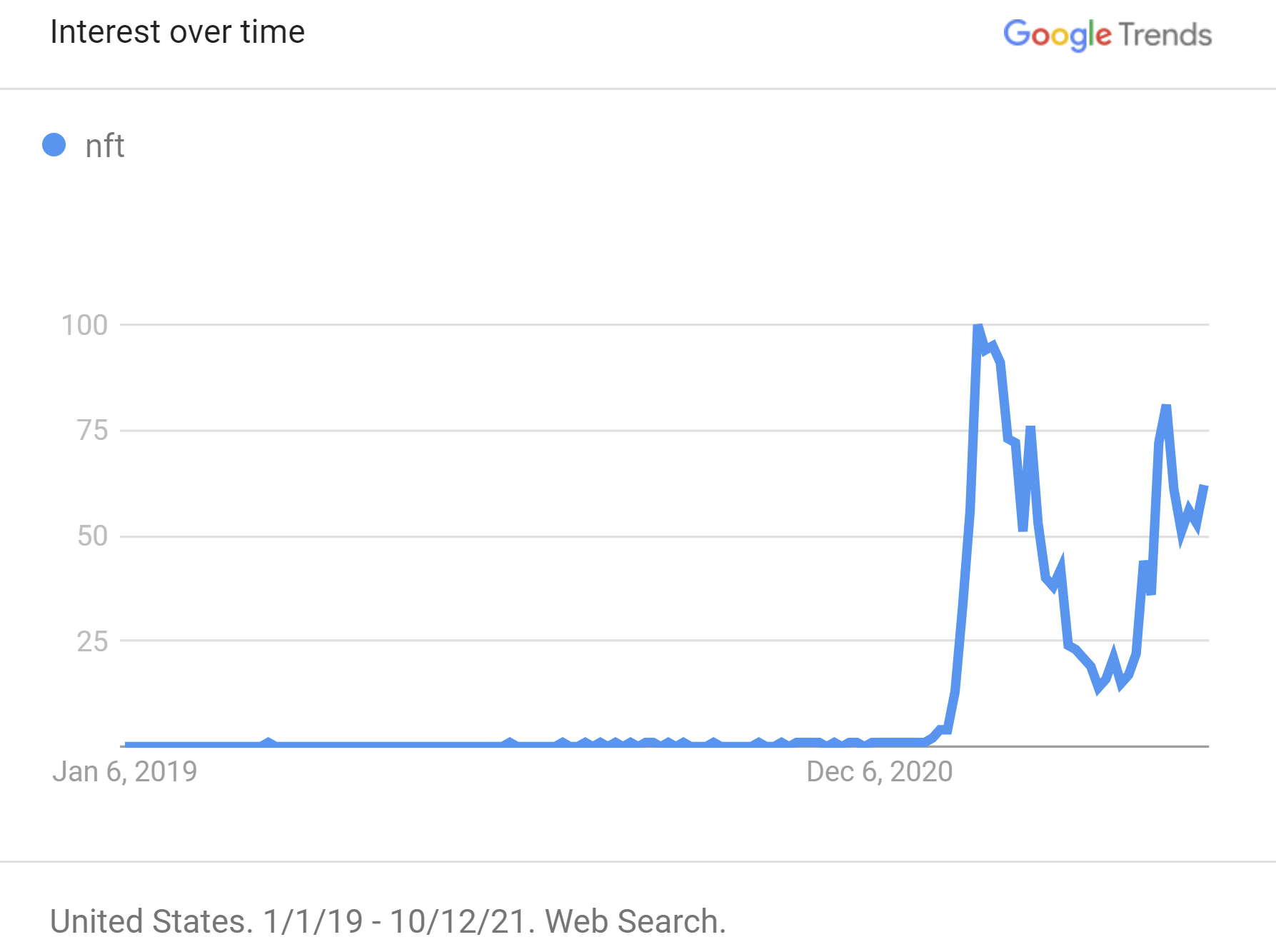 While some of 2021's NFT mania has cooled off a bit during 2022's crypto bear market, numerous major brands are working with NFT projects such as Nouns and Doodles.
NFTS: Art With a Social Impact
NFT artists and creators haven't been shy about their passion for charitable causes and social issues. An increasing number of NFT projects have taken the initiative to donate a portion of their profits from sales to charities or conduct charity auctions.
As a result, nonprofits have received some extremely generous donations from the NFT community. (In some instances, the price of a blue-chip NFT can reach into the millions, so we're not talking about small change.)
In fact, several projects have given hundreds of thousands, even millions, of dollars to nonprofit organizations. Through these efforts, NFT creators are fostering impactful relationships with charities, both by endowing them with charitable support and by sharing their passion with a devoted fanbase.
NFT Projects Are Donating Millions to Charities
In March 2021, Twitter CEO Jack Dorsey sold an NFT of his first tweet, fetching 1630 ETH (appx. $2.9M at the time of sale), which he donated to charity. We applaud Jack's use of his platform for good, and countless other NFT creators have similarly done their part to help make a positive social impact.
Numerous NFT artists and projects are proud to donate a portion of their proceeds from sales to charitable organizations. Blazed Cats, for example, has been one of the most charitable NFT project ever, sending ETH worth more than $273,000 to nonprofit Mental Health America.
An artist from the Art Blocks generative arts community made one of the largest NFT donations ever recorded, a gift of ETH worth approximately $3.5M to Médecins Sans Frontières (aka "Doctors Without Borders") Australia.
Here are some of the most charitable NFT projects funding nonprofits that use The Giving Block's technical solution for crypto donations: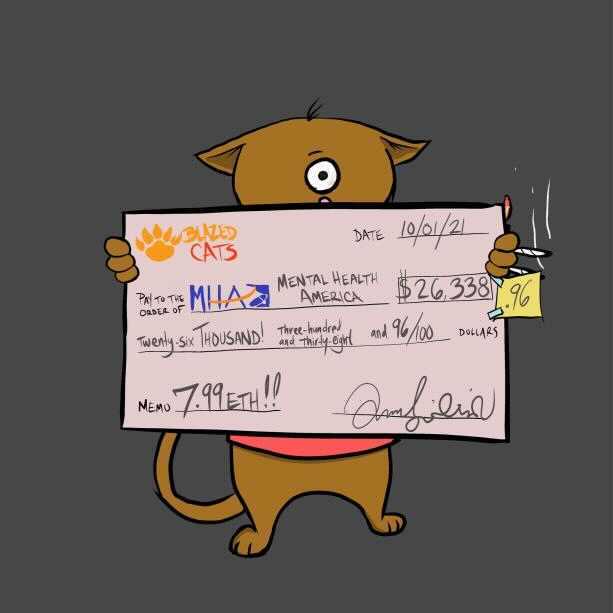 The Most Charitable NFT Projects (as of November 5, 2021):
| Rank | NFT Project Name | Crypto Donated | Donated Amount (USD Value) | Charity |
| --- | --- | --- | --- | --- |
| 1 | Generative Art Community on Artblocks.io | ETH | $3,578,927.65 | MSF Australia |
| 2 | Floki Inu | DAI | $1,497,328.17 | Big Green, Pencils of Promise |
| 3 | Bored Ape Yacht Club | ETH | $924,516.72 | Orangutan Outreach |
| 4 | Cyber Kongz | ETH | $562,418.16 | Virunga National Park |
| 5 | Blazed Cats | ETH | $302,865.90 | Mental Health America |
| 6 | Woodies NFT | ETH | $225,960.69 | Trees for the Future |
| 7 | Trippy Bunny Tribe | GUSD | $220,886.00 | American Foundation for Suicide Prevention |
| 8 | Hevey | ETH | $193,108.34 | Food for Life Global |
| 9 | World of Women | ETH | $190,688.11 | Code to Inspire, Rockflower, Too Young to Wed, She's the First |
| 10 | @jackbutcher | ETH | $187,473.76 | CARE |
| 11 | The Lost Glitches | ETH | $181,816.30 | No Kid Hungry, Code to Inspire, Cedars Home For Children |
| 12 | Dogs of Elon | ETH | 125,269.56 | TeamSeas |
| 13 | GHXSTS X Cool Cats | ETH | $124,047.86 | Rainforest Foundation US, Animal Equality, Hope for Paws |
| 14 | Baby Boo Kitten Club | ETH | $123,961.88 | Hope for Paws, Edinburgh Dog and Cat Home, Wolf Trap Animal Rescue |
| 15 | Thugbirdz | BTC | $115,995.57 | Wildlife SOS |
| 16 | Women and Weapons NFT | ETH | $104,019.43 | Malala Fund |
| 17 | Famous Fox Federation | ETH | $96,608.81 | Wolf Trap Animal Rescue, Wolf Conservation Center, Action Against Hunger, Rainforest Partnership, Save the Children, Children International, SOS Children's Villages & more |
| 18 | Boring Bananas Co | ETH | $95,278.38 | Malala Fund, Water Wells for Africa, Code to Inspire, Action Against Hunger |
| 19 | DOJICREW | ETH | $80,677.93 | Children's Cancer Association |
| 20 | Blank Face NFT | ETH | $70,648.60 | Mental Health America |
| 21 | Skvllpvnkz | ETH | $33,476.40 | Water Wells for Africa, No Kid Hungry |
| 22 | uwucrew | ETH | $62,592.96 | African Wildlife Foundation, FOUR PAWS USA, Crypto Kids Camp |
| 23 | Labyrinth Art | ETH | $54,984.24 | Notes for Notes |
| 24 | Lost Boys NFT | ETH | $50,938.20 | Mental Health America |
| 25 | Sappy Seals | ETH | $50,862.01 | The Water Project |
| 26 | Solagon | ETH | $50,656.80 | Save the Children |
| 27 | The Slow Patrol | BTC | $50,119.99 | The Sloth Conservation Foundation |
| 28 | Belugies | ETH | $50,033.48 | Ocean Defenders Alliance |
| 29 | Goobers NFT | ETH | $49,931.75 | American Cancer Society |
| 30 | Skully Boys Bones Club | BTC | $40,031.01 | National Pediatric Cancer Foundation |
| 31 | Satoshibles | ETH | $33,632.00 | Built with Bitcoin Foundation |
| 32 | CovidPunks | ETH | $32,656.20 | CARE |
| 33 | Monster Buds | ETH | $31,013.99 | Ascend Athletics |
| 34 | Pandamonium World | ETH | $29,551.10 | 1000 Dreams Fund, Tunapanda Institute, Code to Inspire, Wolf Conservation Center |
| 35 | Sollyfish | ETH | $28,881.23 | Sea Shepherd Conservation Society |
| 36 | Boring Ape Chronicles | ETH | $28,052.34 | Friends of Bonobos, Orangutan Outreach, Autism Speaks |
| 37 | Crypto Titties | ETH | $26,658.15 | American Cancer Society |
| 38 | Happyland Gummy Bears | ETH | $25,376.94 | Mental Health America |
| 39 | Dirtybird Flight Club | ETH | $24,994.27 | Notes for Notes |
| 40 | Cool Cats | ETH | $21,715.26 | Muttville Senior Dog Rescue |
| 41 | Bubblegum Kids | ETH | $17,623.15 | Children International |
| 42 | Toasty Turts | DAI | $17,186.44 | Sea Shepherd Conservation Society |
| 43 | Super Nfty | ETH | $14,767.28 | Trees for the Future |
| 44 | Top Dog Beach Club | ETH | $13,230.32 | She's The First |
| 45 | NFTz | ETH | $10,916.28 | People for the Ethical Treatment of Animals (PETA) |
| 46 | LittleGhosts | ETH | $10,000.85 | Save the Children |
| 47 | Everyday Sloths | ETH | $8,664.77 | The Sloth Conservation Foundation |
| 48 | Uncanny Unicorns | ETH | $6,925.34 | Outright Action |
| 49 | PPPandas | ETH | $5,636.45 | Mona Foundation |
| 50 | Yura Miron | ETH | $4,021.53 | The Water Project |
| 51 | Maison De Goat | ETH | $3,572.06 | Little Pink Houses |
If you run an NFT project and want to support a charity, get in touch with us for assistance.
How NFTs Can Support Charities
For many mission-driven organizations, a single major gift from an NFT project can be a game-changer. In particular, smaller nonprofits can significantly grow their operating budgets thanks to crypto and NFT-related charitable giving.
Here are four of the ways that NFTs can help support nonprofits:
1. Corporate Giving Partnerships
Because of their vast resources, big brands are often quick to jump on new trends and ideas. By working with a well-known corporate partner to host an auction for charity, NFT artists can use their creative powers to raise large sums of money for good causes.
Recently, Coca-Cola partnered with the 3D artists at Tafi to auction off special-edition NFT "loot boxes," resulting in $575,883.61 donated to the Special Olympics.
2. Celebrity-Driven NFT Auctions
Another way to bring in visibility and bidders is to link your NFT fundraising effort to a famous person. In August 2021, NFT platform Cryptograph and photographer Davis Factor teamed up to auction off eight never-before-seen photographs of the late NBA star Kobe Bryant. All of the proceeds will go to benefit the Mamba and Mambacita Foundation.
Factor and Tommy Alastra, co-founder of Cryptograph, sat down to speak with news outlet Cheddar about the fundraising project:
Decrypt reports that "any future secondary market sales of the Bryant NFTs will generate a share of the transaction price to be donated to the Mamba & Mambacita Sports Foundation."
3. The NFT as a Charitable Investment
Instead of donating a cash (or crypto) gift, a generous collector can choose to purchase and donate an NFT to charity. A recent article from Yahoo noted that "this would be similar to how people donate valuable items for charity auctions or other events to raise money."
If you're an NFT creator interested in taking this approach, it is best practice to first ask if the charity is comfortable holding onto the NFT as an investment, or if they would prefer to sell it and convert the proceeds to cash. In many cases, nonprofits have specific bylaws that would prevent them from holding an NFT.
4. Direct Donations to Charities
In many cases, NFT artists simply want to identify an impactful charity and coordinate with them directly, without any celebrity endorsements or corporate backing. We've seen many amazing relationships between NFTs and charities develop as a result.
Examples of NFT Projects Donating to Nonprofits
Woodies x Trees for the Future
Trees for the Future isn't just a nonprofit concerned with improving the environment. Its unique approach to sustainability helps educate communities about regenerative agriculture, a practice that aims to be more than a "one-time solution" to a complex global issue.
When NFT project Woodies began donation to the organization in 2021, it radically changed the level of impact that Trees for the Future could make.
In 2022, Woodies even received an award at NFT.NYC, the world's premier NFT conference, for its support of environmental sustainability.
Trippy Bunny x American Foundation for Suicide Prevention
In August 2021, the NFT artists known as Trippy Bunny announced their intention to donate 100% of proceeds from mint sales from its flagship drop would be given to the American Foundation for Suicide Prevention. In all, the sales raise $220,886 to help address mental health and suicide prevention.
"Each of our team has been touched by suicide in our lives, whether it be friends or family, and we felt this would be of greatest impact to the world overall, especially now," the collective said in a statement on their Twitter account.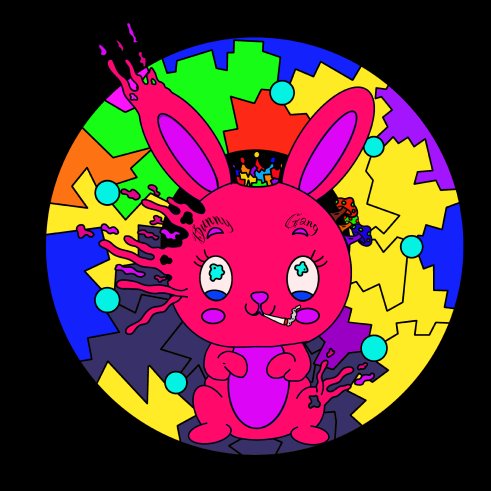 Bored Ape Yacht Club x Orangutan Outreach
One of the biggest names in NFT culture is Bored Ape Yacht Club (BAYC), a collective that creates ape-themed works that are popular with crypto enthusiasts as well as athletes like Steph Curry and Odell Beckham, Jr. From part of their NFT sale proceeds, BAYC has made several ETH donations to Orangutan Outreach, a nonprofit that protects orangutans in their native forests of Borneo and Sumatra and provides care for orphaned and displaced orangutans.
BAYC's donations have allowed Orangutan Outreach's founder Richard Zimmerman and his team to build sanctuaries for orangutans as soon as they receive governmental approval to do so. Otherwise, he said, they would have to wait and run a capital campaign. The gifts, totaling an incredible $850,000 to date, weren't merely appreciated by Orangutan Outreach; they became the catalyst for a whole new fundraising strategy.
My thinking was: If I'm going to get my organization into crypto, I have to put my own money where my mouth is and actually learn about crypto. So I set up a wallet for myself to get started. The next step was to invest in crypto personally in order to learn more about the process, the technology and the culture. A bit later, after Orangutan Outreach received a generous donation from an NFT artist, I did the same thing with the NFT space. I felt I had a responsibility to learn more about NFTs. — Richard Zimmerman, Founder, Orangutan Outreach
Like many other nonprofit leaders today, Zimmerman has discovered that the crypto and NFT communities are serious about making a positive impact on the world by supporting charities. To get more immersed in the culture, Zimmerman purchased a Bored Ape NFT, which he uses as his organization's Twitter avatar. He also regularly engages in conversations with BAYC fans on their Discord channel, and notes that he has gained new supporters as a result of BAYC's highly-visible form of philanthropy.

Ready to Embrace NFTs and Crypto Donations?
With such a new trend still catching on in the mainstream, it's easy to imagine a future for NFTs with greater popularity, higher sales volume, and more fundraising opportunities. As we enter a new digital era powered by the blockchain, it's clear that NFTs are helping to redefine the "art" of fundraising.
For nonprofits interested in connecting with NFT artists, accepting donations in Bitcoin and other cryptocurrencies is the first step.
The Giving Block enables charities, foundations, nonprofit and faith-based organizations to fundraise crypto with a secure, easy-to-integrate solution.
See why top charities rely on The Giving Block for their crypto fundraising needs.