With 300 Million crypto users and growing, the world of cryptocurrency fundraising is bigger, better, and more exciting than ever before. For nonprofits looking to cultivate loyal donors and enjoy long-term success in the space, fundraising campaigns geared toward crypto donors are a great way to educate, build interest, and test different approaches to see what resonates. 
But it's easy to get distracted by the one metric that everyone focuses on the most—we're talking about donation volume, of course. While that's a critical data point, there are other important metrics to keep track of as well—especially if you're launching your very first crypto fundraiser. 
No matter if your nonprofit is new to crypto or just ready to take the next step, every nonprofit that accepts crypto donations should know which key performance indicators (KPIs) to measure.
What Are the Essential Metrics to Measure Fundraising Success?
There's only one way nonprofits can learn from their past campaigns, and that's by measuring the results of previous performances and applying these learnings the next time. 
"It's not enough to know that your fundraising strategies are successful. You also need to know what's causing your success, how results have evolved over time, and what aspects can be improved even more," notes Jack Showers, a Nonprofit Research Analyst at KIT.
While most fundraising articles focus on KPIs for general fundraising tactics, such as cost per dollar raised and email open rates, we're focusing on data points that are essential for measuring your overall engagement with the crypto community and how to improve in future campaigns. Here are the top five KPIs your organization should consider to determine crypto fundraising success:
1. Types of Cryptocurrencies Donated 
There are thousands of different kinds of cryptocurrencies in existence—and nonprofits can accept many of them as donations. From Ethereum to Dogecoin, crypto users of all kinds can donate their favorite crypto to their favorite causes, meaning that nonprofits are able to connect with the larger crypto community. 
(Side-note: Did you know that The Giving Block processed over $69 Million in crypto donations to nonprofits in 2021? Ethereum and Bitcoin, the world's most popular cryptocurrencies, were the two most-donated cryptocurrencies in 2021, followed by USDC, a popular stablecoin.) 
Organizations have also found success by linking causes and campaigns to specific tokens or non-fungible token (NFT) projects with a shared theme. For example, Orangutan Outreach has made inroads with the Bored Ape Yacht Club (BAYC) community to raise money for its central mission of protecting orangutans in their natural habitats. The nonprofit has even used a Bored Ape NFT as their Twitter avatar.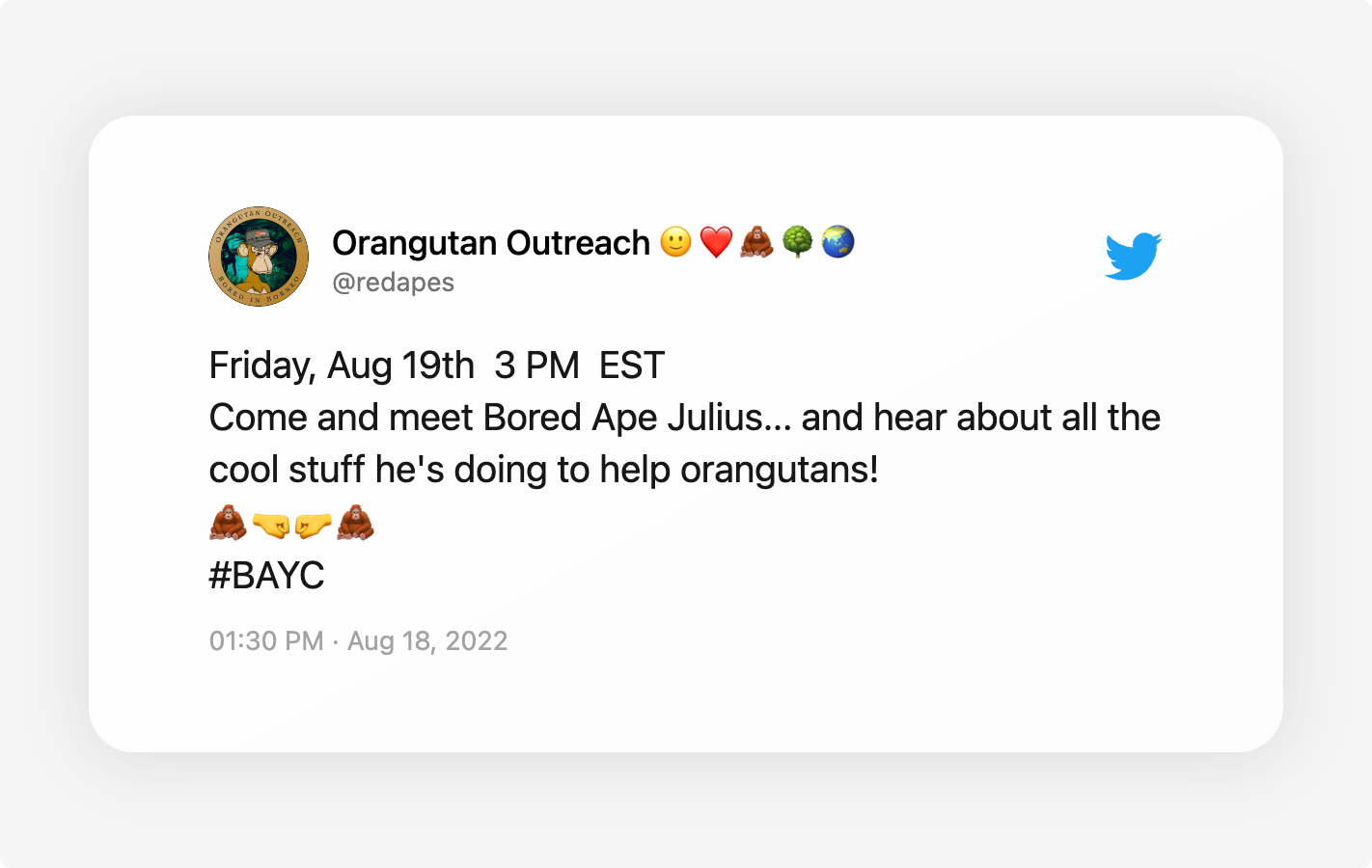 Your organization may find a unique connection with specific crypto users or communities, so during your fundraising campaign, keep track of what kinds of crypto are donated and how much of each.
Learn more about Orangutan Outreach's crypto journey and how the organization has found fundraising success through the power of Crypto Philanthropy.
2. Social Media Engagement 
Tracking social media following and engagement, especially on Twitter, is key to determining your engagement with the larger crypto community. Many crypto users are on Twitter and Discord, and with an average age of 38, they tend to be digital-native donors who will more likely engage with your campaign through social media. 
Some crypto fundraising campaigns set a smaller fundraising goal but aim to increase social media followers. Take a look at what nonprofit KABOOM! accomplished during a campaign with EtchedNFT: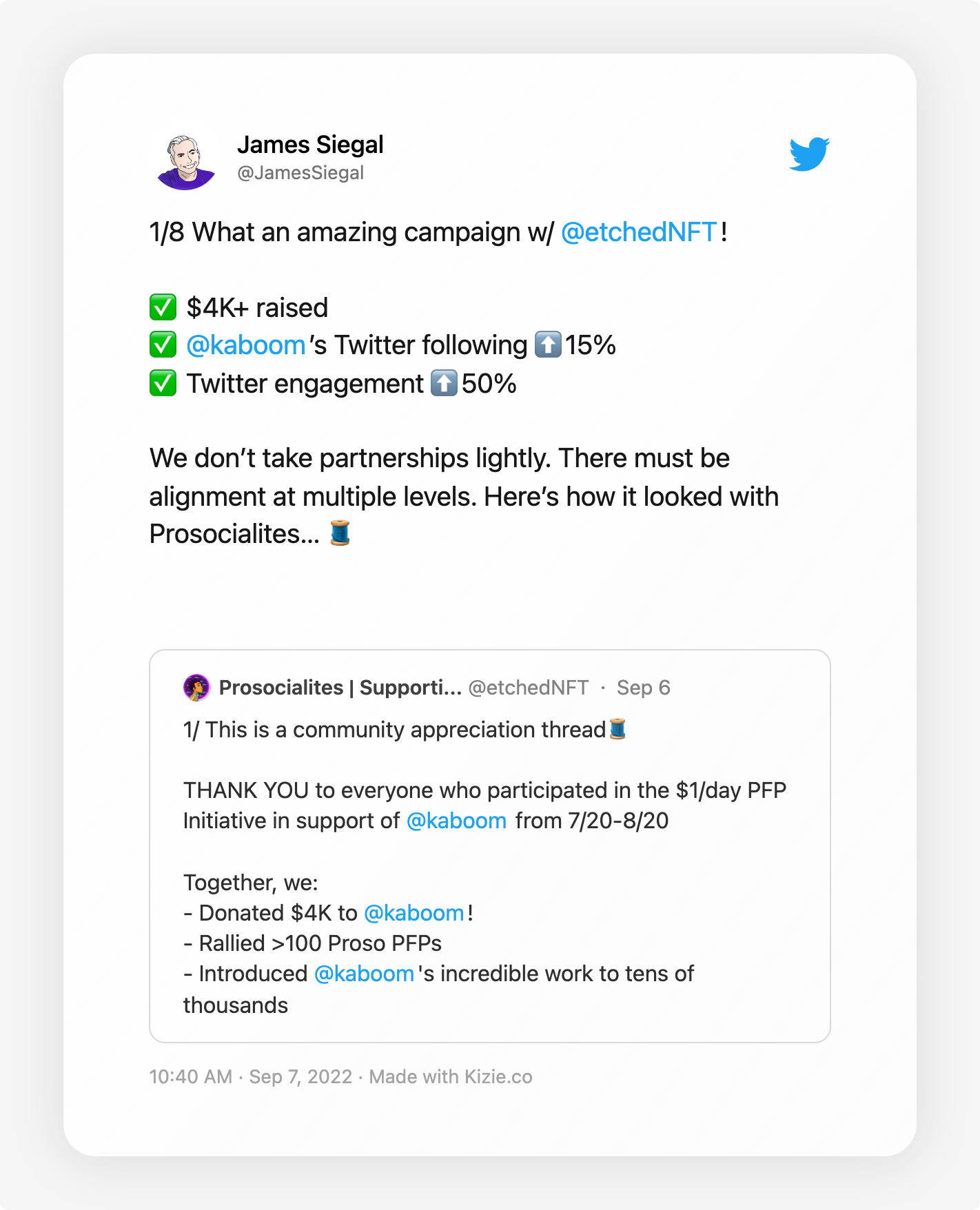 Expanding your nonprofit's presence on social media—whether organically or by leveraging key partnerships—helps you connect with even more people who can potentially become new crypto donors.
3. The Number of New Donors 
Sometimes the most important aspect to your campaign will be expanding your organization's reach and connecting with new communities, bringing awareness of your mission to hundreds or even thousands of people. 
The good news is that by accepting crypto donations, your nonprofit isn't just connecting with individual crypto users. The crypto community also includes: 
NFT projects, creators and collectors. Through NFT fundraising, creators can sell their NFTs and donate the proceeds, or donate a certain percentage of royalties or initial mint sales. 
Crypto and blockchain companies eager to establish CSR initiatives through charitable crypto giving efforts. 
Crypto-focused media outlets that can boost your nonprofit's visibility among your target audience.
Fundraising with crypto is an excellent opportunity to get in touch with a wide range of people who are new to your cause.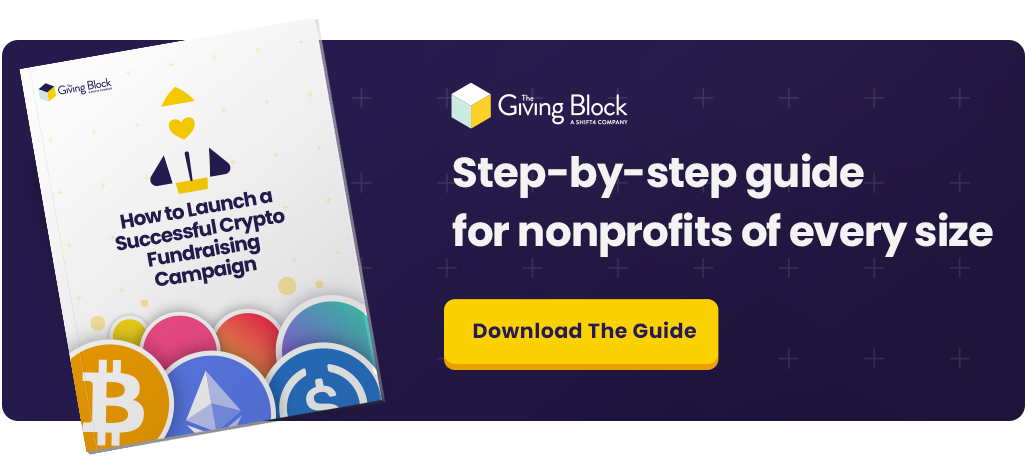 4. Total Gifts (and Gift Size)
Keep an eye on the number of donations you receive during a fundraiser and the size of each gift, as this influences how—and to whom—you will make donation appeals in the future.
Sometimes, a cryptocurrency will "pump" (that is, appreciate in value), and crypto investors will become crypto donors as they look to give back after enjoying some handsome profits.
In other cases, a "whale"—a crypto user who owns large amounts of crypto—might approach your organization interested in making a large contribution to your cause. (Believe it or not, that's how some nonprofits get started with crypto fundraising—like VIVE Church, based in Palo Alto, CA.)
Increasingly, we're seeing NFT projects or creators choosing to donate the proceeds from their NFT sales to nonprofits, whether due to a nonprofit's direct outreach or because of the project's community voting to support specific organizations. These royalty-based donations can reach the level of major gifts, but can also be recurring, modest-sized charitable gifts.
There are a variety of ways your organization may receive crypto donations. Pay attention to the number and size of gifts to figure out which type of fundraiser works best for your nonprofit, and whether there are specific donors (such as whales or NFT creators) who you can cultivate long-term relationships with.
Still becoming familiar with common crypto terms? Check out The Giving Block's crypto glossary for the key terms your organization needs to know.
5. Anonymous vs. Non-Anonymous Donations 
If your gift acceptance policy includes anonymous donations, the number of anonymous crypto donations is an important metric to keep track of. Many crypto donors prefer to stay anonymous and your crypto fundraiser may include a higher amount of anonymous contributions compared to traditional methods of fundraising. 
Measuring the number of anonymous versus non-anonymous contributions will help your organization: 
Identify donor preferences. Understanding your donor base is a key aspect to successive fundraising, as well as donor stewardship. 
Empower donors to continue their support. By respecting donor' preferences and allowing the opportunity to contribute anonymously, you open the doors to receiving donations from anonymous donors time and time again.
Craft messaging for the next crypto fundraiser. If you find that most of your crypto donors are anonymous, factor this into giving appeals so you can connect as much as possible with your crypto donor base.
Using Crypto Philanthropy to Achieve Fundraising Success
Different fundraisers will focus on different KPIs, but together, all the metrics above will help your nonprofit organization establish goals for your crypto fundraising campaigns. The more campaigns you launch, the more impact data you'll have and the more your fundraising strategies can improve. 
Key Takeaways: 
Crypto fundraisers often focus on increasing your organization's reach and rallying new supporters to your cause. 
If your gift acceptance policy includes anonymous donations, the number of anonymous crypto donations is an important metric to keep track of.
Meeting crypto donors where they're at—by accepting cryptocurrencies they're interested in and respecting their donation preferences—is key to a successful crypto fundraising strategy.
Want to learn more about Crypto Philanthropy? Get the latest tips and trends by signing up for The Giving Block's newsletter here.