Crypto donors are some of the most financially literate people on the planet and we want to give them more opportunities to donate to the causes that they care most about. Whether it's crypto, stocks or cash, The Giving Block aims to give young, high impact donors the opportunity to donate the way they want to donate.
As a result, we are excited to announce that we are now accepting stock donations through The Giving Block. We aim to do for stock what we did for crypto, and create an efficient solution that makes it easy for nonprofits to securely accept publicly traded stock and exchange-traded fund donations without the operational burden of processing these types of gifts.
Why We're Adding Stock Donations
The IRS incentivizes donors to give their most appreciated assets, and we want to make sure that the crypto community can donate appreciated stocks as well. 
We aim to make stock donations as simple as we've made crypto donations, and we know that the team we've assembled will do just that. We've appointed Mike McLean, Head of The Giving Block Institutional, to lead the charge. Prior to joining The Giving Block, Mike spent 7 years as Director of Investment Operations and Program Management at Fidelity Charitable where he oversaw private asset contributions, cryptocurrency, alternative investments, and trading operations. Mike's expertise in this space is unmatched, having previously processed over $25B in stock donations before joining The Giving Block. We know he and his team at The Giving Block Institutional are the best people to lead our stock donation solution.
How to Accept Stock Donations
Stock donation processing is available to The Giving Block's 2,000+ nonprofit customers that are US-Based with 501c3 status, and will be included for all future charitable organizations who meet that criteria and subscribe to The Giving Block's flagship crypto fundraising solution.
The option to donate stocks is available via The Giving Block widget, and the donation process will be similar to the crypto donation process donors and nonprofits already know and love.
How To Donate Stocks
Interested in learning how to donate stocks through The Giving Block? The process is easy:
Step 1
Go to TheGivingBlock.com/donate or the website of the charity of your choice, and click on "Stock" on The Giving Block's widget. Choose the ticker symbol for the stock you wish to donate in the drop down.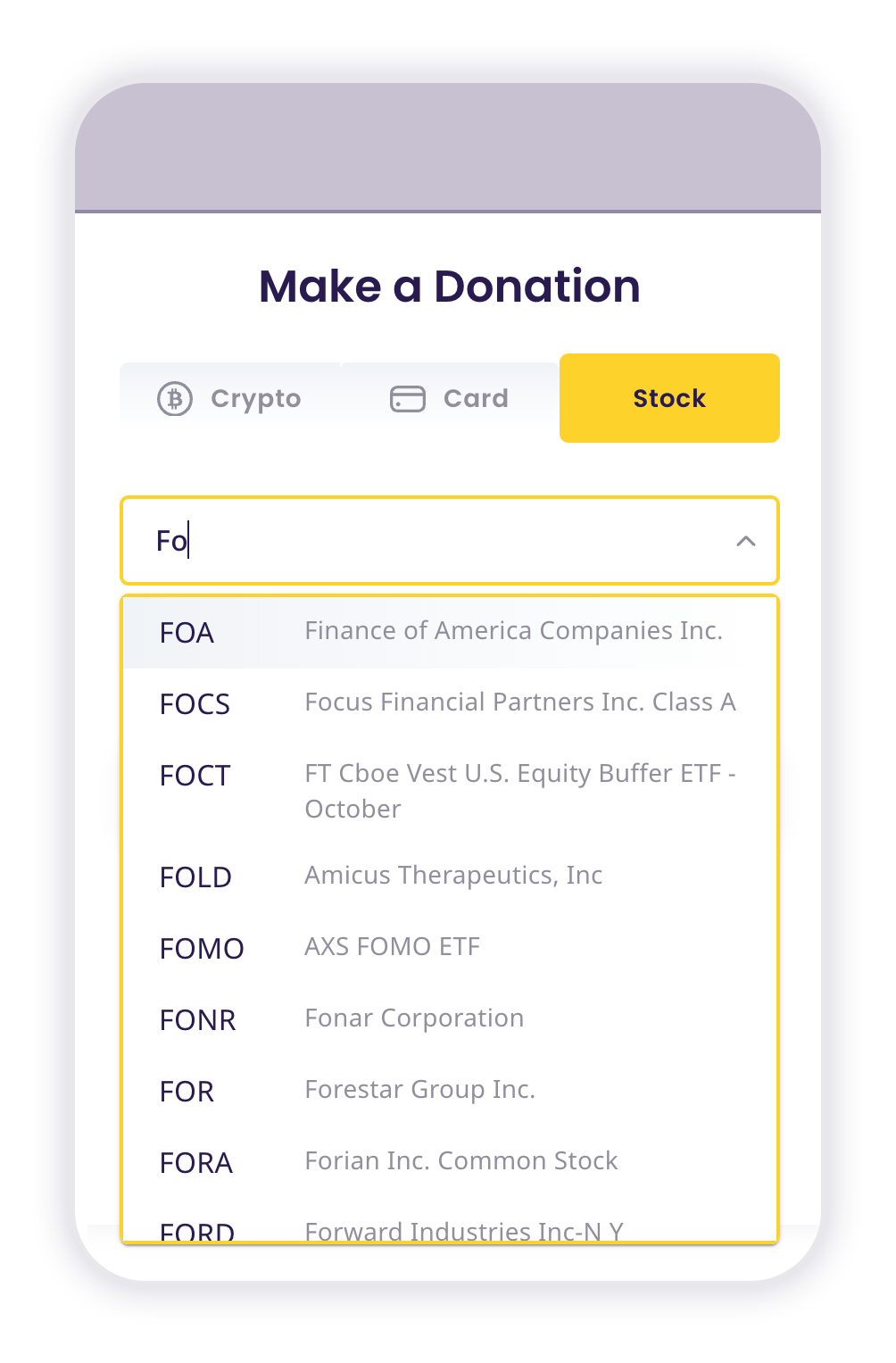 Step 2
Input the quantity of shares you would like to donate and we'll generate approximately how much you're donating in USD.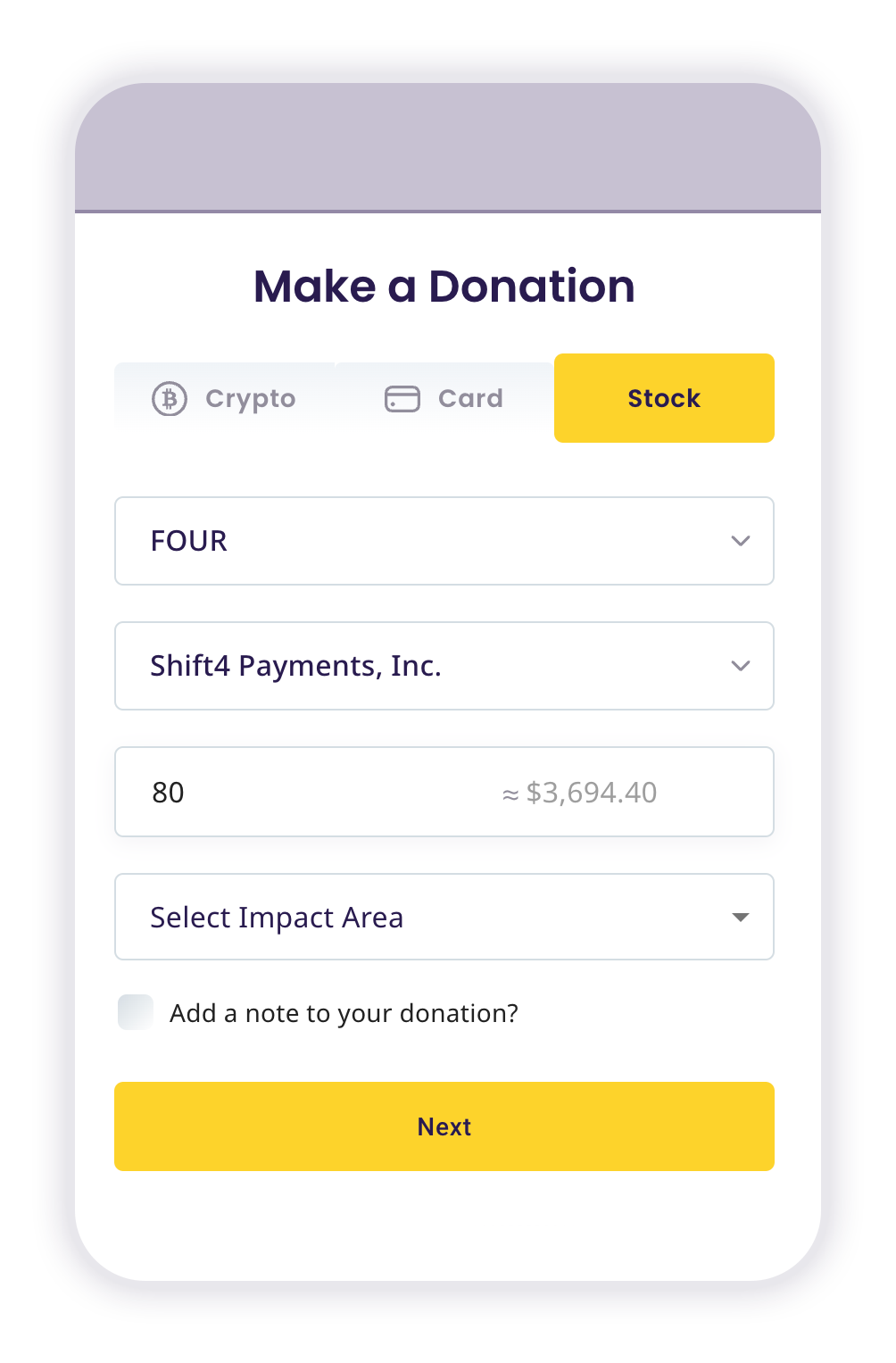 Step 3
Input your name, email and address.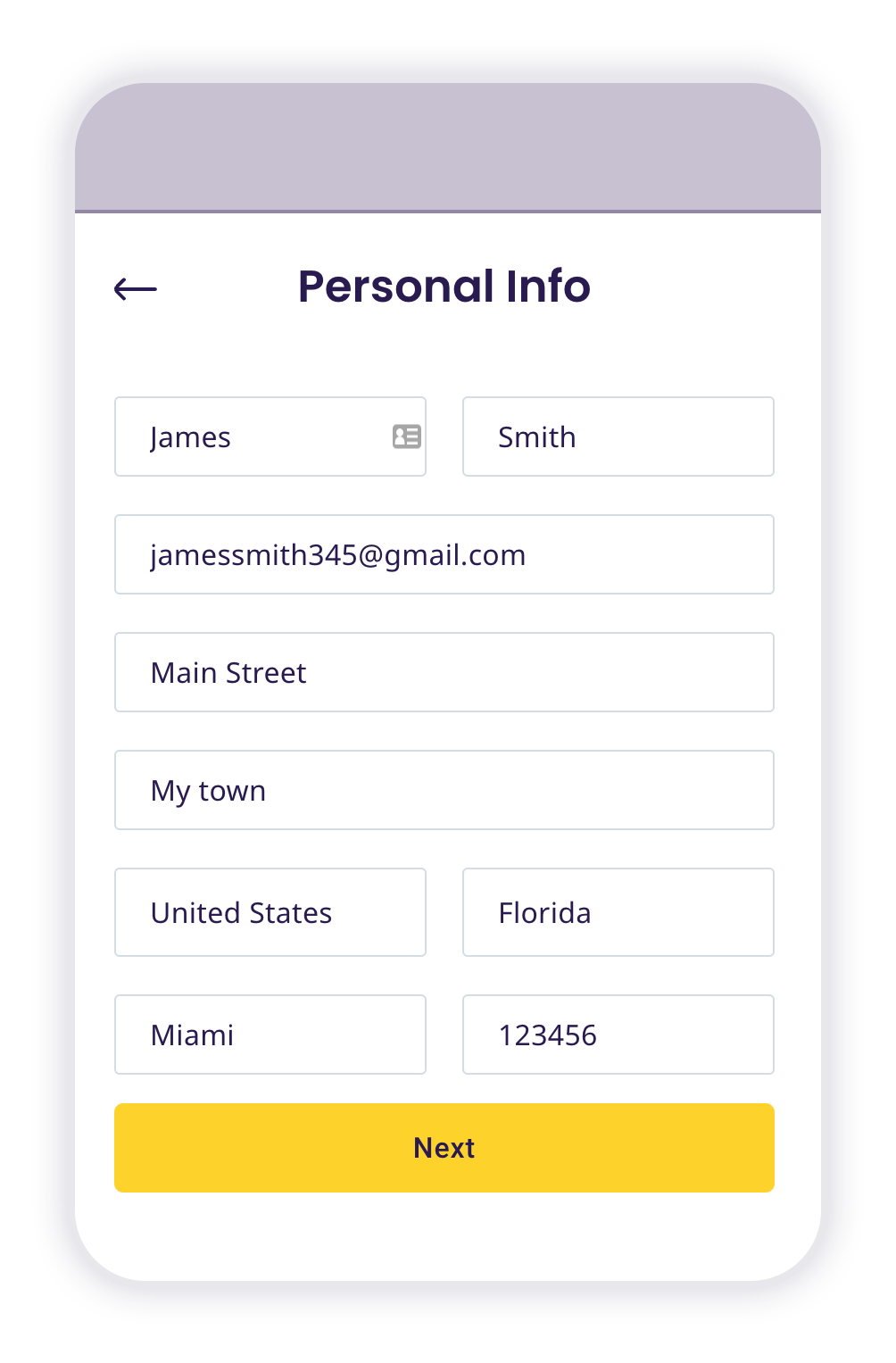 Step 4
Input your broker's information. The Giving Block currently supports 8 broker firms. If your broker is not yet a supported firm, select "other" and we'll email you further instructions.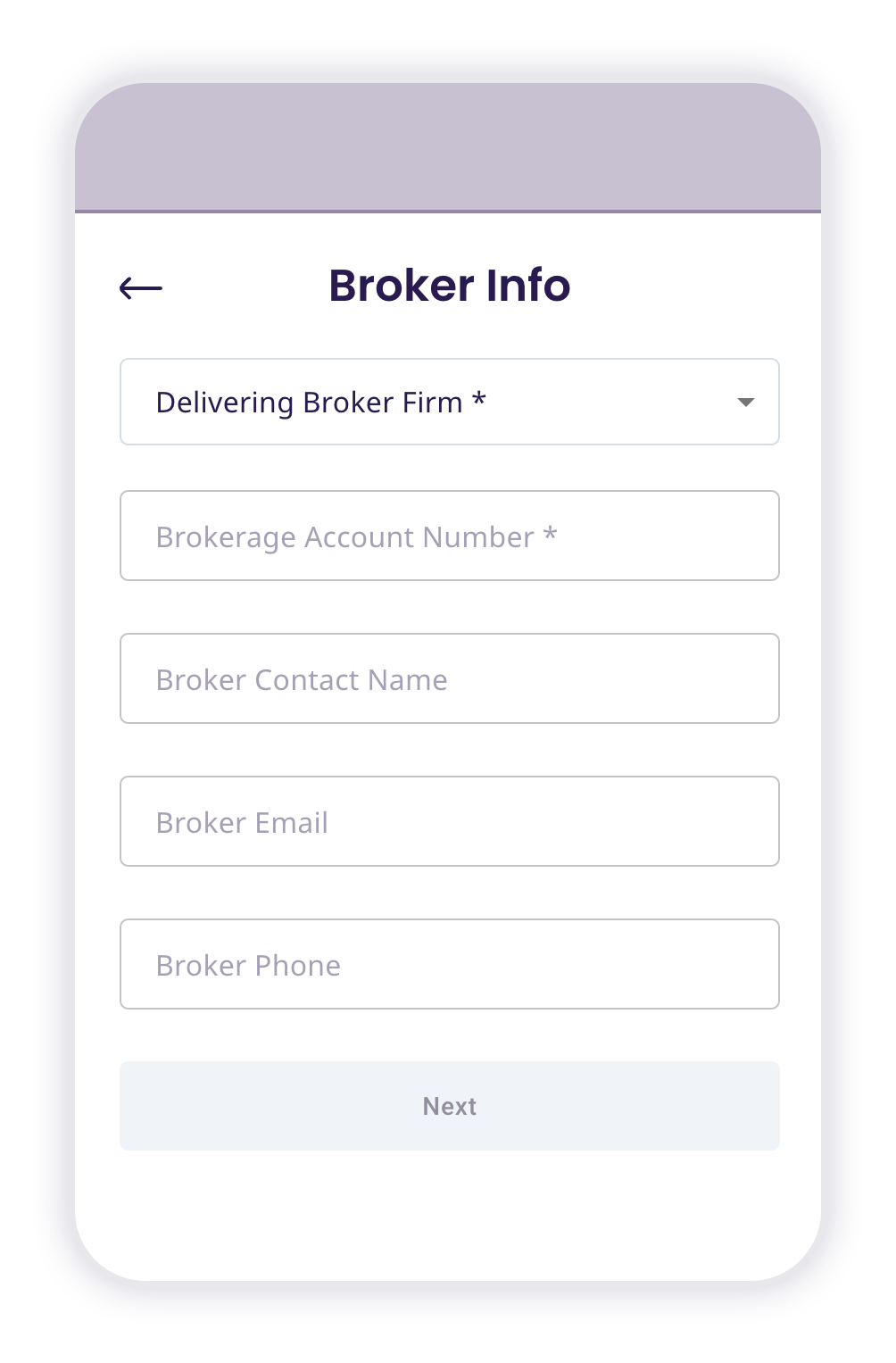 Step 5
Your donation is complete! We'll email you a tax receipt once your donation is processed!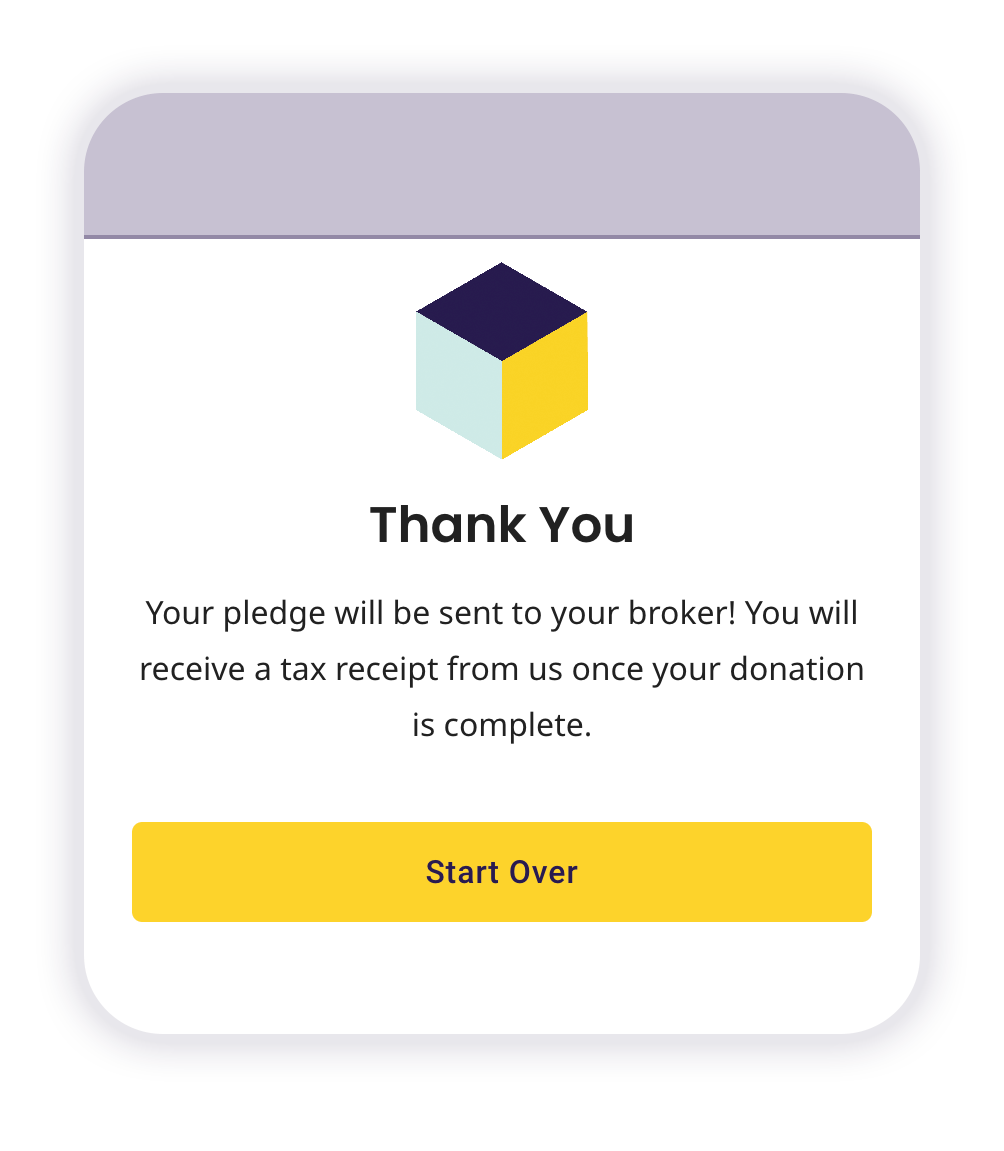 Ready to donate stocks through The Giving Block?