Is your nonprofit asking donors for the same amount of money year after year? This approach might help you hit your revenue goals now, but could make it harder to ask for larger gifts in the future.
Your average major gift size is one of the most important fundraising metrics, and should grow over time. And yet, 58% of nonprofits don't have a major giving strategy. If your organization is looking to create or revamp its approach to major gifts fundraising, the best place to start is with your existing donors.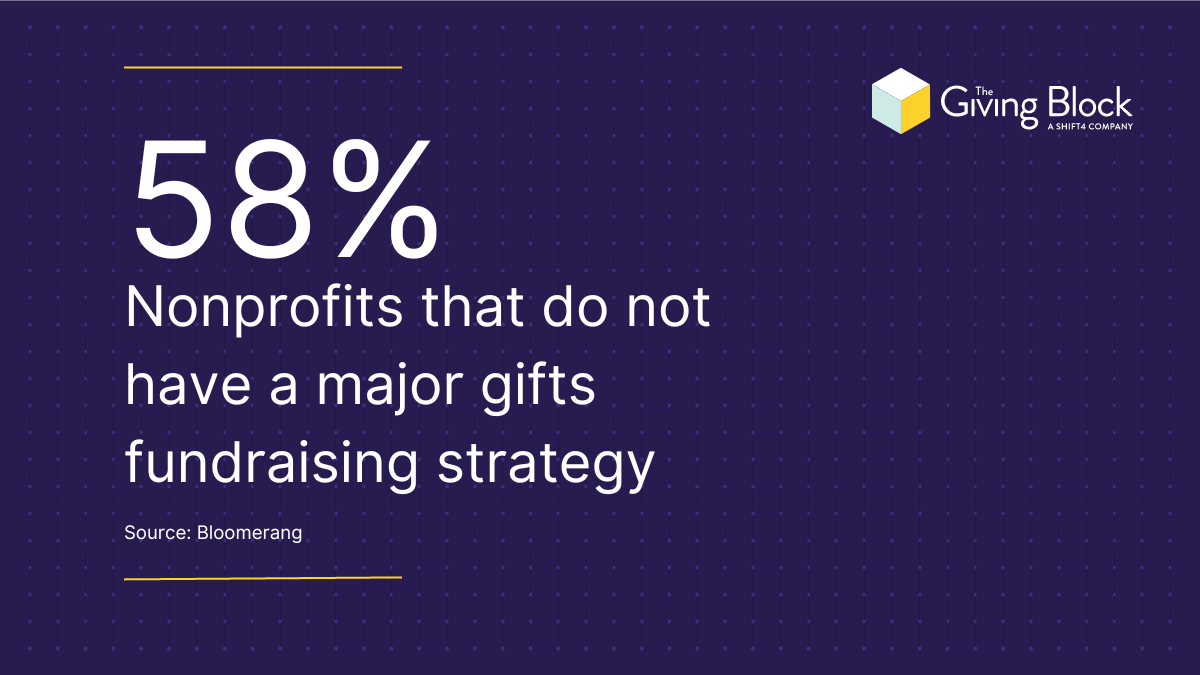 Converting those one-time donors into major donors requires a careful strategic approach from your fundraising team. Here are some steps that nonprofits can take to convert their occasional or one-time supporters into major gift donors:
1. Build a Relationship
The biggest key to converting a one-time donor into a major donor is to build a strong relationship with them. Nurturing a connection with a donor involves keeping in touch, sharing updates on the organization's work, and expressing gratitude for their support—no matter how big or small. 
These touchpoints matter a great deal, especially because establishing trust is an essential pillar of donor engagement.
2. Segment Your Donors
Segment your donors based on their giving history, interests, and capacity to give. This allows fundraisers to tailor their communications and fundraising asks to each donor. 
Over time, you can try to raise the amount given by each donor by conveying the impact of their support and making a strong case for fundraising. If you don't have a CRM that can segment your donors for you, don't worry: a spreadsheet can be a fundraiser's best friend.
3. Establish a Major Donor Program
Nonprofits should create a dedicated program for major donors that provides exclusive access to the organization's leadership, events, and impact. This helps to make donors feel valued and connected to the organization. (Be sure to ask your major donors what kind of incentives would excite them, in order to ensure you're truly providing value.) 
Once this program is established, you can offer your smaller-gift donors a glimpse of the perks of major giving through email, social media and other outlets. This can motivate some donors to give more next time you ask.
4. Show Your Nonprofit's Impact
Nonprofits should demonstrate the impact of their work through stories, data, and testimonials. This helps donors understand the value of their contributions and motivates them to give more. 
A steady cadence of blog articles, quotes, infographics, and social media posts will create an impressive sample of your nonprofit's impact. You can repurpose these highlights and send them to your donors through email and even snail mail, or package them into larger documents like annual reports.
5. Make Your Ask Directly
Plan to ask your one-time donors to consider increasing their support to become major donors. You'll likely be making this ask to a smaller segment of one-time donors that have given large amounts at least once. This can be done through personalized asks and direct conversations with donors, especially if you're asking for a significant amount of money. 
If you're trying to convert a one-time donor into a major giver, you don't necessarily have to make an in-home visit. If your nonprofit hosts in-person events, invite a donor to attend and take a few minutes to privately discuss the idea of increasing their level of support.
6. Offer Planned Giving Options
Nonprofits can offer planned giving options, such as bequests and charitable trusts, to donors who are interested in leaving a legacy and supporting the organization in the long-term. These options allow donors to commit to larger giving levels in the future, or over an extended period, rather than immediately. 
The benefit of this approach is that your donor may be more willing to say yes to making a future plan that factors in your nonprofit, especially if they're not ready to increase their giving level right away. 
7. Add More Ways to Give
Modern donors are used to having different ways to support their favorite causes. Options like recurring donations, peer-to-peer fundraisers, and accepting non-cash assets like crypto and stocks is an easy way to potentially get a bigger impact from your one-time donors. 
Since the majority of wealth is held in property and other investments, your donors may not have as much cash on hand as they do other assets which they may be more willing to give to your cause.
In Summary
Converting one-time donors to major donors requires a personalized approach that focuses on building relationships and demonstrating impact. Over time, nonprofits can increase their chances of converting one-time donors into major supporters of their organization. At your next planning session, discuss which of these tactics you can put into action now to help your nonprofit motivate donors to give more each year.