Why have crypto donations become one of the fastest-growing trends in philanthropy? 
To start with, there are already more than 320 million potential donors worldwide and thousands (yes, thousands!) of nonprofits actively fundraising cryptocurrencies like Bitcoin, Ethereum and USDC, including nearly half of America's leading charities. 
But it's not only a numbers game. Donating cryptocurrency is also as easy as making an online credit card donation. That's a big reason why The Giving Block has processed $125 million in crypto donations over the past few years. 
Best of all, the ease of giving crypto has created new philanthropic opportunities for the crypto community. 
Every crypto donor and nonprofit should know about these seven immensely popular ways to fundraise and donate cryptocurrency: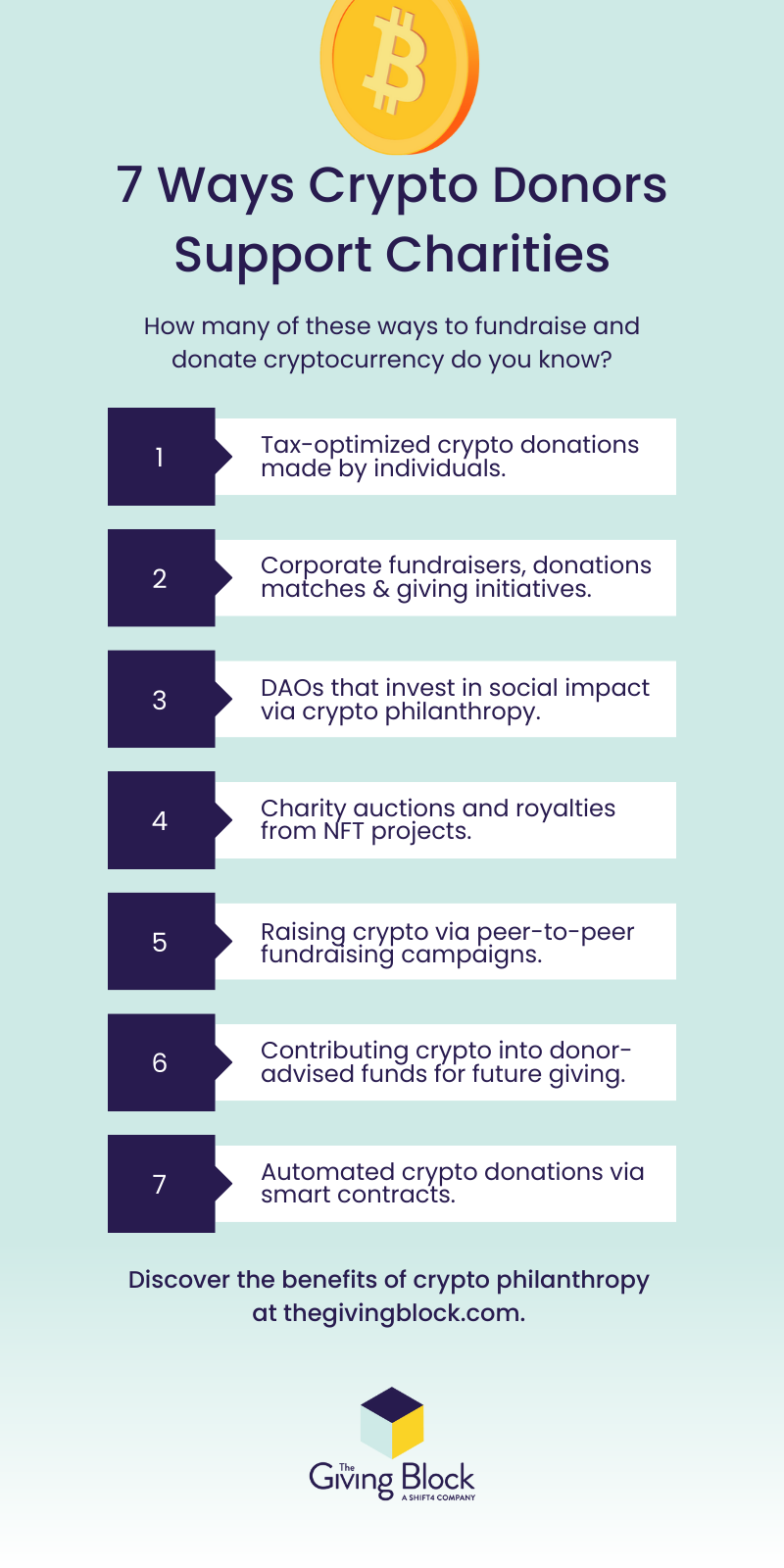 1. Individual Giving
Tax-optimized crypto donations made by individuals.
Donating cryptocurrency is one of the most tax-efficient ways to support your favorite cause. Taxpayers in the UK, US and elsewhere are not responsible for paying capital gains on appreciated crypto that has been donated to a qualified charity. Plus, donors can write off their donation as a charitable contribution. 
The tax benefits of donating crypto is one reason why the average size of a crypto donation was $6,295 in 2022—roughly 6 times the threshold for a "major gift," according to a recent Major Gifts Fundraising Benchmark Study. 
Want an example? Check out this example of Chain CEO Deepak Thapliyal's $100,000 ETH donation to the Chattanooga Area Food Bank.
2. CSR Initiatives
Corporate fundraisers, donations matches and giving initiatives.
There's a shared feeling amongst blockchain and crypto enthusiasts that this new industry has, can, and will change the world for the better. 
More and more, companies leading the sector forward have shown their corporate social responsibility with crypto. These companies have launched NFT charity auctions, donated profits from ticket sales, and even announced 1:1 donation matches, to name just a few past examples.  
Want an example? Take a look at how crypto news company CoinDesk's Inaugural MetaGala raised $160,000 in USDC for several blockchain education charities.
3. Decentralized Community Giving
Impact DAOs invest in good causes via crypto philanthropy. 
First, a definition: a "DAO" is a decentralized autonomous organization, which is a digital entity made up of users that collectively manage assets, whether for investing, governance, or another purpose, such as charitable giving. 
The emergence of social impact DAOs has made an unmistakable mark on crypto philanthropy. These organizations have raised crypto to fight for change, supporting causes such as Ukraine humanitarian aid, women's rights and blockchain education. 
Want an example? Big Green is the first US-based 501(c)(3) to launch its own DAO, with an aim to democratize and decentralize grantmaking for food and gardening organizations in the US.
(P.S. New here? Check out our crypto glossary with 60+ terms you should know.)
4. NFT Charitable Giving
Charity auctions and royalties from NFT projects.
Non-fungible token (NFT) charitable giving really took off in 2021, when NFT creators donated crypto worth more than $12 million in value. Since then, we have seen NFT creators make a difference in numerous ways. 
Many have either launched NFT charity auctions with nonprofits or pledged to donate a percentage of royalties. For a deeper dive, read our exclusive report, The Rise of NFT Fundraising.  
Want an example? Learn how crypto artist duo Hackatao donated $50,000 worth of Ethereum to Outright International.
5. Fundraisers
Raising crypto via peer-to-peer fundraising campaigns. 
As more people donate crypto, there will be more ways to activate the wider crypto user base for fundraising. We've already seen a mass movement to donate crypto to provide aid to Ukraine. On a smaller scale, crypto users can also tap into their social networks with peer-to-peer fundraising. 
Because if there's one thing the crypto community loves, it's getting to use crypto to make a positive difference in the lives of others. (For more info on that concept, learn how Bitcoin can help provide a pathway to financial freedom to millions.)
Want an example? Ashley DCan launched a crypto fundraiser via The Giving Block's Fundraisers platform to support nonprofit American Cancer Society's breast cancer research.
6. Donor-Advised Funds
Contributing crypto into donor-advised funds for future giving. 
A donor-advised fund is established by a donor and managed by a public charity, which makes grants to charitable organizations based on the recommendations of the donor. In recent years, donor-advised funds (DAFs) have become a popular vehicle for charitable giving. Today, they're also crypto friendly.
In 2021, The Giving Block partnered with Ren to enable crypto users to put crypto assets into a DAF without liquidating for cash first. We have also partnered with Chariot to allow DAF accounts to donate directly to nonprofits using The Giving Block's donation form.
Want an example? Learn why the UNC System Donor Advised Fund Program began accepting crypto donations.
7. Smart Contracts
Automated crypto donations via blockchain-based smart contracts. 
IBM defines smart contracts as "computer programs stored on a blockchain that run when predetermined conditions are met." 
When crypto users set up smart contracts to make donations, they can pick conditions, such as when one of their NFTs are sold. From the perspective of traditional fundraising, this is somewhat similar to a recurring donation, but using variables other than increments of time. 
Want an example? The proceeds of Jack Butcher's NFT collection supporting nonprofit Feeding America are donated via a smart contract.
Bottom Line: Crypto Donors Are Changing Philanthropy
Crypto philanthropy is unique. Its user demographics, the assets donated, and even the ways to give can differ from the norms, as defined by traditional nonprofit fundraising. 
By "embracing the new," thousands of nonprofits are seizing the opportunity to accept crypto donations—and they're making connections with young donors while stewarding major gifts from the crypto community.
Schedule a demo with our crypto fundraising experts to discover how crypto donations can benefit your nonprofit or charitable organization.