Is your nonprofit in need of a solid foundation for its fundraising strategy? Let us introduce to you the concept of the "donor lifecycle."
Below, we define what the donor lifecycle is and break down each of its three distinct phrases.
What is the Donor Lifecycle?
The donor lifecycle is a way to visualize the evolution of donor/nonprofit relationships over time.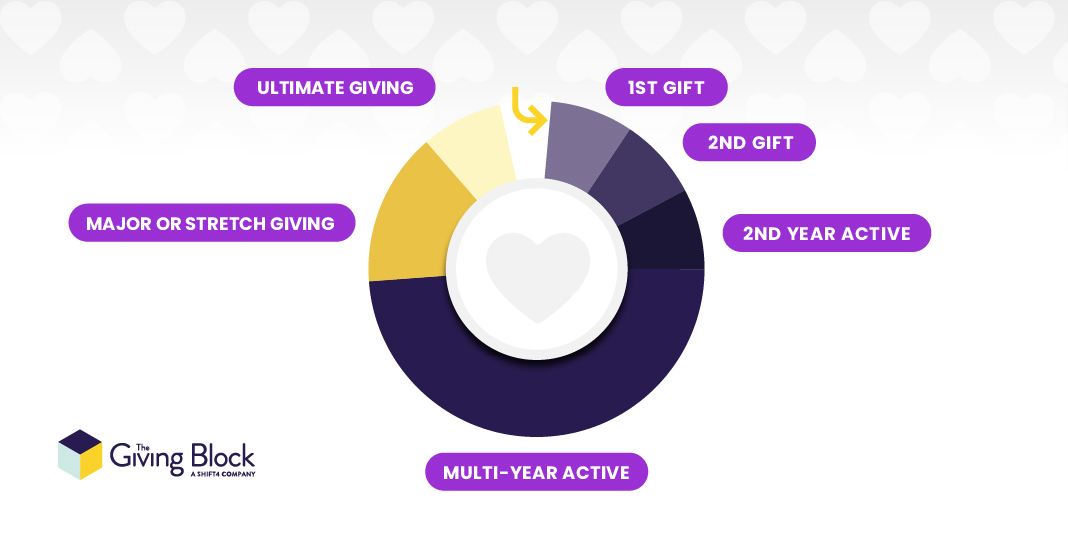 As a nonprofit, your aim is to move donors along these different stages:
First gift
Second gift
Second year active
Multi-year active
Major or stretch giving
Ultimate giving 
These successive stages can be condensed into three phases of the donor lifecycle, which are acquisition, retention, and upgrade.
Explained: The 3 Phases of the Donor Lifecycle
Many nonprofits use the donor lifecycle as a blueprint for their fundraising strategy. Why? In a practical sense, it helps nonprofits turn their revenue goals into more manageable tasks. (For example: follow up with first-time donors via email.) 
Second, as a concept, it is a helpful indicator that donor stewardship is a marathon, not a sprint. At each stage in your donor outreach you should be mindful of the bigger goal, which is to establish donor loyalty and gradually convert them into major donors. 
(Below, you'll see an alternative view of the same donor lifecycle.)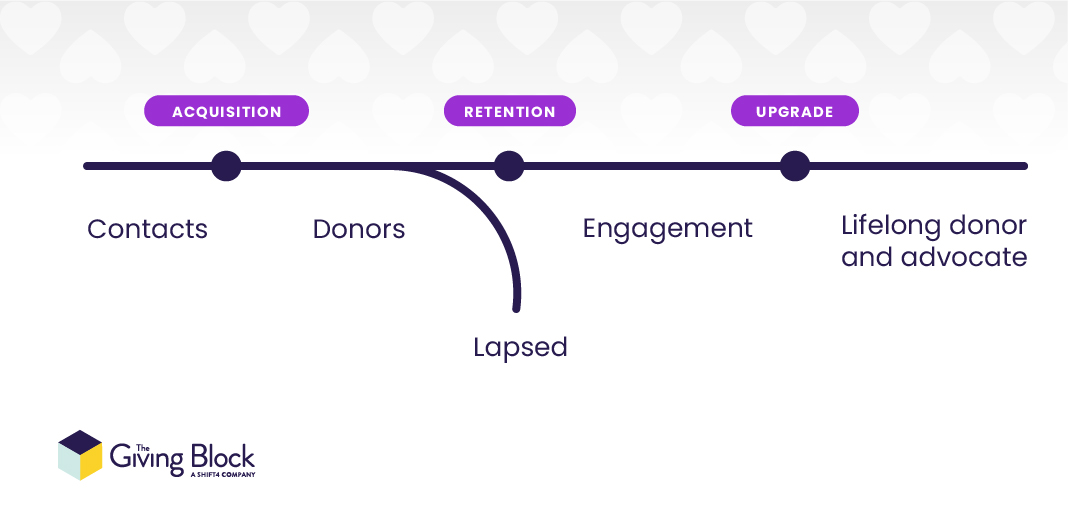 Now, let's look at the three phases of the donor lifecycle in more detail:
Phase #1: Acquisition
Donor acquisition phase includes everything that your nonprofit does to recruit new donors.
At this stage, your strategy should include various awareness building efforts. Consider budgeting for paid advertising on social media, sending emails to non-donor contacts in your database, or planning events in your area.
Phase #2: Retention
In the donor retention phase, focus on deepening and sustaining relationships with existing donors. 
Keep in mind: effective donor engagement is not limited to communications about your annual fund. Send thank you notes to convey gratitude and show the impact of their generosity. Meet donors and learn about their motivations for giving. Consistent and sincere touchpoints can help you retain their support in the years ahead.
Phase #3: Upgrade
During the final stage, the donor upgrade phase, take active steps to increase the giving level of engaged donors. 
After months and years of applying effective donor cultivation strategies, will you be ready to ask them to give more? Upgrading donors isn't easy, as it depends on numerous factors such as wealth and giving capacity. But all of your prior efforts should have made it possible. After all, you built a long-term relationship with your donors and they have demonstrated their loyalty. Now it's time to ask them to make a more meaningful gift.
The Bottom Line: Why Donor Stewardship Matters
Good donor stewardship starts before donors make their first gift to your cause. By following the donor lifecycle, you can build strong donor relationships over time, starting from day one. Then, step by step, ask them to increase their support. 
What's the ultimate upside? As your donors' loyalty to your organization grows, their impact will grow with it. That's good for you, for them, and for your mission's long-term success.