The last few weeks of the year are an essential time for both nonprofits and donors to focus on donations. For donors, December 31 is the deadline to make charitable gifts in time for the year's tax return. For nonprofits, a well-executed year-end campaign can help them achieve their annual revenue goals and connect with new donors for the new year.
Year-end giving is just as big to crypto donors as other donors. In 2021, during Bag Season (the period of time from Crypto Giving Tuesday through December 31), more than $23 million in crypto donations were processed by The Giving Block.
Crypto fundraising at the end of the year can help your nonprofit maximize year-end donations through as many revenue sources as possible. Check out this complete guide to end-of-year crypto donations to leverage this year-end season as much as you can for your organization.
Year-End Giving and Crypto Donations
Accepting cryptocurrency donations is a great way to diversify your revenue sources and provide donors even more ways to give as the end of the year approaches. From hosting NFT fundraising events to participating in Bag Season, connecting with crypto donors opens many opportunities for your nonprofit to meet its annual revenue goals.
In 2021, Crypto Giving Tuesday took place on November 30 and was the year's biggest day for crypto fundraising. On that day alone:
About 1,000 nonprofit organizations participated.
Over $2 million was raised in total, a 583% increase from the year before.
The average donation size was $12,600 (almost 99 times higher than the nonprofit industry's average donation size).
The moderator of subreddit r/Bitcoin pledged to match BTC donations up to 12 BTC.
The Ethereum community was most generous and the majority of donations were in ETH, showcasing the benefits for nonprofits that accept different kinds of cryptocurrency rather than just Bitcoin. By the end of the day, over $1.2 million of ETH had been donated.
Other Popular Year-End Crypto Donation Events
Besides Crypto Giving Tuesday, a few other events took place last year that drove year-end crypto donations, including:
NFTuesday, a day solely focused on charitable giving by NFT projects, creators, and platforms. As a celebration of everything NFT philanthropy-related, NFTuesday provided a great opportunity for nonprofits to connect with NFT projects and use NFT philanthropy to diversify their year-end revenue sources.
Impact Week. During one week of December in 2021, The Giving Block highlighted Impact Index Funds. These funds are a unique opportunity for donors to make a contribution that's distributed equally among multiple nonprofits. The themes of Impact Index Funds include education, mental health, animals, and more. Donors are able to multiply their impact and participating nonprofits are able to tap into yet another method of crypto fundraising.
Last Day to Give. December 31 saw a major push for last-minute crypto donations and was one of the biggest giving days of the entire year. Many donors took the chance to get their donations in by 11:59pm and participate in Bag Season before it was too late.
Signing up for cryptocurrency donations early in the year and planning your year-end crypto appeal gives your organization a head start on being ready for Bag Season and Crypto Giving Tuesday. In fact, it turns out that preparing for end-of-year as early as possible benefits nonprofit organizations.
When to Start Focusing on Year-End Crypto Donations
Most campaigns and fundraisers need a large lead time, but year-end campaigns need even further lead time. To ensure you're prepared for end-of-year donations, it's helpful to start focusing on your appeal and strategy months ahead of time.
While most nonprofits start planning for year-end in October, some start in August or September. Ideally, your organization will be considering the end-of-year all year round since January is often spent gathering data from the previous year's campaign and taking note of what was successful. From identifying benchmarks to locking down this year's approach, end-of-year preparation starts long before the fourth quarter.
Here's a sample timeline for how your nonprofit might prepare for year-end crypto donations:
January. As soon as an end-of-year campaign is over, it's important to understand what was achieved and what could have gone better. Identify what your fundraising needs and budget will be for the new year. Important KPIs from the giving season include:
Total amount raised
Average gift size and amount of gifts received
Paid ad spend
Number of new donors
Social media engagement
Summer (June, July, August). Confirm your year-end approach. The specifics of your year-end campaign, such as any key dates, events, assets such as graphics, and communication plans should be fully planned out. Give plenty of time for these specifics to be tweaked and receive final approval.
October. Many nonprofits launch their year-end giving campaigns as early as October. This is an especially ideal time for direct mail campaigns. It's important to ensure that your donor base is aware of all the different methods of giving that are available to them ahead of time.
November and December. By now, your year-end campaign is well underway. Crypto Giving Tuesday marks an important start to the year-end crypto giving season, but the end is just as important; remember to send out reminders that December 31 is the tax deadline for donations.
While many nonprofits follow this general timeline, the exact timing of your year-end campaign will depend on the communication channels you've chosen, as well as other unique factors.
How to Create a Year-End Appeal for Crypto Donations
The end of the year is a big time, so how do you stand out among all the other organizations and make sure you connect with crypto donors—especially new donors for your nonprofit? A key aspect to your end-of-year campaign is your year-end appeal, which is the actual act of asking for donations from crypto users.
A thoughtful, well-crafted year-end appeal can define your entire year-end campaign. Here are some general best practices for crafting a successful year-end appeal:
Focus on storytelling. Telling stories helps donors to form an emotional connection with your mission. You can tell the story of one person who benefited from your organization's services, or share data from the impact on an entire community over time. Concrete examples go a long way.
Showcase impact. Donors like to see exactly where their money is going. Define the connection between gifts received and the result or impact as clearly and distinctly as possible. For example, an organization that provides books for young children can clarify that every $20 donated provides a certain number of books for one child.
Use personalization & "you" language. Use a conversational tone to connect with donors and address them directly. Donors should feel as if you're right there speaking to them. Appeal letters or emails should address donors by first name.
Make it easy to read. Be informative with your appeal but keep it brief. Stick to short paragraphs, use bulleted lists, and include graphics when you can.
End with a distinct call to action. Make it clear and very easy for donors to be directed to where they may make a donation. Online appeals should link directly to your year-end donation page on your website. If you accept crypto donations through a service provider, it's easy to add your crypto Donation Form to your year-end campaign page.
Your appeal letter will be turned into different versions for different channels, for example into social media posts, ad placements, and email. One of the reasons why year-end campaigns need to be planned well ahead of time is so you can create everything you need, such as videos, banners, graphics, and key messaging. Once the campaign launches, these assets are ready to go and can be accessed or updated throughout the campaign.
Even after someone makes a donation to your organization, stay in touch with them. Share a thank you message and keep them updated on the impact that donations have made for your mission. The end of the year brings a great opportunity to connect with new donors and turn them into long-term, recurring ones that continually support your nonprofit.
Best Practices for Making An Appeal to Crypto Donors
The guidance above works for any year-end appeal, but there are ways you can tailor your year-end messaging and outreach specifically to crypto users. Being mindful in particular of the crypto community audience will help you further establish connection:
Consider the typical crypto user demographic. Most crypto users are of the Millennial and Gen Z generations, and their average age is 38. In this case, social media and email appeals are the best way to reach crypto donors—especially on platforms such as Discord and Twitter, which are popular with the crypto community.
Emphasize transparency. Crypto users especially value being able to see exactly where their money is going. Transparency is one of the biggest values to blockchain technology as each transaction is recorded on a public ledger for everyone to see. Being honest and transparent with crypto users will help your engagement.
Respect crypto donors' anonymity and privacy. Another core value to the crypto community is anonymity. Many people who donate crypto to your organization will wish to remain anonymous. Not only should you respect this but you can also emphasize what your nonprofit is doing to protect donors' privacy, especially during the end-of-year when donation volume is high.
Point out the tax benefits. Getting a donation in before the tax deadline is a big incentive for year-end giving. For crypto users, there are some extra benefits to donating. By donating crypto directly, crypto users avoid the capital gains tax and are able to receive even more deductions on their tax returns. Emphasizing this on your appeal further encourages crypto users to donate. For more information, check out our Tax Help page.
It's not just about Bitcoin. The activity of the crypto community is widespread and there are hundreds of different kinds of cryptocurrency, as well as all kinds of projects that involve blockchain technology. While some nonprofits specialize in Bitcoin donations, it can help your organization reach a broader aspect of the crypto community if you accept donations in different cryptocurrencies or get involved in NFT projects. Remember, in 2021, Ethereum donations outpaced Bitcoin during Bag Season.
Examples of Year-End Crypto Donation Appeals
Wondering what a crypto donation appeal during Bag Season looks like? What are the best ways to connect with crypto donors over Twitter? The following are a few examples from nonprofits that participated in last year's Bag Season.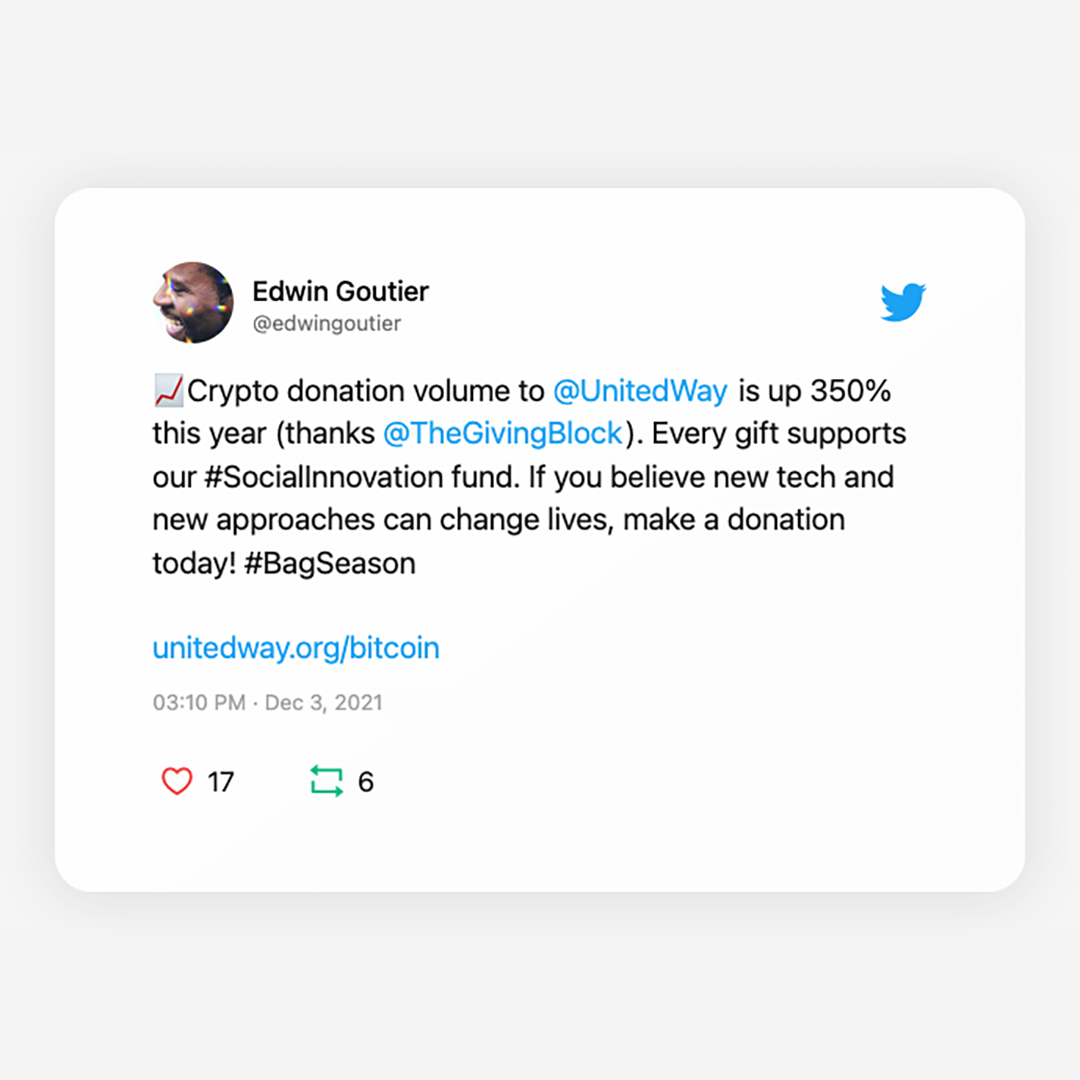 St. Jude Children's Research Hospital included a video and emphasized that donors could give different types of cryptocurrency in this appeal: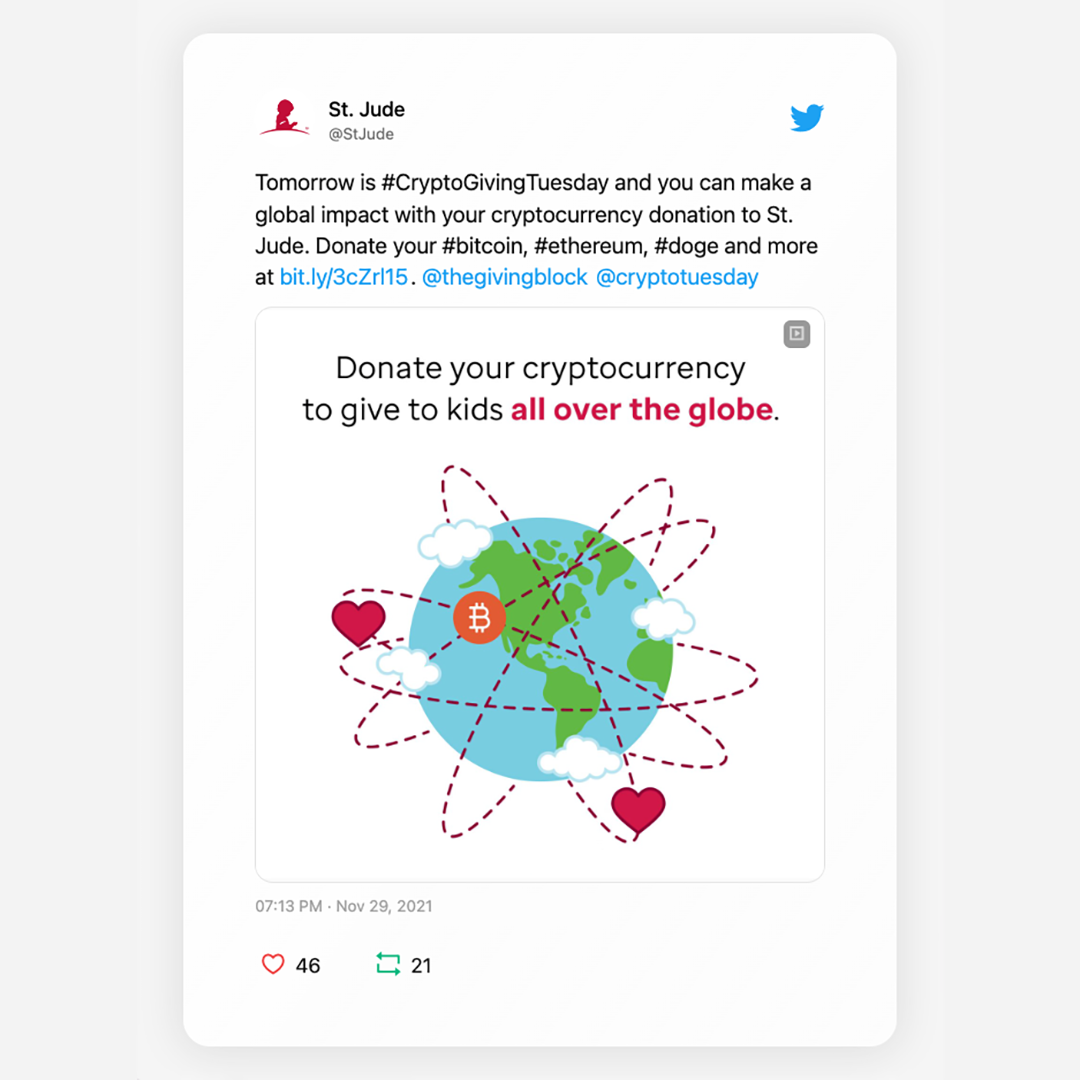 Using Crypto to Help Secure End-of-Year Success for Your Nonprofit
Bag Season is an important event for crypto donations, and as cryptocurrency continues to be a fast-growing method of charitable giving, the end of the year is sure to become even bigger as time goes on.
As your organization prepares for the year-end season, make crypto fundraising part of your campaign. Crypto donations help your nonprofit diversify revenue streams, participate in unique year-end fundraising events, and connect with new donors to support your cause. By planning ahead of time and crafting a successful crypto donor appeal, you can tap into the world of Crypto Philanthropy and maximize your nonprofit's year-end campaigns.
Want to learn more about crypto fundraising? Subscribe to The Giving Block's weekly email newsletter for more information on Crypto Philanthropy. You'll receive essential tips for nonprofits during the important giving season as well as all year round.