This year's Bitcoin Annual Gift Season (
#BagSeason
) was kicked off by a tremendous show of force from the crypto community on Bitcoin Tuesday, December 1. Thanks to everyone's generous support, we're already halfway to our $1,000,000 goal for December!
The biggest names in crypto powered an exciting day for charities all over the world that accept crypto donations. This year over 120 nonprofits participated in #BitcoinTuesday and #BagSeason as we close out the year.
Nonprofits, corporate partners, and crypto donors all worked together to invest in their communities by donating cryptocurrency. Last year, we had 12 charities and a handful of corporate partners. Those partners did an amazing job and helped us activate our first ever #BagSeason. This year is shaping up to be a lot bigger since we've already raised half of our $1,000,000 goal for the month of December, and will keep growing this coalition over the next few weeks to get us over the top.
We were blown away by the media coverage our campaign has received so far. We couldn't have done this without our friends at Ditto PR!
Corporate partners support #BagSeason
Some of our partners really went above and beyond and deserve being highlighted.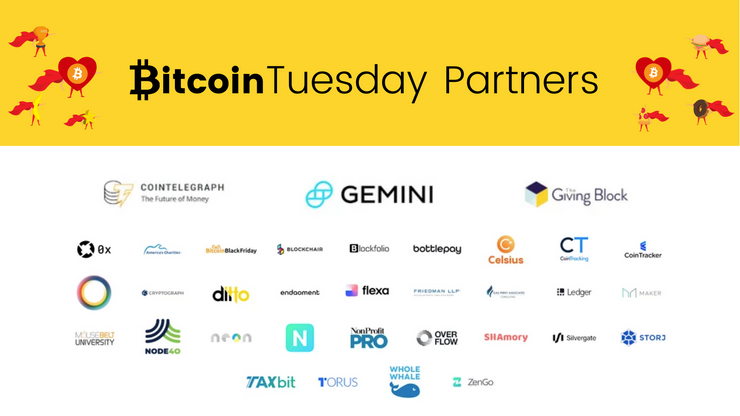 Gemini continues to lead by example. Not only did they donate $20,000 to three charities but they also created a landing page for the campaign, sent out an email to their users, promoted the campaign on social media and added "Donate Crypto" banners to their desktop platform and mobile app.
Blockfolio is driving more traffic to our campaign page than anyone else so far. Blockfolio donated ad space for November 27th through December 31st to encourage their users to participate in the campaign. These ads have already resulted in tens of thousands of visitors to the campaign page
Cointelegraph continues to partner with us on a variety of initiatives. Their journalists continue to cover important stories related to nonprofits and cryptocurrency as well as dedicating their own marketing resources to promoting the campaign across their website and social media channels. To top it off, they're even helping us organize a charity trivia game (more info below) and live streaming the leaderboard with color commentary from their team.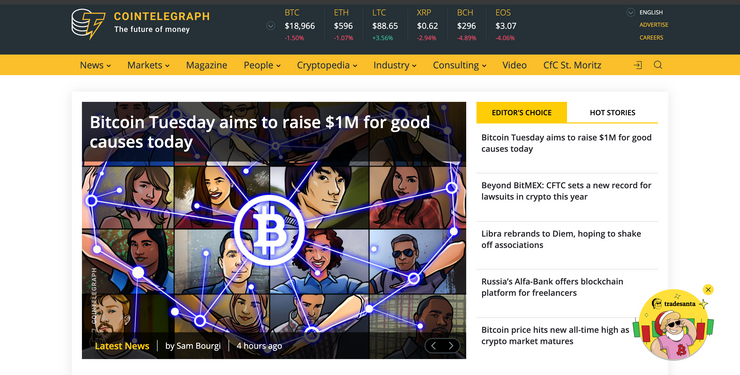 Ledger is giving away 100 Ledger Nanos to 100 people who donate $100 or more. The donors will randomly be chosen and contacted by email at the end of the month.
Storj came in strong with a $25,000 match for STORJ donations as well as strong social media support for the campaign. STORJ is one of our latest token additions to the updated TGB widget. If you haven't tried it out, make sure to check it out!
Flexa also came in strong with a $10,000 match of AMP donations. AMP was also one of the latest tokens to be added to our new donation widget.
Nonprofits ask for cryptocurrency donations
Nonprofits flooded Twitter with posts encouraging people to donate crypto. It was great to see nonprofits post Bitcoin equivalents next to dollar amounts.
Even better were the encouraging gifs and memes being exchanged, throughout the day.
Celebrities encourage people to donate crypto
With more nonprofits participating, celebrities are advocating for cryptocurrency donations! Rainn Wilson, best known for his role as Dwight Schrute in The Office, chimed in to encourage crypto donations to Mona Foundation. He even offered social media shoutouts for a $1,000 crypto donation and a virtual dinner for a 10 BTC donation.
Tony Hawk retweeted a post from The Skatepark Project, "In case you want to scrape off some BTC from these ATH's in support of skateparks…" also asking for Bitcoin donations. It's safe to say that people are taking note, both inside and outside the crypto community.
You can also check out more of the Twitter engagement here. Please continue to like and share posts!
When is the best time to donate Bitcoin?
December is always the busiest time for crypto donations given the unique tax benefit of donating appreciated property. We're so excited to already be halfway to our $1,000,000 goal but need your help to push us over the edge! Given the major price appreciation this year, most individuals and companies that are holding appreciated cryptocurrencies should donate cryptocurrency to offset capital gains taxes.
Why should I donate crypto?
Here's a quick example demonstrating why donating crypto is more tax efficient:
Let's say you bought 1 Bitcoin at $10,000 three years ago. If you donated that Bitcoin today, you would avoid the capital gains tax you would normally have to pay and can take a tax deduction for the current value of that Bitcoin ~ $19,000!
If you sold your Bitcoin and then donated $19,000 in cash, you would have to pay capital gains tax. This would result in a smaller donation and lower tax deduction.
Now let's say you don't want to sell your Bitcoin? That's okay! Since there is no "wash rule" in crypto you can just buy it back right away. This is even better because it also increases your cost basis, lowering your future capital gains taxes. So donate 1 Bitcoin, get $19,000 tax deduction and immediately buy one 1 BTC. Cost basis is now $19,000 and you've erased the capital gains from your previous holdings.
Disclaimer: This is not tax advice and you should always consult your tax advisor.
Join the biggest crypto trivia night
The excitement continues throughout the month with giveaways, events, and crypto donations! In partnership with Gemini and Cointelegraph, The Giving Block is hosting a virtual crypto trivia night on December 18, at 7pm ET. The winner will be given the "Crypto's Biggest Brain" trophy. Sign up for free here.