The crypto community is brimming with generous individuals and companies set on bettering the world. As cryptocurrency enters the mainstream cultural consciousness, more nonprofits are accepting crypto donations, bolstered by a growing donor base intent on revolutionizing the future of fundraising with their crypto.
Now that "crypto" is a household word, we thought it was the perfect time to launch our first ad campaign: "Crypto is Good." With this campaign, we're highlighting the many ways that crypto can impact the world beyond the blockchain. For many, crypto already represents the future for global economies and personal finances—now, we want the world to see crypto as the next big force in philanthropy.
The ads went live earlier this week, and will run on Bloomberg, Cheddar, Brave and CoinDesk as well as Twitter, Instagram and LinkedIn. The ads will run throughout Bag Season, our flagship year-end crypto fundraising campaign, when many crypto donors make their annual charitable gifts.
We hope our Crypto is Good. campaign will help reframe the conversation around crypto and educate investors, traders, nonprofit organizations and donors alike about the global social impact of cryptocurrency donations and empower them to make a difference.
So, what is crypto?
Crypto is…Tackling the Hunger Crisis
Nonprofit organizations help address the world's most pressing issues. Whether on a global or local scale, the impact of a crypto donation can mean the difference for hundreds if not thousands of people in need of basic access to food and water.
Crypto is…Rescuing Endangered Species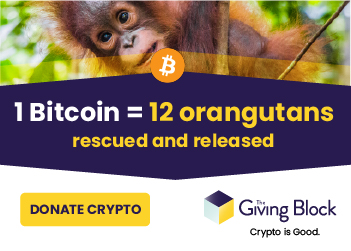 Humans share the planet with millions of other living species. Animals are critical to a balanced ecosystem, not to mention they deserve protection from exploitation and cruel treatment. Crypto can help charities rescue and care for animals in several ways, from securing foster homes for dogs to caring for endangered wildlife.
Learn more about organizations addressing issues related to Animals.
Crypto is…Providing Access to Technology
Success in the modern world requires basic computer literacy, from basics like typing and using the internet to more advanced skills. Many communities lack the resources to provide students with access to computers and other technology. The Giving Block works with several nonprofits that teach coding skills, provide refurbished computers to households in need, and much more.
Learn more about organizations addressing issues related to Technology & Science.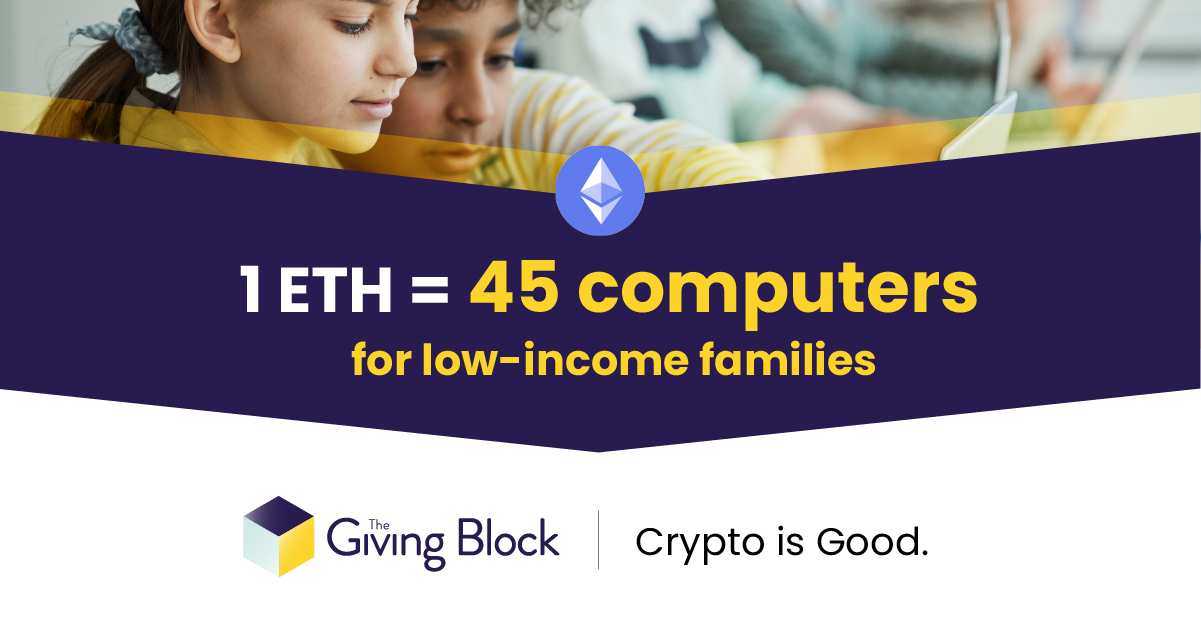 Crypto is…Planting New Trees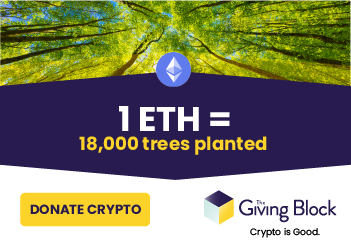 A healthy environment is the key to a sustainable future. We work with several environmentally-focused nonprofits across a broad spectrum of focus areas, from rainforest conservation to ocean waste removal. With crypto, donors can help remove tons of plastic from our planet's waterways, plant thousands of trees, and help restore coral reefs.
Learn more about organizations addressing issues related to the Environment.
Crypto is…Efficient Fundraising
Cryptocurrency donors tend to be younger than the average cash donor, but that doesn't mean they give less. In fact, on average crypto donors give $10,500 per charitable gift. That's nearly ten times the average online cash donation, according to a statistic from Nonprofit Source. Large gifts are just one of many reasons why nonprofits have been rapidly adding crypto into their fundraising strategies.
Do you work or volunteer for a nonprofit? Book a free 30-minute demo.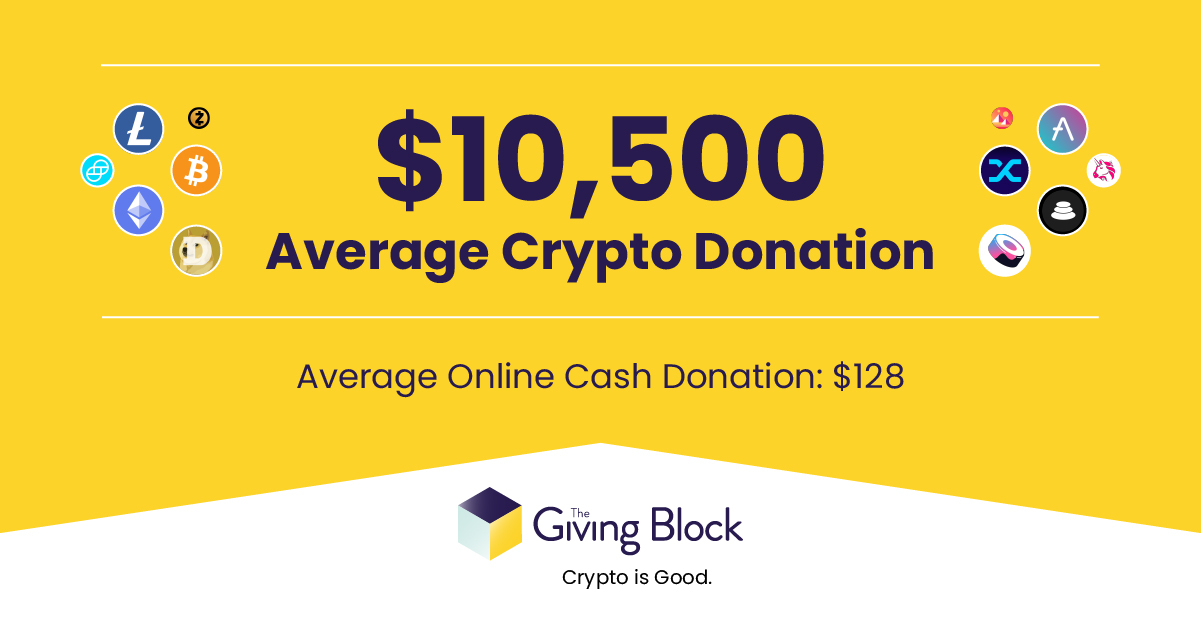 Bottom Line? Crypto is Good.
In just a few years, crypto has become a rapidly-growing force for positive change. The Giving Block is on pace to process $100 million worth of crypto donations this year alone.
At more than 220 million users strong, we expect to see huge increases in crypto charitable giving in the years ahead. Crypto philanthropy's key driving forces include:
Steady user growth means more crypto user become potential donors
A rising crypto global market cap creates greater wealth, enabling investors to make larger charitable gifts
Increasing nonprofit crypto adoption expands the crypto philanthropy landscape, attracting donors interested in supporting a wider variety of causes
If more people could understand the direct impact of their crypto donations, would more people want to give? Armed with this kind of knowledge, we think crypto users will be more compelled to support nonprofit organizations.
It's only a matter of time before the whole world realizes the many ways that crypto is good.
Ready to Make Change Possible with Crypto?
Cryptocurrency is much more than an investment trend, it's empowering a whole new generation of donors. Their support of hundreds of nonprofits currently accepting crypto is incredible on its own. But it's also a promising sign of what's to come in crypto philanthropy.
See which nonprofits already accept cryptocurrency donations: