Cryptocurrencies were the fastest growing asset type at Fidelity Investments during 2015-2018.
Since 2015, the DAF has seen people make major cryptocurrency donations, particularly in 2017 and 2018 where they received $69 and $30 million respectively. "We see cryptocurrency donations rise along with increases in the value of cryptocurrencies in the marketplace," said a company representative. All of this makes cryptocurrency the fastest growing asset donated to Fidelity Charitable in this period. To date, Fidelity Charitable has received over $106 million in Cryptocurrency Donations.
In an interview with Coindesk, they stated that investors who donate assets such as cryptocurrency do not have to pay capital gains on them, and are able to write off donations to 501(c)3 nonprofits on their tax returns.
When they started accepting donations, they were able to bring in approximately $7 million in the first year, this increased significantly when Fidelity began a campaign that actively marketed donating cryptocurrency and the benefits of donating, with over 40 articles being published resulting in $11 million in donations in the first half of the next year.
Following the success of this initial marketing campaign, a landing page was created, investments were made in paid search, as well as continued media coverage both on and offline. These efforts paid off, increasing the donations to $69 million by the end of 2017. Crypto's value rose significantly, and Bitcoin rose to almost $20,000 per bitcoin, and the rest is history.
Fidelity Charitable has been able to increase it's cryptocurrency donations by encouraging clients to "give their most appreciated assets first… because it provides the best tax advantages for the donor and charity." This means that high performing assets (remember Bitcoin is up 96% in 2019, and is the best appreciating asset of the last decade) such as crypto are often the best choice to donate when looking for a tax benefit for their clients.
"One thing we're committed to is helping donors choose the most tax efficient asset to give to charity," said a Fidelity Charitable representative.
Of course you don't need to be an institutional client of a major investment firm to reap the tax benefits of donating cryptocurrency to your favorite nonprofit.
With the IRS taking interest in taxpayers cryptocurrency holdings in this years 1040 documents, and clarifying the status of donated cryptocurrency, it's time to pick a nonprofit that accepts cryptocurrency and reach out to a cryptocurrency accounting specialist for advice on how to donate bitcoin before the end of the year!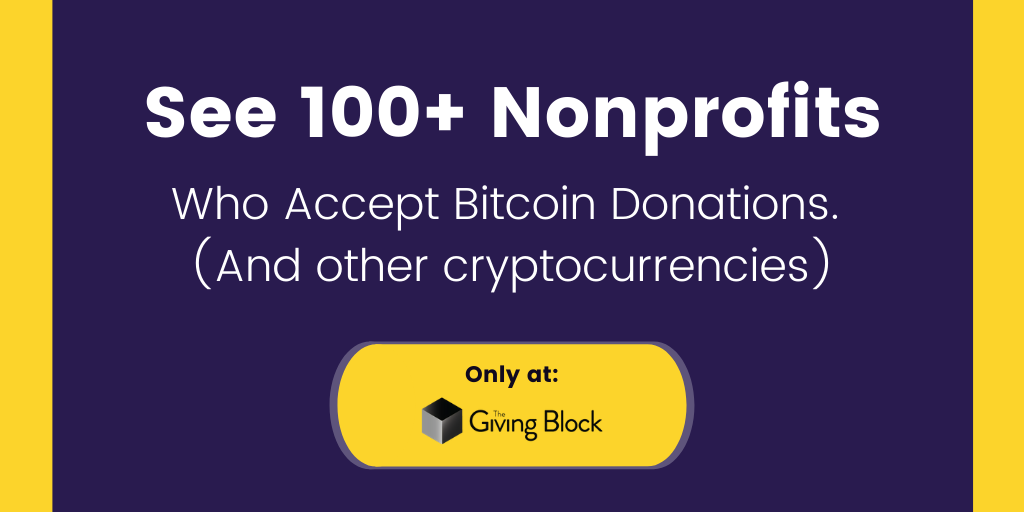 You can view our list of over 100 nonprofits that accept bitcoin and other cryptocurrency donations here.