The Giving Block first partnered with 1inch, a decentralized exchange aggregator that works out the best crypto prices across leading decentralized exchanges, in early 2021 to launch the first "Donate Crypto" button on a DEX aggregator. Now, we are excited to announce that since launching our partnership earlier this year, 1inch has been able to raise over $2 million dollars worth of cryptocurrency donations via its "Donate Crypto" button on the platform.
When 1nch users visit the DEX aggregator's website, they are greeted by the 1inch Donation Form. Just below this Donation Form, users can see a "Donate Crypto to Charities" section, which allows them to view the 1,000+ nonprofit organizations using The Giving Block to accept cryptocurrency donations. The prominence of this location means that users are not only encouraged to make donations, they become familiarized with the concept of Crypto Philanthropy.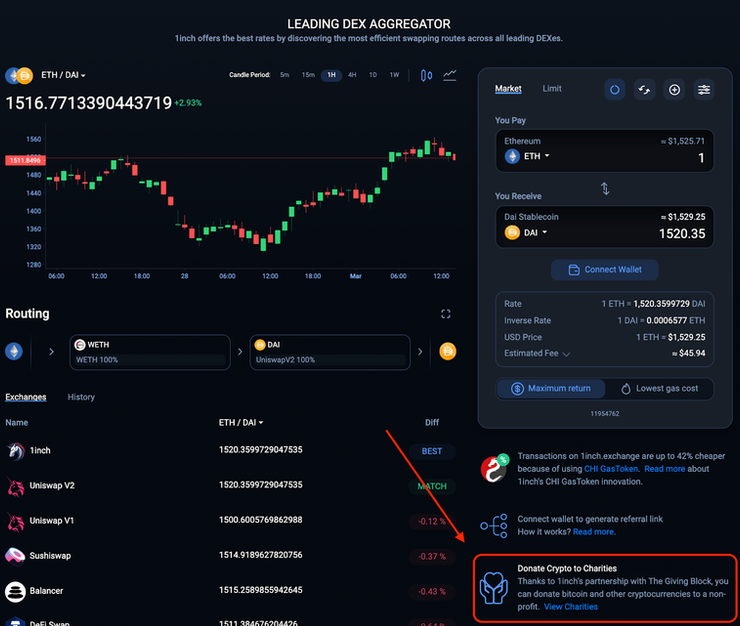 Through crypto giving, donors can make a real impact by helping nonprofits fundraise for important causes. Here are a few examples of what crypto can do—based on impact statements we've gathered from charities we work with:
1 USDC can feed 10 children in need of meals around the world
1 ETH can provide 45 computers to families in low-income communities
1 LUNA can plant 650 trees to help stabilize our climate
1 BTC can fund the rescue, rehab, and release of 12 orangutans in Sumatra
We're thrilled that 1inch has decided to help lead the way in the Crypto Philanthropy movement as one of the premier partners of The Giving Block and our annual #CryptoGivingTuesday campaign. The Giving Block and 1inch are not only aligned in values; we provide analogous experiences for our users. What 1inch does for traders and investors as the leading DEX aggregation platform, The Giving Block does for crypto donors by offering a way to efficiently and securely donate to over 1,000 charities.
Thanks to our existing partnership, The Giving Block supports 1INCH donations to over 1,000 charities around the world. With the upcoming launch of the 1inch DAO in 2022, we look forward to exploring new ways that the 1inch community can continue to support nonprofits working with The Giving Block.
To view The Giving Block's "Donate Crypto to Charities" button on 1inch, visit 1inch.exchange. If viewing on a computer or laptop, ensure that you have enabled "classic mode" in the menu options at the top.
Supporting Charities With Crypto
Fun Fact: When we first partnered with 1inch, 150 charities accepted cryptocurrency donations. Now, less than a year later, there are over 1,000 nonprofits, universities, faith-based and charitable organizations working with The Giving Block to fundraise cryptocurrencies like Bitcoin, Dogecoin, and 50 more. Supporting these charities is a tax-efficient and kind way to give back to help better the world.