On December 14, 2017
a post was made on Reddit
that would forever change the landscape of charitable giving with cryptocurrency. An anonymous user who called themselves "
Pine
", and thought to be a crypto "whale" (i.e., one of the 250 largest holders of bitcoin in the world),
wrote
:
"My aims, goals, and motivations in life have nothing to do with [. . .] being [. . .] mega rich. So I'm doing something else: donating the majority of my bitcoins to charitable causes."
This post preceded a series of donations that would eventually result in 5104 bitcoin (BTC) being donated to 60 charities, which — at the time — was worth around $55 million USD.
Pine had begun accumulating his bitcoin holdings when each coin was worth only a few US dollars. At the time of writing the initial post on Reddit, the price of one bitcoin had risen to $17,539. Following Pine's post, the price of Bitcoin continued its ascent, reaching an historic all-time high at a price of $19,783 on December 17, 2017. Bitcoin is currently valued at around $8,250.
The Giving Block has spent the last few months researching and following up with many of the recipients of the Pineapple Fund's generosity, to learn about:
Their experiences with the Pineapple Fund;
The application process;
How they convinced their board-members to accept this magical internet money we know as Bitcoin;
The wallet setup process for recipients;
The impact of these massive cryptocurrency donations for their organizations — and whether they were able to capitalize on these one off donations — and equip themselves to receive future cryptocurrency donations.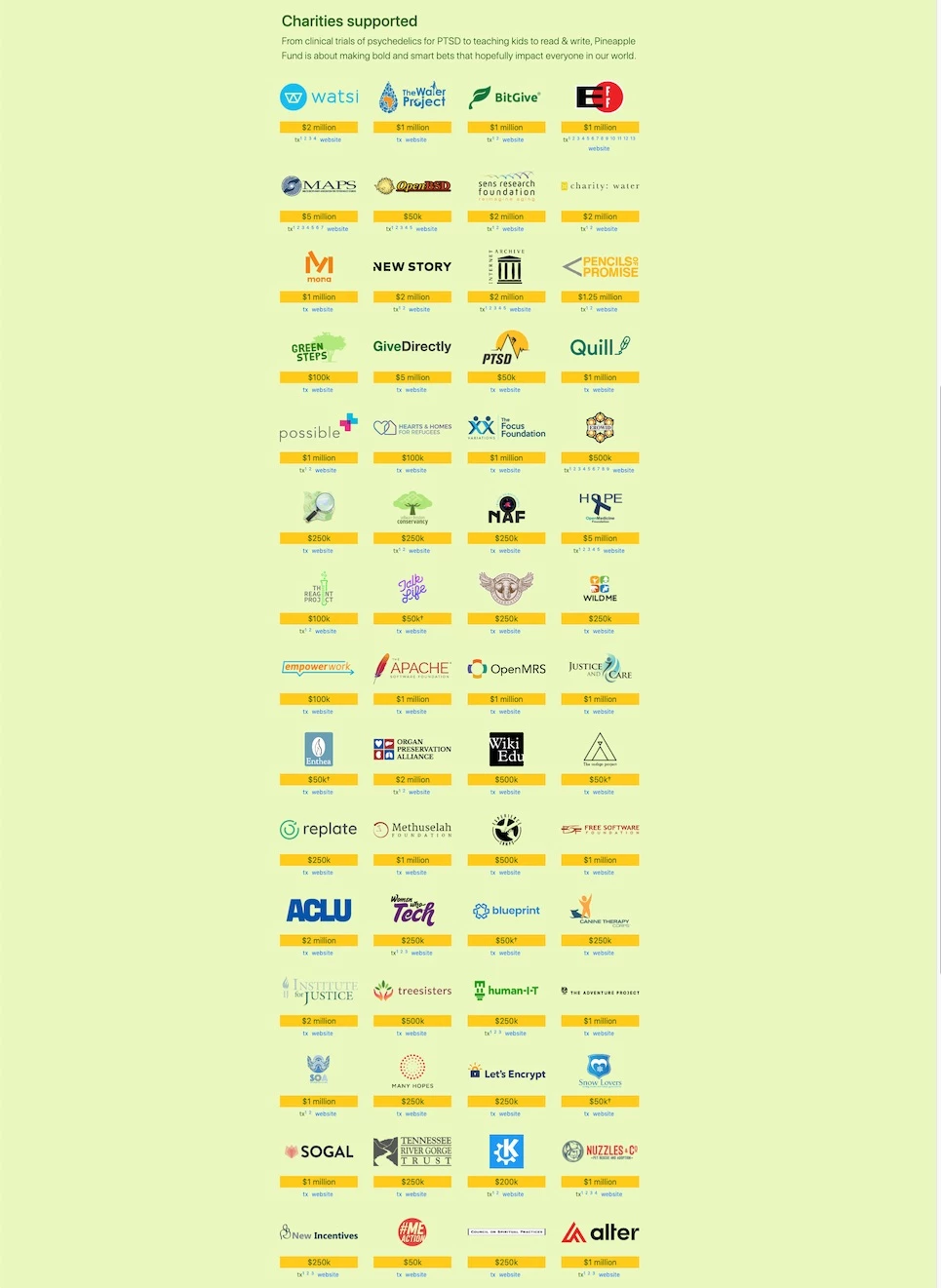 What was the application process like?
For many recipients of the Pineapple Fund donations, the application process was quite similar, and played out something like this: It was the end of the year, and the organizations were getting ready for office Christmas parties after their end-of-year giving campaigns. Often, a younger and more tech-savvy Millennial staffer would forward the — now infamous — Reddit thread to their colleagues, and suggest they apply. As the New Year approached, the developing story was picked up by a number of well-known media outlets, and articles about this generous bitcoin whale began to circulate through Development offices across the country.
At this point, it seemed like more of a fairy tale than reality. More than one Director of Development told me of their experiences writing a brief request for smaller amounts of funding on a whim. They described cozying up in their home office — perhaps with a glass of wine and a temperamental cat on their lap — and proceeding to fill out a Google form or send an email to pine, without ever expecting to receive much, if anything.
To their surprise and delight, upon returning to the office after New Years, they were greeted by a jaw-dropping e-mail message from pine along the lines of, "I'd like to donate $500,000 in bitcoin to your organization." For some organizations, these were the single biggest donations they've ever received, in any form, let alone in the form of a cryptocurrency which they'd never dealt with before. These acts of altruism triggered a chain of events that would change these organizations' trajectories, and the landscape of cryptocurrency giving and donation, forever.
We spoke with Marilyn Simon-Gersuk, Director of Communications and Development at the Open Medicine Foundation (OMF), recipients of a $5 million donation from the Pineapple Fund. Marilyn highlighted how they were able to mobilize their supporters on the Reddit platform to upvote their application and increase their visibility to Pine.
The OMF initially received a donation of $1 million from the Pineapple Fund. Upon witnessing an outpouring of appreciation and gratefulness from the OMF and their supporters worldwide, the Pineapple Fund proceeded to donate an additional $4 million to the OMF, increasing the total amount donated to a whopping $5 million (in Bitcoin!).
Each successful organization employed slightly different tactics when applying for funding, but all had something in common; they described their mission and vision of how transformative a donation to their organization could be, in critical areas such as: healthcare, environmental protection, human rights, animal welfare, technology, and women's health and well-being.
According to one interview with Pine, the evaluation process consisted of the following, when determining which organizations to donate to:
How impactful their work is. Especially valuable if they are making an impact on an international scale.
Innovation they're bringing to the table (e.g. Watsi with their peer to peer model).
Efficiency, sustainability, and the current size of their organization: Bigger charities can take a larger amount of funds. Personally, I like supporting smaller charities (and will be!) but I don't want to overcrowd them.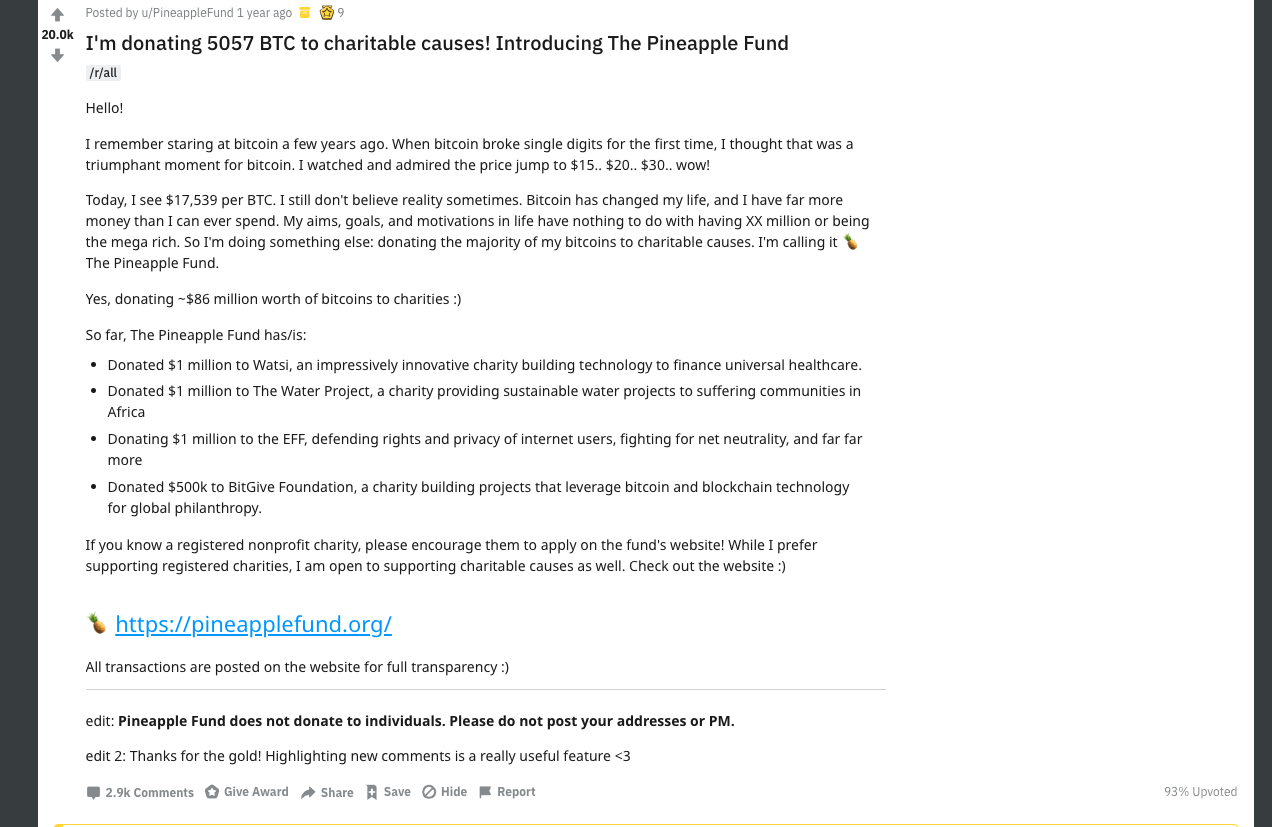 The original /r/bitcoin post on reddit
Due Diligence – Not a Scam
For many of these organizations, this was their first encounter with Bitcoin. They'd never dealt with cryptocurrency at a personal level, let alone at an organizational level. These donations brought up a lot of issues that they'd never encountered, and never had to consider in the past.
I spoke to Marcella Flores, CEO of the Reagent Project, which received a donation from Pine worth approximately $100,000 in Bitcoin). Reagent is a young organization which formed in 2017 and collects donated lab equipment before distributing them to STEM labs in need, it felt "too good to be true", while another organization that I spoke to run into senior leadership who "didn't want to accept the donation" as they felt that "bitcoin was blackmail money".
Those lucky enough to get offered the donations then needed to set up lightning rounds of not only educating themselves about cryptocurrency and bitcoin donations, but also their senior decision makers as they battled to convince their boards that these donations were legitimate, with no strings attached and not some sort of phishing scam that would bring their nonprofits into disrepute.
Getting the Infrastructure in Place
As the vast majority of the Pineapple Fund recipients had never received a cryptocurrency donations in the past, they had no infrastructure, tools or policies in place to accept crypto donations. They had no wallets, no knowledge of best practice procedures, no understanding of tax implications and no knowledge the KYC processes of any exchange or middleman.
As a result, every single one of the 55 organizations who received donations has a slightly different story of what took place next, and used a wide variety of services, such as Coinbase, GDAX, Kraken, Stripe (when it accepted bitcoin), physical wallets and cold storage.
Some organizations ran into major problems, while others the process was fast and pain free, and this was mostly due to the support systems and technical knowledge that each organization had in place. Some, such as Kathie O'Callaghan of Hearts and Homes for Refugees whose son-in-law had worked at Coinbase was able to get things set up quickly and correctly. Experience Camps were able to engage their volunteer base, some of which worked in enterprise blockchain. "Our ability to set up our crypto donation platform greatly hinged on the crypto expertise from within our network of supporters. We've learned that as the millennial workforce continues to demonstrate their expertise in technology along with a sincere passion for giving back, we're able to identify volunteers with unique skillsets, like expertise in crypto, and leverage their commitment to our organization in a pro-bono manner. Not only were our volunteers able to help set up our platform when we asked for help, they continue to be engaged, helping optimize our website and communications so we can adapt to this changing environment and be prepared to better diversify our giving options. Never underestimate the power of asking those closest to you" said Lexie Radwan of Experience Camps.
Others ended up setting up personal accounts on these services, or ran into roadblocks in the KYC process, or limits on the daily amount that could be deposited or withdrawn from their accounts. Some needed to place proof of ownership of the wallet addresses on their websites before a transaction could be made.
"Small nonprofits like the Reagent Project that don't have an IT department need a solution to continue the generosity that Pine started– we need the infrastructure to funnel other crypto donors." said Marcella Flores.
We even spoke to one recipient of a large ($1,000,000+) donation who ended up with it being held off exchange on a Trezor wallet which he kept on him physically at all times for approximately two weeks before he was able to sell it.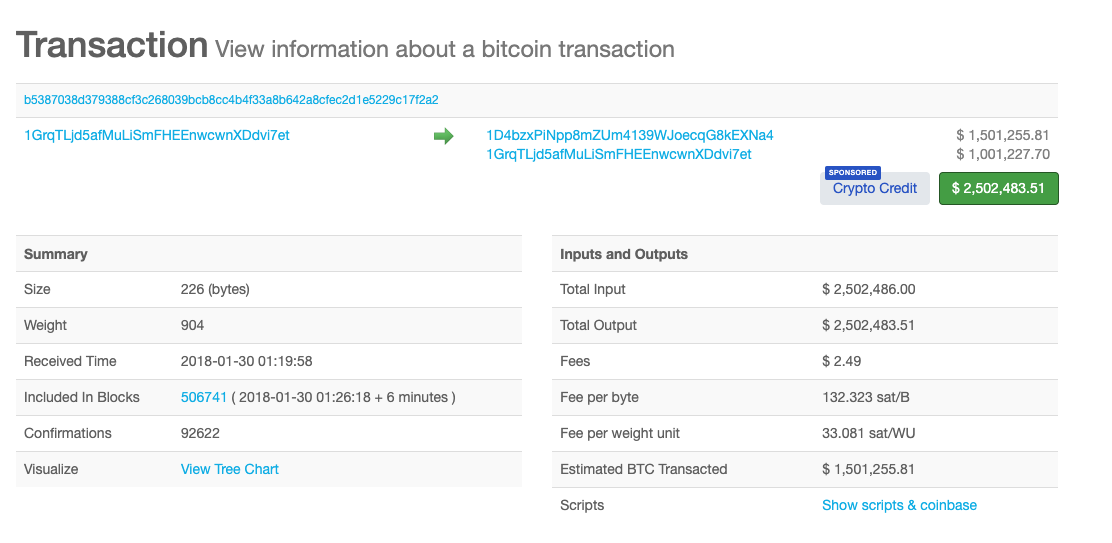 One of Pines donations to a nonprofit
To HODL or not to HODL?
If you've followed Cryptocurrency prices over the last few years, you'll be well aware that they are notoriously volatile when it comes to value, and the Pineapple fund donations happened at a time when bitcoin hit its peak price of close to $20,000 USD before crashing down to around a market low of around $3,000 a year later. This was a market that these nonprofits had to navigate, and make decisions in very quickly.
We asked the nonprofits that we spoke to about whether they held or cashed out immediately, and got a variety of answers that depended a lot on how they were set up on the exchange end, their risk appetite, their finance team and whether they'd completed all of their KYC compliance requirements on their accounts at the time of donation. Often these decisions had to be made on the fly, over the holiday period during a period of quickly decreasing cryptocurrency values.
Those who were able to act quickly, especially those who were already set up to accept bitcoin were able to realize the full value of their donations, while others who either took a while to set up their accounts to receive their donation, or faced other significant issues such as daily donation or withdrawal limits (often due to having a personal or pro vs an institutional account with their exchange) when cashing out from crypto to fiat. One organization we spoke to struggled to "find a buyer" for their very large cryptocurrency donation and ended up selling it to a private individual overseas after it had dropped in price.
Other more crypto savvy organizations had established clear policies on what they were going to do with their donations in cryptocurrency. The vast majority had a policy of cashing out manually as soon as possible (This was also the advice that Pine gave to many organizations, especially when prices began to tumble) on their exchanges, while others had a policy to hold a particular (small) percentage such as The Mona Foundation and Green Steps), while others had policies to set buy/sell orders based on certain price thresholds.
What about tax deductions?
While not all of the Pineapple Funds donations were to 501(c)3 organizations in the United State, the vast majority of them were. This is important for all nonprofit organizations to remember, as according to the IRS Ruling 204-21, cryptocurrency is treated as property, no differently to many other assets such as stocks, bonds or vehicles.
This means that any time a US person attempts to sell cryptocurrency, transfer it to someone else, or even exchange from one cryptocurrency to another it is a taxable event. This also means that cryptocurrency donations to 501(c)3 organizations are tax deductible, in exactly the same manner as the stocks or bonds mentioned earlier, providing you have some form of proof that you made the donation, that you are able to provide to the IRS.
What we found interesting, however, is that of all the organizations that we spoke to (and remembered to ask!), they all mentioned that Pine wished to remain anonymous and as far as we know, never asked for a tax receipt for any of the donations. For such a massive crypto whale, Pine has likely made massive capital gains in the period that he owned cryptocurrency, and this disposal of cryptocurrency to the 55 organizations could have been used to offset any tax liabilities if they had asked.
This is also something that nonprofits need to consider when taking donations of cryptocurrency, that they a) clearly communicate the tax benefits to potential donors (Fidelity Charitable has done a great job) and b) have some method of providing proof of the donation (for most organizations this is a manual process, something that we are working on automating at The Giving Block).
Cryptocurrency donations after the Pineapple Fund?
Of the organizations we spoke to – they had varied levels of success with follow up donations from other individuals after the Pineapple Fund Donations. Generally speaking the level of success that they had in soliciting additional donations was directly linked to how actively they engaged with the cryptocurrency community and generating buzz around the initial donations.
Those that made it simple and easy for others to donate on their website (and this doesn't mean hiding a QR code on page 3 of their frequently asked questions), who published a press release about their donation and engaged with the media, who engaged with the crypto community online received significant follow up donations, while others might have received more regular, but smaller individual donations.
Organizations, such as the Open Medicine Foundation, who had recently hired a new publicist, were able to capitalize on the press, get picked up in major media and saw a massive increase in both crypto and fiat donations in the period immediately after pineapple fund donation.
"At The Water Project we received $1M from Pine as the 2nd gift from the fund. Pine had reached out to us specifically to ask if we would be a "test case" to demonstrate to others that it was indeed the real deal. We had been in the crypto space for some time and understood quite well how it all worked That first mover advantage led to the Pineapple gift and a follow-on $1M gift from another, even more anonymous donor just a week later. It nearly doubled our income goal that year. We continue to receive cryptocurrency donations almost daily." said Peter Chase, Founder and President of The Water Project.
One organization we spoke to, a newer nonprofit told us that they receive approximately 20% of their monthly web traffic from the Pineapple Fund, yet – they had no way of receiving cryptocurrency donations on their website. Another organization we spoke to received over a million dollars from the Pineapple fund, and complained of only a few more small donations afterwards – yet there was no mention of cryptocurrency on their website, and no way of donating without first tracking down their director of development (whose name was not on their website) and finding their email address (which was also not listed publicly) in order to then ask how to donate cryptocurrency to them. In other words, they weren't making it easy!
Lastly, there were still organizations that used Stripe's bitcoin payment processing service, which ceased processing bitcoin and cryptocurrency payments in January 2018, so it is understandable that they received no more cryptocurrency donations after this date.
What was the impact of the Pineapple Fund donations in these nonprofits?
Those who spoke to Pine via email said that they wanted to "make bold bets" on organizations that could do the most good with the cryptocurrency donated and "do big things". We'd like to think that these bold bets have paid off, and have allowed many of these organizations to grow and prosper far beyond what they were able to do prior.
For many of these organizations, especially the newer or smaller ones, the donation was completely transformative.
Callie Cozzolino, Executive Director at the Canine Therapy Corps described the donation as "possibly the biggest thing to ever happen in the history of the organization" which allowed them to put a downpayment on a new building, scale up significantly, train even more dogs. According to Alyssandra Grizenko, Founder and Community organizer at Green Steps the donation from Pine completely changed the organization, allowing it to scale up, create a cleanup program, powered a mobile site and get to a position where they were eligible for more grants, while for others such as the Reagent Project gained "enormous leverage to ramp up our science materials donation program. Overnight, I stopped worrying about 'keeping the lights on' and focused exclusively on giving science better" said Marcella Flores, Founder and President.
"I can say with 100% certainty that this donation breathed life into the mission and role of our Hearts and Homes for Refugees in the welcoming movement. We have a future now that looks completely different than it otherwise would" said Kathie O'Callaghan. According to Merete Christiansen, Associate Director of Development at MAPS: "We were awarded $1 million in BTC from Pine, which inspired an anonymous donor to give an additional $1 million, and another anonymous donor to give $769,203 in LUN tokens. At the start of 2018, the Pineapple Fund offered a $4 million matching grant from Jan – March 2018 to complete funding for our Phase 3 MDMA/PTSD clinical trials for the FDA. We were able to meet the $4 million challenge thanks to the generous support of over 550 individuals (149 individuals gave $1,093,330 in crypto) and the Pineapple Fund matched all donations in real time and gave an additional $339,000 to cover volatility and fees."
Peter Gault, Executive Director of Quill.org said "The result of our Pineapple Fund gift was that we could invest in staff and technology that vaulted us to the next level. Because of this gift, we were able to implement AI into our platform, which has attracted a new level of donor, a new level of attention and a cutting edge writing product that will serve 2 million kids this year"
Fire from Erowid stated "For Erowid, a small but established nonprofit organization, Pine's Bitcoin donation was an unusually large contribution and has helped create financial stability that has allowed us to pursue projects and paths that wouldn't have been possible without it. Pine's donation to Erowid was in the form of a matching challenge. So Pine's donation helped us raise additional funding, though not necessarily in the form of cryptocurrency. Pine contributed $250K in Bitcoin straight up, but then offered an additional $250K in matching. So we hustled hard and were able to raise $250K from other supporters in two months, which is the amount we usually raise in a year."
"The rise of crypto has created a new generation of wealth, and it's wonderful to see it used philanthropically to create change. The Pineapple Fund was a pioneer in doing so at scale and was an incredible disruption to the traditional philanthropic model; in many ways, our use of the funds here at SoGal Foundation echos this sentiment. The $1M in bitcoin donation was transformational for our organization, as we were able to scale our educational programming to impact even more women and underrepresented entrepreneurs and investors in 40 chapters across 5 continents around the globe. As our mission to redefine the next generation of women and diverse entrepreneurs globally, the donation has and will continue to create systemic change in tech and entrepreneurship from the ground up for a brighter, more diverse, and equitable future." said Elizabeth Galbut, Co-President, SoGal.
"One of our struggles as a female-led organization is securing large investments in our work. To have gotten an unrestricted $1M gift meant we could strategically scale our organization and expand our work on the ground. We went from a staff of two to a team of four and invested in systems that would greatly enhance our work It also opened our eyes to the organizations that we partner with. We realized that our portfolio was largely comprised of male-run organizations. Knowing the impact this grant had on our work, we are now making a conscious effort to ensure that half our portfolio of partners are founded by women or local individuals, so they can have a catalytic experience too" said Nicky Yates of The Adventure Project.
All of these were things that these organizations would not of been able to do, at least in the short space of time, had it not been for the Pineapple Fund donation.
So what did we learn and what can other nonprofits do in the future?
What we found is that we were the first organization to reach out and interview many of the recipients of the Pineapple Fund. There had up to this date been no study of the recipients, their processes of the aftermath of such a large scale cryptocurrency donation. We learned a lot of important information that any nonprofit looking to fundraise cryptocurrency must be aware of before starting the process.
Education is Vital: The organizations that were already aware of cryptocurrency, processes, tools and techniques were able to effectively apply for the funding, process and cash out the payments while bitcoin was at its peak prices. All nonprofits should be educating themselves on cryptocurrency donations and at least have a basic understanding of the process for receiving them and converting to fiat currency.
Establish Policies: Organizations need to know what they will do if and when they are approached to accept cryptocurrency donations, especially if they are large and/or anonymous. It's vitally important that organizations have a policy around whether they hold or sell, and consider some sort of auto sell functionality to isolate themselves from any risk of volatility of cryptocurrency pricing.
Setup the Infrastructure: We have no idea if there will ever be another Pineapple Fund in the future. What we do know is that cryptocurrency donors exist. Organizations that are setup and ready to receive donations are far more likely to receive donations than those that need to be setup in order to receive the donations at a later date.
Make sure you accept multiple cryptocurrencies: While bitcoin is still number one, the next major donation might be ethereum, stellar or something else. Donors don't get the tax incentive to donate if they need to change currency, so make sure you are ready to take the major cryptos in advance.
Make it easy to donate: Ensure that your cryptocurrency donation page is easy to find and accessible. That means linking to it from menus, giving it a clear title and URL and allowing google to find it. Donors are not going to go looking for details on page 3 of your frequently asked questions to donate bitcoin, they'll just go elsewhere.
Scream from the rooftops that you accept crypto: Noone is going to donate to you if they don't know that they can. The organizations that made themselves accessible to the media, hung out in reddit, answered emails and put out press releases got picked up in traditional and crypto media and were able to ride the wave and get more crypto donations.
Ask for help: Many organizations do not have dedicated crypto fundraisers with the skills and experience and that's fine. Whether that means tapping your supporter network, or dealing with consultants, it's important to know when to ask for help to ensure you are following best practice sooner rather than later, to ensure you are compliant and making it easy to donate.
Need help with accepting cryptocurrency donations? Get in touch with the team at The Giving Block. We equip nonprofits to fundraise cryptocurrencies like Bitcoin, providing education, training and a technical solution. For nonprofits who choose to go the extra mile, we advise on crypto fundraising strategies, and/or pair nonprofits up with partner crypto organizations, elevating fundraising and awareness outcomes. Ultimately, we help nonprofits build a cryptocurrency fundraising program, and a brand in the cryptocurrency industry.