This sizable donation will promote the company's academic approach to blockchain development and engineering.
Cryptocurrency development firm IOHK made a $500,000 cryptocurrency donation to the University of Wyoming. The donation was made in Cardano (ADA), the world's 11th largest cryptocurrency by market capitalization. The state of Wyoming will match the donation, meaning the university will receive a grand total $1,000,000 to help fund their ground-breaking blockchain research. A huge milestone on the firm's history.
And we are open for business pic.twitter.com/dagHQFIbWi

— Charles Hoskinson (@IOHK_Charles) February 15, 2020
"The University of Wyoming is proud to be at the forefront of blockchain research and education, and we are grateful for this significant financial contribution from IOHK," explained UW acting president Neal Theobald. "This support will help us continue to move forward in a very exciting and promising field of innovation and discovery."  
Awesome time at Univ of #Wyoming today celebrating IOHK's $500k $ADA donation to UW to fund a #Cardano #blockchain research lab in the Engineering College. Thanks @IOHK_Charles—I've always respected you & your team's academic focus! Congrats!! 🤠 pic.twitter.com/UjLca5MaWW — Caitlin Long 🔑 (@CaitlinLong_) February 15, 2020
This is the first cryptocurrency donation the University of Wyoming has received, but it's not the first we've seen in the educational sector. In fact, other notable universities have also benefited from high profile bitcoin and or cryptocurrency donations.
What about other Universities?
On December 31, 2019, Carnegie Mellon received a $1,300,000 cryptocurrency donation, with an additional $2,900,000 pledged over the next three years. Before that, $50,000,000 was donated to a couple dozen universities.
As universities are seen as nonprofits, donors receive substantial tax benefits when donating cryptocurrency. Donating directly to a nonprofit or higher education institution (like a university) will afford you tax relief.
Read: Our essential cryptocurrency tax guide to find out how you can benefit as a donor.
An increasing number of universities are accepting bitcoin donations—a seismic shift towards a brighter, more boundless future.
Here's a quickfire rundown of the other recent university crypto donations we've seen:
Is your University ready to accept cryptocurrency donations?
Millennials, as well as other recent graduates, are turning to Bitcoin and other cryptocurrencies in their masses as a legitimate form of investment and money.
In the last few years, we've seen millions of dollars donated to universities around the world in the form of cryptocurrency., mainly because of attractive tax incentives. The IRS treats cryptocurrency as property, making it similar to a stock donation, meaning the donor does not pay capital gains tax and can write it off on their taxes.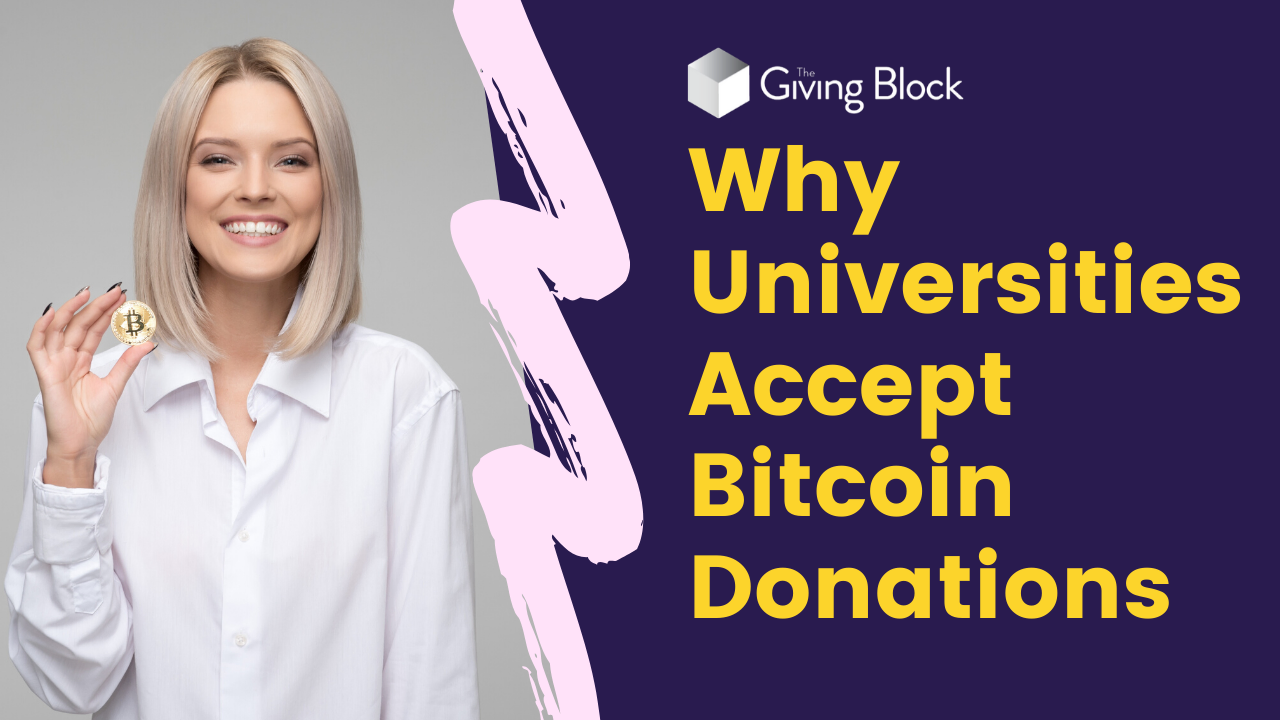 In our bitcoin & crypto donation webinar, we'll explore this emerging trend and cover topics like:
What universities are currently fundraising Bitcoin and other cryptocurrencies?
Which universities have received large donations in cryptocurrency?
How large is the market for donations?
Important considerations for fundraising cryptocurrency
Common misconceptions
RSVP now and gain access to priceless pearls of wisdom about bitcoin and cryptocurrency donations.
About The Giving Block
The Giving Block empowers nonprofits and higher education institutions with the tools to enhance their fundraising efforts by leveraging the power of cryptocurrencies like Bitcoin. We provide education, offer training, and are equipped with technical solutions to help you thrive in a bold new digital landscape.
If you're a nonprofit looking to accept cryptocurrency, we can set you up with a donation widget so you can accept crypto donations with ease.
To find out more about our company and what we do at The Giving Block HQ, book a demo and we'll walk you through our products & services, step by step. Or explore our services to see how we can help your nonprofit or higher education institution.