Gemini and The Giving Block turned International Women's Day 2020 into a cryptocurrency windfall for two nonprofits. While thousands of charities competed with one another for traditional donations, the Mona Foundation and Africa Development Promise found success by appealing directly to cryptocurrency donors, asking them to donate Bitcoin and more. Here's how they successfully fundraised cryptocurrency.
1. Mission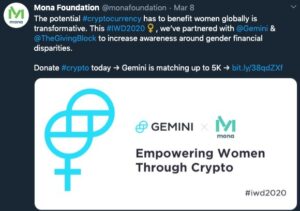 You may remember The Mona Foundation from their viral #BitcoinTuesday video of celebrity ambassador Rainn Wilson (Dwight from "The Office") asking for cryptocurrency HODLers to donate Bitcoin to Mona.
The Mona Foundation's mission is two-fold – provide educational opportunities to children around the world, and empower women and girls so they can elevate their communities.
Joining them to promote the campaign was Africa Development Promise, a crypto-accepting charity focused on empowering rural women and supporting their efforts to achieve economic independence.
2. Partners
These nonprofits weren't going it alone. They had us at The Giving Block to help them sculpt their messages, target hashtags and reach cryptocurrency influencers, making a last second campaign achievable. They also had the cryptocurrency exchange Gemini steering the campaign, going above and beyond cutting a check with match dollars.
Gemini created a microsite for the campaign, provided content and participated in the messaging throughout the day. Gemini's work on this campaign should set the bar for how powerful nonprofit partnerships can be for crypto companies who are genuinely interested in forming lasting and meaningful partnerships.
3. Talking About Crypto
Cryptocurrency donations have been happening for over a decade, but nonprofits have had a difficult time breaking into the market. A major contributor to charities failing to fundraise cryptocurrency effectively is that nonprofits wanted the donations, but didn't appeal to the community. If you have any doubt as to whether or not these nonprofits are actively recruiting cryptocurrency users to join them, we recommend you watch the "Thank You" videos below.
Are you a nonprofit? Accept cryptocurrency today.
Accept cryptocurrency donations without the headache. Automatically sell the crypto for FDIC-insured cash, and have tax receipts automatically sent to your donors. Get set up in no time. Accept Donations Here.
Have cryptocurrency? Donating can lower your taxes.
If you're a cryptocurrency user in the U.S., the IRS treats cryptocurrency donations like stocks, meaning you do not have to pay capital gains tax on your appreciated cryptocurrency and can write it off on your taxes. This is also the case in many other countries around the world, but please check with a tax professional for guidance. Donate Crypto Here.
Thanks for reading everybody!
Pat, Alex and Michael
The Giving Block