1inch users can now donate cryptocurrency to all 150+ charities working with The Giving Block
We're excited to announce that the 1inch community can now seamlessly donate a variety of cryptocurrencies like BTC, ETH, LTC, BCH, ZEC, DAI, ZRX, STORJ, AMP, BAT, LINK GUSD and more.
If you've visited the 1inch.exchange recently, you've probably noticed a new "Donate Crypto to Charities" button.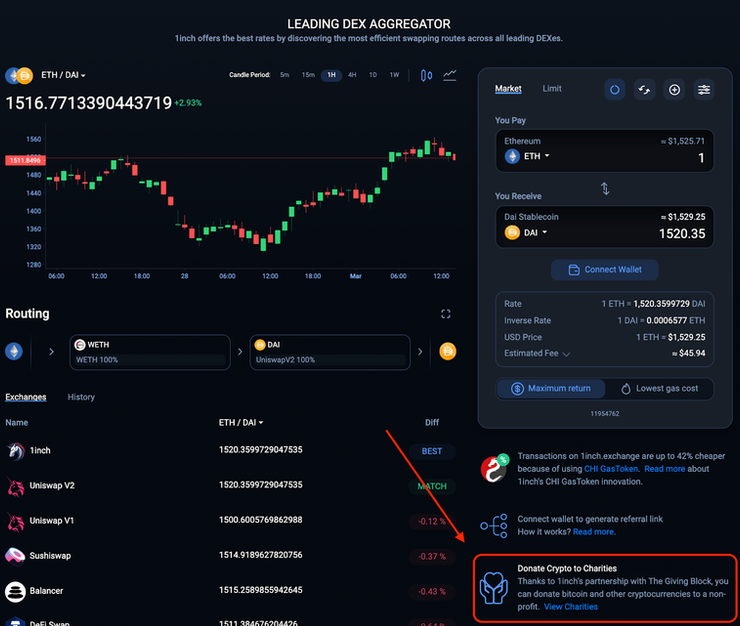 "Blockchain, crypto and decentralization from the very beginning are about mutual contribution.Thanks to this native integration 1inch becomes the first DeFi platform to make crypto giving front and center by giving our community an easy way to donate to over 150 crypto-friendly nonprofits!"- Sergej Kunz, 1inch co-founder and CEO.
To donate, follow these steps:
Visit https://1inch.exchange/
Click "View Charities" in the "Donate Crypto to Charities" card
Select a nonprofit or charity that resonates with you
Choose the cryptocurrency you'd like to use
Select an amount to donate
Enter your information or donate anonymously
Send your donation to the displayed address
We're excited to have 1inch join our mission of instilling crypto giving in the community. With this partnership, they will make donating crypto more top of mind and easier for the DeFi community. The 1inch community is one of the most active in DeFi and we're excited to be working with them to raise millions of dollars for the causes we work with.
"We're excited to be working with the 1inch team to make donating crypto more top of mind. We hope that the community will use this feature as a way to give back and reduce their capital gains taxes at the same time, especially during the bull market. "
– Alex Wilson, Co-Founder, The Giving Block
Why donate crypto?
Donating appreciated cryptocurrency is typically one of the most tax efficient ways to support your favorite charity. This is why financial advisors tell their clients to donate their most highly appreciated assets first. By donating crypto directly to a charity, you can bypass capital gains taxes and deduct the fair market value from your taxes. For most people, that means you're able to donate 30% more and the nonprofit is also receiving 30% more than if you donated fiat instead.
You can view the integration by visiting the 1inch homepage and clicking the "Donate Crypto to Charities" button here.