We're excited to announce that Gemini users can now seamlessly donate crypto to their favorite charities. If you've logged in recently, you've probably noticed a new "Give Back With Crypto" prompt in the Gemini Mobile App and on Desktop.
This makes Gemini the first cryptocurrency exchange to directly incorporate charitable giving to over 300 nonprofits. These organizations support a variety of causes like clean water, childhood hunger, homelessness and human rights. These charities are located all around the world and provide aid and assistance to people who need it most. Thousands of Gemini users have already shown this feature overwhelming support by donating on a regular basis.
"We're thrilled that our "Give Back With Crypto" feature has made it easier than ever for our customers to support the organizations and causes that matter most to them. The past year has left many of us feeling empowered to contribute to change, and donating crypto directly from your Gemini account provides a seamless launch pad to do so." -Kristen Mirabella, Gemini
Since their early days, Gemini has supported initiatives to instill charity in the crypto space. Giving back shouldn't be an afterthought, and we're excited to make donating crypto more top of mind. We're looking forward to continuing to grow our partnership with Gemini to make cryptocurrency donations easy for causes around the world.
Start donating to charities of your choice today. You can find the full list of nonprofits here.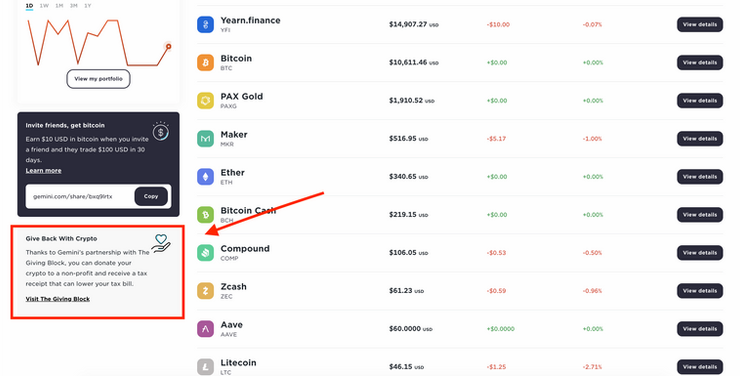 Gemini users can now donate cryptocurrency to all 1000+ causes through The Giving Block