The Giving Block and Brave Expand Ad Grants Program with Code To Inspire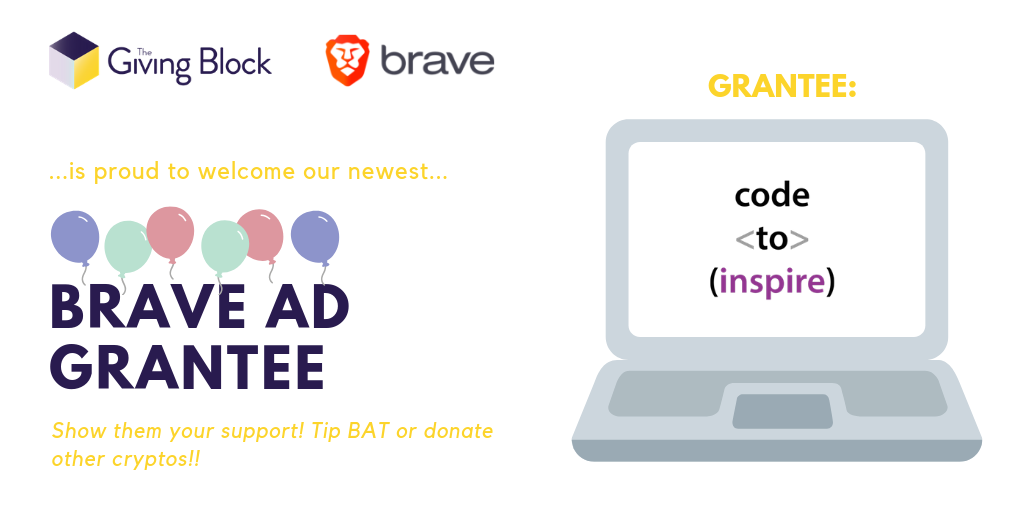 Code To Inspire has become the second recipient of our Ad Grants program for crypto-friendly nonprofits. We're excited to be leading this charge to onboard additional nonprofits that want to engage with a particularly tech savvy community.
"This partnership between Brave and The Giving Block on our Brave Ad Grants program is delivering significant attention for our partners. The platform and team care deeply about using their innovative technology for good," said Alex Wilson, Co-Founder at The Giving Block.
"Code to Inspire is looking forward to spreading awareness about our cause through Brave's ad platform. We also recognize and value the importance of user sovereignty, control and privacy and are very much aligned with and share the ethos behind Brave," said John Lilic, Co-Founder and Treasurer at Code to Inspire.
Read the full press release here: https://brave.com/brave-ads-on-android/
About The Giving Block
The Giving Block makes Bitcoin and other cryptocurrency fundraising easy for nonprofits. Empowering mission-driven organizations, charities, universities, and faith-based organizations of all sizes to leverage crypto technology to achieve their mission. Discover why cryptocurrency is the fastest growing donation method for Millennial and Gen-Z donors, at TheGivingBlock.com.