LINK Marines Now Able To Donate LINK Through The Giving Block's Donation Platform
The Giving Block is excited to announce support for Chainlink (LINK) in our Donation Form. All nonprofits working with The Giving Block will be able to accept LINK donations by default. This brings 1000+ nonprofits into the Chainlink ecosystem and gives LINK MARINES a tax efficient way to donate. The millions of LINK marines around the world will now have a way to donate LINK to their favorite cause and offset some of their capital gains.
Current nonprofits accepting LINK include (with more to come):
Donate LINK today and check out the full list here.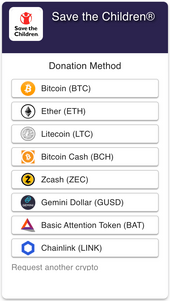 Why Donate LINK?
Since LINK has appreciated significantly, donating LINK and other cryptocurrencies can save you money on your taxes. Because the IRS classifies cryptocurrency as property, this means you don't have to pay capital gains tax on your donation and can deduct the amount on your tax return. This is why financial advisors recommend you donate your most highly appreciated assets first. Users who donate and enter their email address will automatically get a compliant tax receipt.
Don't want your LINK stack to decrease? Repurchase the same amount of LINK afterwards and still get the same tax benefits to offset some (or all) of your gains.
We look forward to working with the LINK marines to support causes around the world.
In order to give as many users as possible a tax efficient way to donate, we will continue to add coins requested by the community. What should we add next? Let us know by tagging@TheGivingBlock on Twitter!
Related Articles
Learn About Cryptocurrency
New to cryptocurrency? Get immersed in all things crypto and crypto philanthropy. Learn about accepting crypto donations and crypto taxes.
What is Blockchain: Why You Should Care
A blockchain is a growing list of records, called blocks, that are linked together using cryptography. Each block contains a cryptographic hash of the previous block, a timestamp, and transaction…