1inch community members can now donate 1INCH to 1000+ nonprofits directly through The Giving Block!
We're excited to announce the addition of 1INCH to our cryptocurrency donation widget and fundraising platform. This means you can now donate 1INCH directly to over 200 nonprofits and all future nonprofits working with The Giving Block will be equipped to accept 1INCH tokens. This includes some of the largest charities like Save the Children and United Way Worldwide, as well as major universities like Wake Forest University and University of Arizona.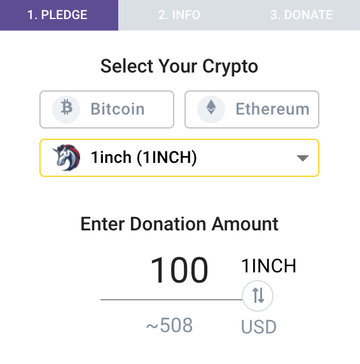 "We believe that adding 1INCH to The Giving Block will give more donors a way to maximize their impact and tax savings by donating appreciated tokens since converting from one token to another is a taxable event in many countries. All of the 1INCH HODLers out there, consider donating a portion to make the world a bit better and encourage 1INCH adoption!" –Sergej Kunz, co-founder of 1inch Network
The first question we always get is, "why would I want to donate my crypto". The answer here is simple, though it requires a little bit of crypto tax education. Donating cryptocurrency is good for your bottom line. It's significantly more tax-efficient than donating fiat. Donating crypto allows you to donate 30%+ more and get a 30% higher deduction on your tax return than a fiat donation. Plus, the nonprofits working with The Giving Block don't need to pay tax on your gift either since they are a registered charity. In short, if you have appreciated cryptocurrency but are making fiat donations, you're making a 30%+ mistake.
Back to the 1inch Network. 1INCH is the network's native token that has a market cap of approximately $700 million and has quickly become a leading asset in the world of Decentralized Finance (DeFi) with the price having risen over 300% since December. As a backstory 1inch began as an MVP for a DEX aggregation protocol during the ETHGlobal New York hackathon in May 2019. Since then, the product has recorded significant success and evolved to become a notable player in the DeFi sector.
That being said, 1inch Network consists of five independent yet interoperable components. In addition to the 1inch Aggregation Protocol and 1inch Liquidity Protocol, which are already popular in the DeFi space, the other three components are the 1inch DAO, 1inch Labs, and the 1inch Foundation.
This partnership builds upon our existing partnership with the 1inch Network. Last month we announced our partnership where 1inch added a "Donate Crypto" button to their platform. We're excited to work with the 1inch Network to raise funds for all the great causes we work with.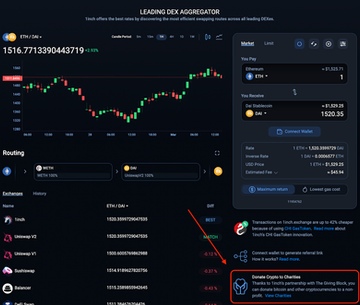 In the coming weeks, look out for new assets that we'll begin supporting. Have a favorite coin or token that you'd like to see nonprofits accepting? Let us know by tweeting @TheGivingBlock. In the coming weeks we are adding support for a total of 30+ assets.
Nonprofits like American Cancer Society, International Medical Corps, Mona Foundation, Pencils of Promise, and Trees for the Future are accepting 1INCH donations today. So, who wants to be the first 1INCH donor to contribute to their favorite cause?
To donate, follow these steps:
Visit The Giving Block site
Select a nonprofit or charity that resonates with you
Choose the cryptocurrency you'd like to use for your donation (like 1INCH)
Enter an amount to donate
Donate anonymously or enter your info if you'd like to stay in touch
Send your donation to the displayed wallet address
Afterwards, you'll automatically receive a tax receipt
The choice is yours. Do you want to donate cryptocurrency to your favorite nonprofit, or to the tax man? I think for most it will be an easy decision to make.
APE into your favorite nonprofit now.
You can donate 1INCH today to 1000+ nonprofits here.