The Graph Community Can Now Donate GRT to 250+ nonprofits through The Giving Block
The Giving Block is excited to announce we've added support for The Graph (GRT) in our donation widget and fundraising platform. What Google does for the web, The Graph does for blockchains, helping developers access blockchain data and serve that data to their users.
Did you know that some of the world's largest nonprofits like United Way Worldwide, Direct Relief, and American Cancer Society all accept crypto donations? That means you can donate GRT directly to some of the world's largest charities who are providing life changing support around the world. You can choose from over 250+ nonprofits. Plus, all future charities that work with The Giving Block (TGB) will also be set up to accept GRT donations. Adding additional top tokens from the DeFi ecosystem is part of our mission to maximize donor tax savings and flexibility.
"The Giving Block adding support for GRT means charities and non-profits can now support Web3 – the decentralized web. With GRT donations, organizations will be able to participate as an Indexer, Curator or Delegator in The Graph Network and contribute to the open data economy." – Eva Beylin, Director of The Graph Foundation
So you're probably thinking why would I want to donate my GRT. Donating crypto like GRT is actually a great way to save money by lowering your tax bill. Without knowing anything else about the tax benefits of donating crypto, ask yourself this: Would you rather donate to the IRS or your favorite charity?
The explanation about the tax benefits here is simple though it might sound counterintuitive. Donating cryptocurrency is actually good for your profits. It's significantly more tax-efficient than donating fiat. In many other countries like the US and UK, donating crypto allows you to donate 30%+ more and get a 30%+ higher deduction on your tax return than a fiat donation. Plus, the nonprofits working with The Giving Block don't need to pay tax on your donation either since they are a registered nonprofit. In short, if you have appreciated cryptocurrency but are making fiat donations, you're making a 30%+ mistake. Don't worry, you can even donate anonymously and still get a tax receipt emailed to you.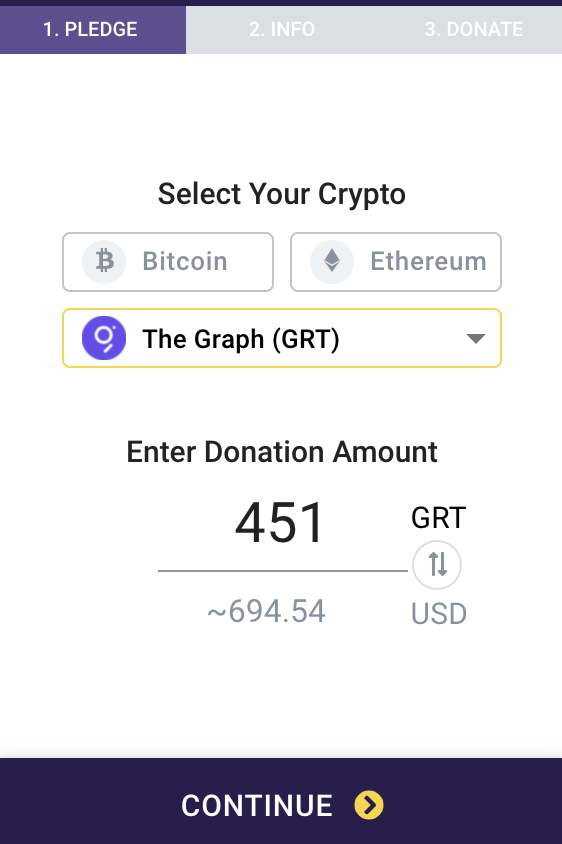 For those of you reading that might not know what GRT is, here is a quick rundown.
The Graph is the decentralized indexing and query layer of the decentralized web. Developers build and publish open APIs, called subgraphs, that applications can query using GraphQL. The Graph currently supports indexing data from Ethereum, IPFS, and PoA with more networks coming soon. To date, over 10,000 subgraphs have been deployed by ~16,000 active developers for applications, such as Uniswap, Synthetix, Aragon, Gnosis, Balancer, Livepeer, DAOstack, AAVE, Decentraland, and many others.
GRT is the native token of the network that's used to coordinate work. GRT is an ERC20 token. Node operators, called Indexers, stake and earn GRT for processing queries. Anyone can delegate GRT to Indexers to secure the network and earn rewards. Curators organize data on The Graph by signaling GRT on useful APIs, called subgraphs. Indexers, Delegators, and Curators work together to organize the data for the crypto economy and maintain a useful global API for DeFi and Web3.
If you are a developer building an application or Web3 application, you can use subgraphs for indexing and querying data from blockchains. The Graph allows applications to efficiently and performantly present data in a UI and allows other developers to use your subgraph too! You can deploy a subgraph or query existing subgraphs that are in the Graph Explorer. You are welcome to join The Graph Network as an Indexer, Curator and/or Delegator. Join The Graph community by introducing yourself in The Graph Discord for technical discussions, join The Graph's Telegram chat, or follow The Graph on Twitter! The Graph's developers and members of the community are always eager to chat with you, and The Graph ecosystem has a growing community of developers who support each other.
We're excited to introduce this technology to nonprofits around the world, all while giving nonprofits a new source of funding and offering donors one of the most tax-efficient ways to support their favorite charities. Donating GRT is most likely the most tax-efficient way for you to support a nonprofit. That's why financial advisors typically recommend that you should donate your most highly appreciated assets. For many reading, that's probably GRT, BTC, ETH or other tokens.
Look out for new assets that we'll begin supporting in the coming weeks. Do you have a favorite token that you'd like to see charities accepting? Let us know by tweeting @TheGivingBlock. In the coming weeks we can plan to support a total of 30+ assets.
So, who wants to be the first GRT donor? DM us on Twitter with your tax receipt and we'll give you a shoutout.
No matter what kind of cause you like to support, we have something for everyone. You can donate GRT here today.