OCTOBER 5, 2021—Kicking off Q4 in style, we're excited to formally announce the launch of The Giving Block's new suite of corporate philanthropy programs. Starting today, companies from the crypto and blockchain sector, the nonprofit service industry, traditional finance, media, and beyond can choose from and develop a wide array of corporate giving programs in partnership with The Giving Block.
As we continue to work towards our mission of making the crypto industry the most charitable industry in the world by creating a culture of giving, we are always looking for new ways to address the needs of nonprofit organizations and all who support them. Our revamped and supercharged menu of corporate philanthropy programs is the latest in our ongoing efforts to move the needle.
"The timing of our launch of new corporate philanthropy programs could not be more ideal," said Pat Duffy, Co-Founder of The Giving Block. "The end of year is already an exciting time for The Giving Block and the hundreds of nonprofit organizations that fundraise crypto. Adding more options for corporate partners to give charitably is a force multiplier for crypto philanthropy."
The Giving Block has unofficially been offering corporate philanthropy solutions for some time now. Inspired by the success of current partnerships, The Giving Block has expanded and streamlined its corporate philanthropy partnership programs. We now offer more than 12 corporate partnership programs, and also allow companies to design bespoke programs that align with their unique Corporate Social Responsibility (CSR) goals.
Interested in exploring partnership options with The Giving Block? Get all of the details on our homepage for Corporate Philanthropy Programs.
Expanding CSR Options Across the Crypto and Blockchain Industries
The Giving Block's new corporate philanthropy programs were developed for companies working on or interested in crypto and blockchain that want to develop sustainable CSR initiatives.
The programs not only make use of our cryptocurrency donation solution, they also leverage our unique position within the crypto sector and our trusted platforms with hundreds of nonprofit organizations. As a result, we are able to establish corporate programs for companies of all shapes and sizes, from blockchain to media.
What kinds of programs are offered?
The Giving Block's corporate philanthropy programs enable companies to make a difference in various ways. Your company can choose from more than a dozen options, including:
Support a specific nonprofit or cause-related fund through fundraisers, matching gift programs, and more
Make an annual commitment to give away 1% of your company's crypto or revenue through the Crypto Giving Pledge
Enable in-platform crypto giving with our API for partners
Provide ad space or additional marketing resources to promote crypto fundraising campaigns like Bitcoin Tuesday
Establish a portal for your employees to donate crypto to charitable organizations
Develop a volunteer program with one of the 1000+ nonprofits vetted by The Giving Block
Who can partner with The Giving Block?
We welcome companies with established CSR programs as well as those who are just starting to develop their identity in corporate philanthropy. Recently, we've received interest or have partnered with crypto token foundations, CeFi exchanges, DeFi exchanges, crypto media companies, crypto portfolio software companies, crypto tax software companies, NFT platforms, and crypto conferences.
Our aim is to make crypto the world's most powerful force for social good. To that end, we don't place a limit on the number or the types of companies that can partner with us. We get excited about companies that want to utilize our crypto giving solutions in ways that help us empower more people to give crypto and make more impact through acts of charity.
What are the top reasons to partner with The Giving Block?
Allows for direct donation of crypto (no need to cash out then donate)
Empowers your users, customers, volunteers, and/or staff
Impacts cause areas that matter most to you
Benefits your brand's reputation
Highlights the goodwill of the crypto community
Offers flexible options to fit your company's CSR goals
Advances crypto adoption by the nonprofit sector
Provides access to build relationships with hundreds of vetted nonprofit organizations 
Enables seamless in-platform integration (in cases where use of our partner API is applicable)
Expands in-house marketing efforts with The Giving Block's crypto-native team
Which nonprofits can accept crypto donations?
The Giving Block supports more than 500 nonprofits that work to make a positive impact on the world around us. They support a wide range of cause areas, including: animal welfare, arts and culture, children and youth, developmental disabilities, disaster response, education, the environment, faith and religion, health and medicine, mental health, homelessness, human rights, hunger, immigration and refugees, international development, LGBTQ advocacy, legal support, racial justice, technology, water and hygiene, women's and girls' rights, and more.
The Giving Block's partners are based all over the world and include some of the biggest names in the nonprofit industry, as well as local charities.
Looking for a social cause to support with your corporate philanthropy program? Browse 1000+ nonprofits that accept crypto donations with The Giving Block.
The Impact of The Giving Block's Corporate Philanthropy Programs
Our corporate partners use crypto to make a difference in the world and inspire others to do the same. As more crypto and crypto-adjacent companies establish philanthropy programs, we anticipate a huge growth in charitable giving from the crypto community. Not only will it encourage other companies to take part in similar efforts, it will also signal to individual crypto users that they are not the only ones donating crypto to charities. Nonprofits will take notice, too, and more will choose to incorporate crypto into their fundraising strategies.
It's part of a big virtuous circle, fueling the upward trajectory of crypto philanthropy. We're already seeing it happen: we have processed tens of millions in crypto donations this year, and are well on our way to surpass the $100M mark before year end.
Interested in exploring partnership options with The Giving Block?
Get all of the details on our Corporate Philanthropy Programs page.
Crypto corporate philanthropy in action
We've been in awe of our corporate partners' creativity and commitment to charitable giving. These are a few of our favorite success stories:
Gemini raised over $40,000 with Flexa and TaxBit for two nonprofits, No Kid Hungry and Slice Out Hunger, on Bitcoin Pizza Day
Brave and Nexo partnered with Save the Children for "Campaign with a Cause," raising $25,000 USD (in addition to its ad spend)
CoinGecko partnered with The Giving Block to use their native rewards system to donate to several charities, including Sea Shepherd and Apopo, raising thousands on more than one occasion. 

CoinGecko has also partnered with NFT artists where proceeds of the auctions were donated to charitable causes.

Nifty Gateway and TGB partnered to create an NFT collection of "Covid Heros" as part of the #CryptoCOVID19 campaign which raised $30k+ for charities
Throughout the remainder of the year, we will continue to announce new and exciting partnerships. Follow us on Twitter to receive the latest news and updates.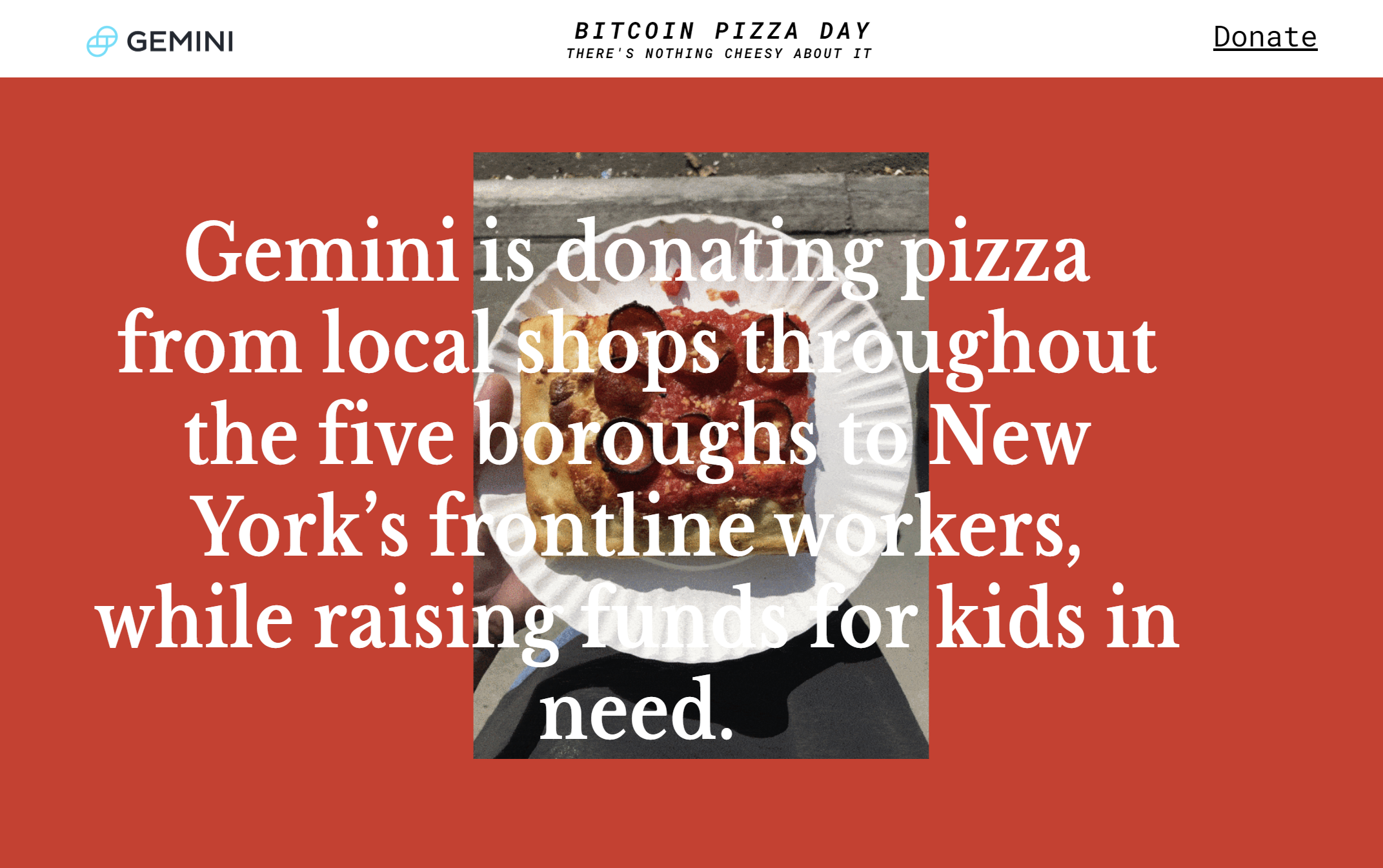 Crypto needs corporate philanthropy leaders
The writing is on the wall: crypto is evolving. This has been an incredible year, between mainstream adoption, all-time highs, and major increases in charitable giving volume. What's also become clear is that nonprofits are tired of relying on traditional fundraising strategies that may not be as dependable as they used to be.
According to a report published by Giving USA, corporate donations to nonprofits totaled $24.8 billion in 2020, a 6% decrease from the prior year. Coincidentally, the global market cap for cryptocurrencies touched the $2T mark this year. Just one percent of that figure is roughly $20B. In other words, if crypto users donated one percent of their crypto to charity in 2021 (as we propose in our Crypto Giving Pledge), our community's donations would roughly equal the amount given in fiat by all corporate donors last year.
We want to educate our community about its collective power to make a positive impact through charitable giving. We need your help and leadership to make it possible.
If your company has interest in supporting nonprofits and the greater public, in showing your employees and users that you care about important causes, and in leading the crypto community toward greater philanthropic contributions to the charitable sector, consider taking the first steps to becoming one of The Giving Block's next corporate partners for social good.
Want to learn more?
Get the complete details on The Giving Block's corporate philanthropy programs, and find out how to get in touch with us: