The Giving Block, provider of the world's leading cryptocurrency donation solution for nonprofit organizations and donors, has launched a new API for partners that want a plug and play solution for offering cryptocurrency donations within their products. 
For fundraising platforms, payment gateways, exchanges, wallets, tax software and countless others, the API will enable their users to seamlessly donate cryptocurrency to 1000+ nonprofit organizations in The Giving Block's network.
Our API—the first of its kind that is designed to ignite the philanthropic spirit of the crypto community—makes it easy for partners to integrate The Giving Block's flexible donation and fundraising options, empowering crypto users to make charitable gifts in more than 45 leading cryptocurrencies, including Bitcoin and Ethereum.
"By creating the tools that make crypto donations easy for nonprofits and donors alike, we're one step closer to making the crypto industry the most charitable in the world," said Michael Sullivan, Nonprofit Partnerships Manager at The Giving Block.
While The Giving Block has already established several partnerships that make use of the API, today's wider, public launch of the partner API enables nonprofit technology providers and cryptocurrency companies alike to add crypto donations to their products in time for the end of year Giving Season.
How to Use the API
The Giving Block's partner API creates new opportunities for charitable giving through fundraising platforms, corporate social responsibility initiatives, and more.
How are our partners using the API? Here is a brief, non-exhaustive list of existing integrations: 
Nonprofit Fundraising Platforms: Traditional nonprofit fundraising platforms are offering an easy way for their clients to accept crypto donations by adding a "Donate Crypto" button to their existing donation forms and products.
Crypto Exchanges: Crypto exchanges are building their own white labeled donation platforms on their exchanges to give their users an easy way to support the causes they care about, without ever leaving the exchange.
Crypto Wallets: Crypto wallets are building their own white labeled donation platforms within their wallets to give their users a simple way to support the causes they care about without ever leaving their wallet app.
Tax Software: Tax optimization tools are giving users an option to donate crypto to offset capital gains. Would you rather donate to the IRS or your favorite charity?
Payment Gateways:Payment gateways are giving users the option to "round up" their shopping cart totals, and donate the difference.
NFT Platforms: NFT platforms are allowing creators to select a charity and donate a portion of their proceeds to their favorite cause.
Want to learn more?
Reach out to our partnerships team here or take a peek at our API docs to add crypto donations to your product. The integration is easy. We promise. Some partners have integrated in less than 24 hours.
The API's Benefits for Partners
The goal of the API was to offer our partners a flexible and easy way to add cryptocurrency donations to their products. The API is meant to power the back-end of those donations while allowing partners the flexibility to customize the front-end of the product.
With The Giving Block's API, partners can start offering an in-platform crypto donation option in a matter of days. With The Giving Block as a partner, your company can provide the best user experience, without the need to solve technological problems.
Our new API is the first of its kind and allows functionality that wasn't possible before for many of our partners. The API for partners will allow partners to integrate crypto donations without having to reinvent the wheel. The Giving Block handles nonprofit onboarding, compliance and reporting.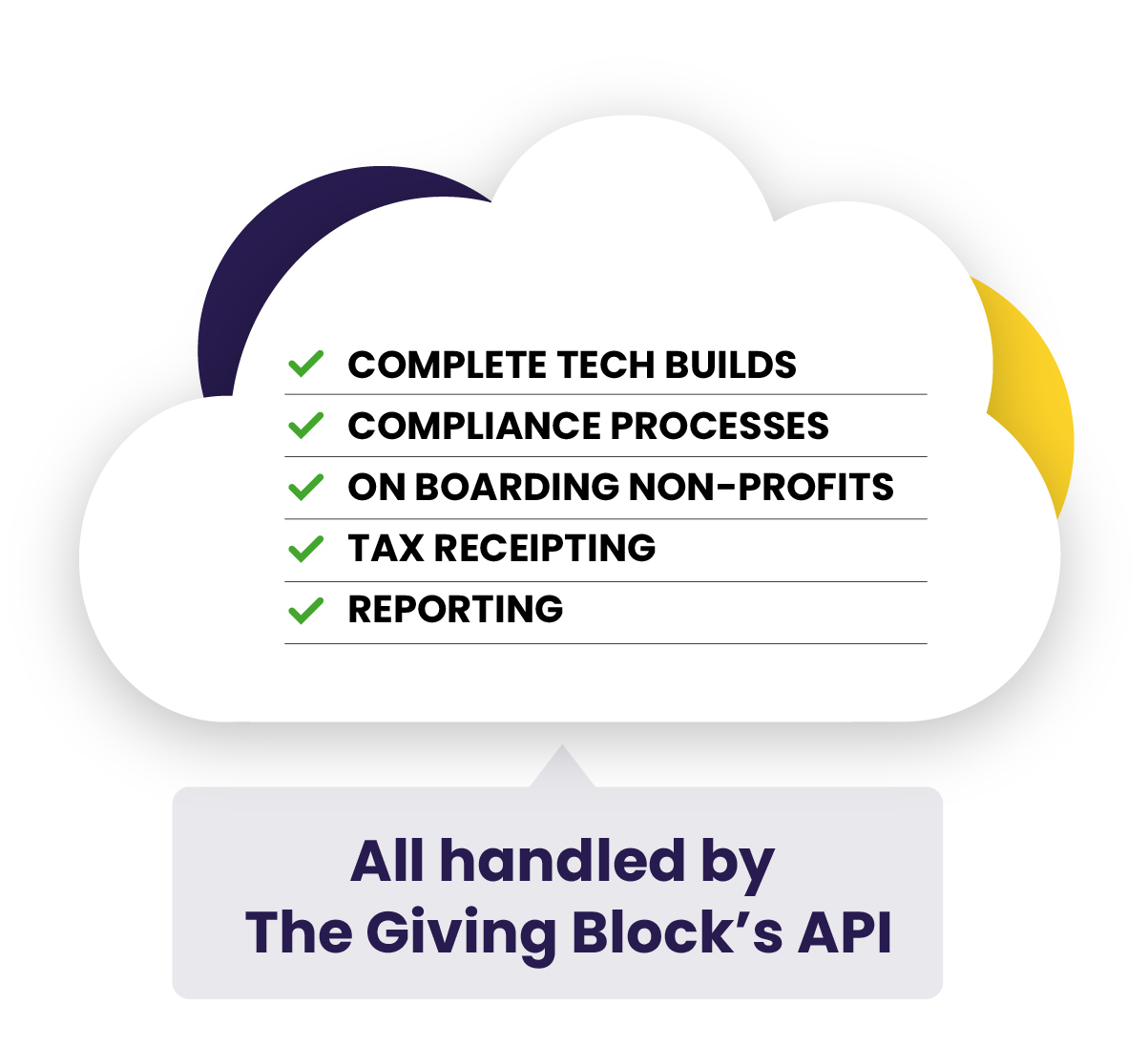 Making Impact: Beyond the API
The Giving Block's API for partners is secure, seamless, and easy to integrate, but it's more than a technological solution; it's a game-changer for crypto philanthropy. Partners that make use of The Giving Block's API are doing their part to enable the world's 200 million crypto users to make charitable donations to nonprofit organizations.
"A single partner using The Giving Block's API could create an opportunity for millions of users to donate crypto to charitable organizations. The long-term ripple effect of every new integration will help crypto fundraising reach unprecedented levels," said Duke Kim, Head of Crypto Partnerships at The Giving Block.
Customers favor companies that consider issues beyond their bottom line. Offering users the ability to donate crypto will demonstrate your corporate responsibility and make a lasting positive impression that keeps your users returning.
Want to offer cryptocurrency donations in your product in time for Giving Season?
Complete a short interest form to be connected with Duke Kim and Michael Sullivan from The Giving Block's partnership team.